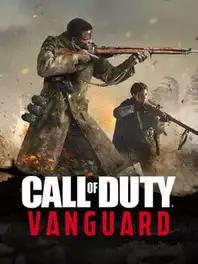 Call of Duty: Vanguard
Genre: Shooter
Platforms: PC (Microsoft Windows), PlayStation 4, Xbox One, PlayStation 5, Xbox Series X|S, Xbox 360
In August 1941, Private Lucas Riggs is stationed at Tobruk, Libya as part of the Australian-led Rats of Tobruk garrison. After a failed ambush attempt on the Royal Italian Army and Africa Korps, Riggs is assigned to recover supplies for the British Army, alongside fellow Rat Private Desmond "Des" Wilmot and British lieutenant Robert Jacobs. Riggs, Des and Jacobs manage to find intelligence relating to General Erwin Rommel, and destroy a German depot in the process, but they were detained by Major Henry Hamms for insubordination. In 1942, during the Battle of El Alamein, Riggs and the Rats are ordered by Hamms to form a defensive line, but Riggs disobeys the command and tries to retake a hill and call in bomber support with Des supporting him. The two of them succeed but Des is killed in action. Angered by the disregard for the Rats' contribution to the fight, Riggs punches Hamms out of frustration, resulting him facing prison time.

In June 1942, United States Navy pilot Lieutenant Wade Jackson participates in the Battle of Midway alongside his tail gunner, Aviation Machinist's Mate Mateo Hernandez. In November 1943 while assaulting the Imperial Japanese Army in Bougainville, Jackson and Hernandez's plane is shot down, and the two are captured by IJN & IJA soldiers. They are rescued by the 93rd Infantry Division, who later help them acquire an Imperial Japanese Navy Aichi D3A to assist the division in reclaiming the island.

In August 1942, Red Army medic Polina Petrova witnesses the Luftwaffe invade Stalingrad. She fails to save her father Boris from being executed by a Fallschirmager squad, but is able to escape with her brother Misha and several Soviet partisans. Petrol eventually acquires the nickname "Lady Nightingale" as she pursues Leo Steiner, the Wehrmacht commander responsible for the invasion. In January 1943, Petrova and Misha attempt to assassinate Steiner in Stalingrad, but Misha is severely wounded. He sacrifices himself to buy Petrova time to escape. Petrova eventually confronts Steiner and kills him and his personal army, inspiring the citizens of Stalingrad to reclaim the city from the Heer. She then sets her sight on Steiner's superior, Hermann Freisinger.

In June 1944, British paratrooper Sergeant Arthur Kingsley takes part in Operation Tonga, where he and the Parachute Regiment help destroy the Melville Gun Battery and several other bridges to assist the Allied forces in invading Normandy. Kingsley befriends fellow paratrooper Sergeant Richard Webb, who would later become Kingsley's right hand man

Kingsley, Webb, Petrova, Jackson, and Riggs, alongside a sixth soldier named Milos Novak, would eventually be recruited by Captain Carver Butcher to form the first special operations task force, callsign Vanguard. Kingsley is appointed leader of the task force. In April 1945, Task Force Vanguard hijacks a train to Hamburg, Germany, in search of intelligence regarding Project Phoenix, a secret Nazi program run by Freisinger. While infiltrating a Kriegsmarine submarine, the squad is captured by Freisinger's Feldgendarmerie troops, minus Jackson who evaded them, and Novak who is bludgeoned to death by Freisinger. Vanguard is delivered to the Waffen-SS and Gestapo headquarters in Berlin, where Freisinger appoints officer Jannick Richter to interrogate them. Jackson is also captured after attempting to steal a plane; Richter demoralizes the squad by executing Webb.

Being unaware of Project Phoenix's purpose and Freisinger's involvement, Richter attempts to learn more by interrogating Petrova and Riggs about Steiner and Rommel's connection to Freisinger. He deduces that the project was a coup attempt, in order to appoint Freisinger as the new Furher of the Fourth Reich. As Berlin falls under siege by the Red Army following Adolf Hitler's suicide, Riggs breaks out of interrogation and frees the squad, while Kingsley kills Richter to avenge Webb. Vanguard pursues Freisinger to the airport, where they finally apprehend him and burn him alive. The four then board Freisinger's plane, discovering numerous German documents and assets, revealing global Nazi covert operations. Kingsley decides to follow up on Project Aggregat, a secret V2 rocket facility, and orders Jackson to fly there in pursuit.
Released on Nov 05th 2021
Summary:
This is WWII combat like never before. Witness the origins of Special Forces as you play a pivotal role and change the face of history, forming Task Force One in a gripping Campaign across four major theaters of war. Become an original Special Forces Operator in an online Multiplayer rich in innovation with 20 maps available at launch. Prepare for a franchise-first, universe-expanding Zombies crossover. Immerse yourself in a fully integrated Call of Duty: Warzone experience featuring a new and massive map. This is the most connected Call of Duty ever, all powered by the next generation Call of Duty engine introduced in Modern Warfare.

This is Call of Duty: Vanguard.

×