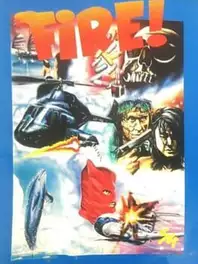 Fire!
Genre: Shooter
Platforms: DOS, Amiga, Amstrad CPC
This is "Fire!" for the Amstrad CPC released back in 1990 by New Deal Productions and developed by Luc Guillaume(code) and Elie Daniel(music).
It's another simple shooter in which you control a helicopter and all you have to do is to fly left or right, engage enemy planes and gun emplacements and destroy the with your rockets. Keep an eye on your fuel and shields because losing one of these your helicopter will become a ball of fire!
Released on Dec 31st 1990
×