Forspoken may have a magical side to his spells, but he won't be in everyone's hands. This is what the PEGI description of the game shows us.
Forspoken will be more violent than it seems
Forspoken has been reviewed by the European classification organization PEGI. This entity aims to evaluate the content to warn consumers before purchase. And for Square Enix's action-RPG, it will be PEGI 18 . "This classification was assigned because of references to suicide and the use of foul words " .
In the description, a scene is quoted and refers directly to the character of Frey Holland, the heroine.
One of the scenes shows a desperate woman standing on a ledge, drinking alcohol, and wondering if this world wouldn't be better off without her . When she is about to take the plunge, she is saved by a mystical presence. Later in the game, she is pushed by a villain who tells her she should have killed herself. Forspoken also contains crude "Fuck" language and more moderate terms.
The PEGI rating also reports violence when Freya gets picked on by a gang of thugs, who hold a gun at her and punch her in the abdomen. Mobs will leak yellow blood.
Presumably, the player will also be able to go to a bar to consume alcohol. The statistics will then be affected negatively and randomly.
...and will have in-game purchases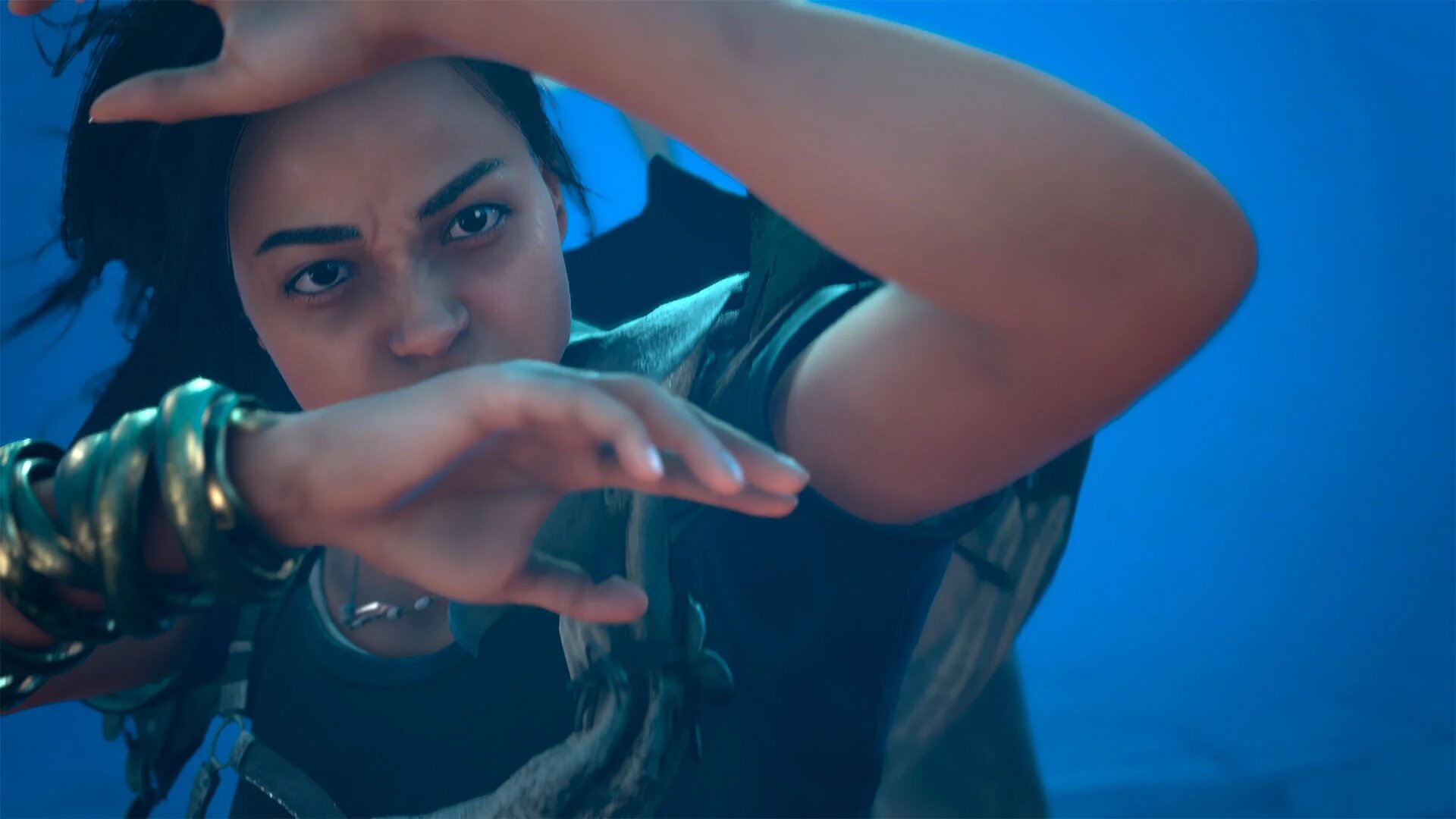 Without really knowing the importance of microtransactions, PEGI informs that Forspoken includes the "possibility to buy objects in the game, in the form of downloadable content packs" . However, we do not know the content for the moment.
Future scripted DLC? Outfits or makeup for Freya? Indeed, the heroine can for example change the color of her nails, which will modify her overall skills. The "Blue Flash" varnish allows you to recharge your attack spells more quickly.
Forspoken will be released as a time- exclusive PS5 and PC on October 11, 2022.
Is Forspoken a good video game?
Yes Forspoken is a good video game, we had a lot of fun playing it! That's why we decided to give it a 64% rating. If you want to try it, and if you have already enjoyed similar games, we are sure you will have a great time on this game! Of course, Forspoken has its flaws, and we even noticed some mini bugs while playing it for several hours, but all this is also part of the charm and it doesn't take anything away from the pleasure of playing.
Can I play Forspoken with my friends?
No, as far as we know, there is no multiplayer mode for Forspoken, you'll have to lend the controller to each other and take turns playing! We hope that a multiplayer mode will be available thanks to a next update, a remake or even a sequel, who knows!
Is Forspoken available on multiple platforms?
Yes, the game Forspoken is developed to be compatible with PC (Microsoft Windows) and PlayStation 5. It's quite handy to be able to play it on several different consoles, thanks to the Luminous Productions development studio!
Is Forspoken a recent game?
Yes, Forspoken is a recent game, it was launched in most regions on Jan 24th 2023, 10 months 16 days ago.
Forspoken has been released on PC (Microsoft Windows) and PlayStation 5.
Is there an official website for Forspoken?
Yes Forspoken has its own official website! You can find it by clicking here.
Is there a forum on the internet to discuss the game Forspoken?
No, according to our information, Forspoken does not yet have a forum or subreddit clearly identified to the community. However, it is possible that you can find one by searching on your favorite search engine, which we invite you to do! You can also look at social networks, indeed many groups exist for example on Facebook to allow communities to exchange between enthusiasts.
Is Forspoken compatible with VR?
No, Forspoken is not currently compatible with virtual reality, but we hope that one day it will be possible to play it with this new technology!
Does the game Forspoken have other names around the world?
Yes, the game is also known by these names around the world:
포스포큰 (Korean title)
FORSPOKEN (Stylized title)
Project Athia (Working title)

What are similar games to Forspoken?
Forspoken is a game similar to Jade Empire, Savage Lands, Borderlands 3, Immortal: Unchained, Dragon: Marked for Death, The Elder Scrolls VI, Eternity: The Last Unicorn, The Elder Scrolls: Blades, Torchlight III and Pokémon Shield, if you liked Forspoken, you will surely love this list of games we just mentioned! You can find our dedicated portals by clicking on the name of the games, and make your own opinion very quickly!
×