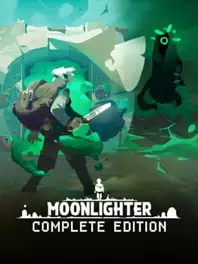 Moonlighter: Complete Edition
Genre: Adventure
Platforms: PC (Microsoft Windows), PlayStation 4, Xbox One, Nintendo Switch
Moonlighter is an Action RPG with rogue-lite elements that demonstrates two sides of the coin – revealing everyday routines of Will, an adventurous shopkeeper that secretly dreams of becoming a hero.

Moonlighter: Between Dimensions:

The village of Rynoka. Once again peaceful and prosperous after the events of the Fifth Door. Shaded with green trees, inhabited by adventurous and entrepreneurial creatures alike. You can understand why a person would like to live here endlessly. However, life doesn't stop for anybody. The wind of change is blowing through Rynoka. A new, cryptic Portal appeared out of nowhere. Does it bring a new threat? Or is it a new way to make an easy profit? And most importantly... are you prepared to enter the unknown?
Released on May 29th 2020
×