With Overwatch 2 at the start of what promises to be a years-long adventure, fans continue to check out the cosmetics store but aren't impressed with the latest offerings. Like other F2P titles, Activision Blizzard's Overwatch 2 has a rotating daily shop that can look quite different from day to day, and yesterday's items garnered some negative attention.
Although cosmetics from Overwatch 1 that were acquired through loot boxes and other microtransactions have carried over to Overwatch 2, some new fans are expecting awesome skins similar to those previously earned through RNG. Overwatch 2 released with a battle pass that introduced many cosmetics for players, but given the requirements to unlock the Mythic Genji skin, some fans are hoping for a more similar direct purchase option in the store.
Reddit user KirikoOW recently posted a screenshot of the Overwatch 2 store rotation for October 11, and the majority of replies are critical of the current offerings. KirikoOW's screenshot focuses on an Overwatch 2 skin for Baptiste, Merry Outlaw Ashe Bundle, Kiriko Epic Offer, and the Cyber ​​Detective Sojourn Bundle, which are available at different prices. The cheapest option is the Baptiste skin which still costs 1,000 Overwatch coins, while the most expensive bundle is for Sojourn at 2,200 coins. Although the Baptiste skin is the only one with the lowest price, the Ashe bundle comes with a weapon charm, and the other two bundles include even more cosmetic goodies.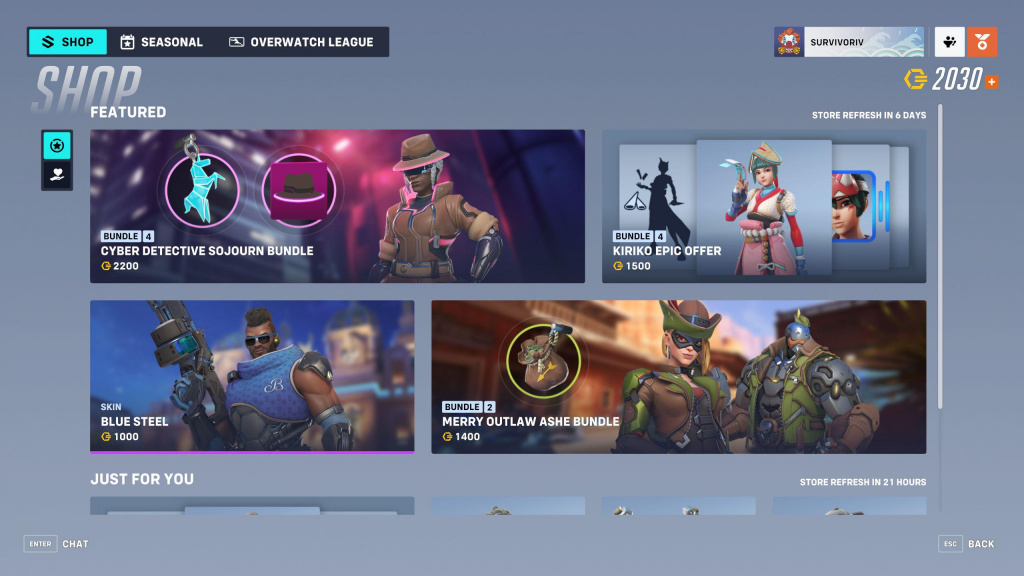 Besides the Kiriko pack, each of the skins included in the Overwatch 2 store page highlighted by KirikoOW share design similarities in hiding their eyes, with Sojourn being the newest character with few existing skins to compare. While some Overwatch 2 players have been asking for the return of the Overwatch "on fire" meter or the missing Numbani card, others are just waiting for more unique options in the store. Since coins are worth around 100 for every $1 spent, that means Overwatch 2 players using the store on October 11 could spend up to $22 on just one of the available bundles.
While many original Overwatch players expressed their gratitude for unlocking so much through loot boxes over the years, others lamented that Overwatch 2 was less rewarding than the first. game. Some Angry Joe fans took the opportunity to criticize the cost of "blue" Baptiste, while other Halo Infinite players debated whether 343 Industries' microtransactions were better or worse than current Overwatch 2 offerings.
Is Overwatch 2 a good video game?
Yes Overwatch 2 is a great video game, we are proud to have given it a rating of 76%. Any good gamer must have played Overwatch 2 at least once in his life, we can even fully consider it as one of the best games of the genre! In short, it is a must and you must try it if you have the opportunity!
Can I play Overwatch 2 with my friends?
Yes, you can play Overwatch 2 multiplayer (online) with your friends! So think about it the next time you have a party at home, it can be a great opportunity to have a great time with your friends and family, while determining who is the best at Overwatch 2!
Is Overwatch 2 available on multiple platforms?
Yes, the game Overwatch 2 is developed to be compatible with PC (Microsoft Windows), PlayStation 4, Xbox One, Nintendo Switch, PlayStation 5 and Xbox Series X|S. It's quite handy to be able to play it on several different consoles, thanks to the Blizzard Entertainment development studio!
Is Overwatch 2 a recent game?
Yes, Overwatch 2 is a recent game, it was launched in most regions on Oct 04th 2022, 1 year 2 months 6 days ago.
Overwatch 2 has been released on PC (Microsoft Windows), PlayStation 4, Xbox One, Nintendo Switch, PlayStation 5 and Xbox Series X|S.
Is there an official website for Overwatch 2?
Yes Overwatch 2 has its own official website! You can find it by clicking here.
Is there a forum on the internet to discuss the game Overwatch 2?
Yes there is a website where Overwatch 2 fans can meet to discuss and exchange content, tips and advice on the game. It's on the Reddit website and you can find this Subreddit by clicking here.
Is Overwatch 2 compatible with VR?
No, Overwatch 2 is not currently compatible with virtual reality, but we hope that one day it will be possible to play it with this new technology!
Does the game Overwatch 2 have other names around the world?
Yes, the game is also known by these names around the world:
Overwatch II
OW2 (Acronym)
Overwatch II (Alternative spelling)
オーバーウォッチ 2 (Japanese title - original)
오버워치 2 (Korean title)

What are similar games to Overwatch 2?
Overwatch 2 is a game similar to Black Squad, Immortal: Unchained, Crackle Cradle, Earth Defense Force: Iron Rain, Wolfenstein: Youngblood, Gene Rain, The Cycle, Rebel Galaxy Outlaw, Void Bastards and PlanetSide Arena, if you liked Overwatch 2, you will surely love this list of games we just mentioned! You can find our dedicated portals by clicking on the name of the games, and make your own opinion very quickly!
×