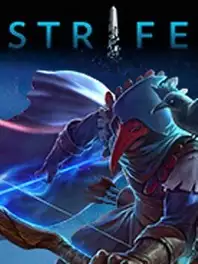 Strife
Genres: Strategy, Role-playing (RPG), Real Time Strategy (RTS), MOBA
Platforms: PC (Microsoft Windows), Mac, Linux
A shadow has fallen over the Plane of Strife. An ancient evil, the Dharkwave horde of Sheol, is rumored to have arisen once more. The only thing that stands between the peaceful races of Strife and the threat of deadly invasion is a Rune of Darkstone, the only key that can open the portal to the underworld of Sheol. For generations this mystical item, a fragment of the ancient Dark Obelisk, has been kept by the Keepers of the Code, the sacred guardians of the Planes of Strife. But the cryptic rune has gone missing. And some fear the worst.

In preparation of a Dharkwave invasion, the Keepers of the Code have built an Arena in Strife, with the hope that the fabled Army of Light might be trained there. Some even say the Golden Child of prophecy has appeared at the arena, riding his mystical Zidek dragon.

Now, the mightiest heroes from the 5 planes are gathering together to face this new dread. They have come to Strife from their home Planes of Gael, Vorbis, Nestra, Tempra and Lyrie to battle in the arena, to prove their worth and to represent their people in the coming battle. Some will rise. Some will fall. And all will be pushed to the limits of their strength and courage.
Released on Apr 09th 2015
Summary:
Strife pits two teams of players against each other, both teams are based at opposite corners of the map in their respective bases. Bases consist of one central structure, creep spawn points, three generators and a hero spawning pool. The goal of the game is to destroy the central structure of the opposite base.

Players achieve this by selecting heroes with unique skills to combat the other team, both teams can select the same heroes. Each game, a player chooses one hero to be for the duration of the match. Every hero has four abilities that may be acquired and upgraded as the hero gains experience and levels up.

×