At night, all the Shinless are gray in the Elden Ring , and the world grows even more dangerous. Like in many video games, it's not too dark at night, and you'll see almost like daylight. At least FromSoftware has a good excuse, since giant golden trees continue to light up the Underworld. Torches are more useful for catacombs and caves. An element that shows that the time has its importance in the game is also the presence of an option to pass the time at Vanished Grace Points, you can choose to wait until morning, noon, dusk or nightfall.
The studio had warned that new, more dangerous enemies are coming out at night, and we were able to confirm that this is indeed the case on the beta, even if it was limited to a single enemy for the moment. Very fearsome, this black knight awaits you on the bridge that spans the river north of Lake Agheel . We have a good chance of meeting him during the attack on the convoy, which risks giving a tragic turn to our attempt at highway robbery.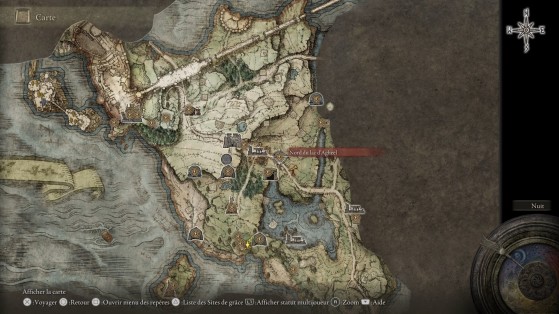 Fight against the dark knight
Like the Multi-armed Key Keeper and the Guardian Lion , it's not a boss, strictly speaking, but it has nothing to envy to the majority of mini-bosses in the game. gives it a formidable length. Much like the Sentinel of the Tree , you can choose to face it on horseback, which allows you to follow it and deprive it of the initiative. But in this case, it is better to lure it away, in the neighboring meadows. This will prevent you from falling off the bridge and killing yourself trying to dodge an attack (yes, that happened to us).
Confronting him on foot is of course an option, either dodging or blocking and then counter-attacking. If you use spells, favor those suitable for fast targets, the basic burst arrow tends to miss it every time, for lack of range or tracking of its chaotic movements.
An effective tactic to overcome the knight is to kill his mount, this has a good chance of happening naturally by using a melee weapon. Deprived of his faithful steed, the knight will collapse on the ground, which will give you long seconds to put him in the face, or even to inflict a critical attack on him. But be careful, he can re-invoke one afterwards.
As often, if you are sure of yourself, or after a little practice, you can make him a shield parry when he attacks, which will instantly expose him to a critical hit and knock him off his horse.
Loot
Unfortunately, it was a disappointment on the beta. The number of runes obtained was ridiculously low for such a powerful enemy: just over 900. There were also no items. It will likely be different in the full game when it releases, at least hopefully.
Is Black Knight a good video game?
Black Knight is not a very well known video game at the moment, so we'd rather not get involved. There are hundreds of new games every day and our editors haven't heard enough about Black Knight to offer a full review yet. If the game continues to make itself known in the coming months, we will of course offer a detailed review and a note on whether or not you should play it. But for now, all we can say is that Black Knight is a niche game, try it for yourself and make your own opinion, we hope you will have fun with it!
Can I play Black Knight with my friends?
No, as far as we know, there is no multiplayer mode for Black Knight, you'll have to lend the controller to each other and take turns playing! We hope that a multiplayer mode will be available thanks to a next update, a remake or even a sequel, who knows!
Is Black Knight available on multiple platforms?
No, the game Black Knight is currently only available on .
Is there an official website for Black Knight?
No Black Knight doesn't have an official website yet, but there are probably fan sites on Google, we invite you to search by yourself. Otherwise you can also find our dedicated portal by clicking here.
Is there a forum on the internet to discuss the game Black Knight?
No, according to our information, Black Knight does not yet have a forum or subreddit clearly identified to the community. However, it is possible that you can find one by searching on your favorite search engine, which we invite you to do! You can also look at social networks, indeed many groups exist for example on Facebook to allow communities to exchange between enthusiasts.
Is Black Knight compatible with VR?
No, Black Knight is not currently compatible with virtual reality, but we hope that one day it will be possible to play it with this new technology!
Does the game Black Knight have other names around the world?
No, according to our information, there is no other way to name Black Knight, or it is very marginal.
What are similar games to Black Knight?
Black Knight is a game similar to Knights and Merchants: The Shattered Kingdom, Real Warfare 1242, Villagers, Life is Feudal: Forest Village, Ancestors Legacy, The Black Death, Medieval Kingdom Wars, Kings of Steel and Ancient Cities, if you liked Black Knight, you will surely love this list of games we just mentioned! You can find our dedicated portals by clicking on the name of the games, and make your own opinion very quickly!
×