To amass a real fortune in this Disney game, you will mainly have to buy and sell materials and various objects. There are, however, effective methods to earn the famous Star Coins very quickly, the currency that is used to trade with the inhabitants of Dreamlight Valley. 
In this guide, we show you a technique that you can apply from the start of your adventure to be able to earn a few tens of thousands of Star Coins in a very short time. Enough gold to build new houses for Disney characters to settle in your valley and also enough to expand your inventory storage space which is very limited at the start of the game. Apply the method described in this guide and you will soon become as rich as Scrooge himself!
How to earn a lot of gold and get rich in the Disney Dreamlight Valley video game:
The first thing you need to do is fix Goofy's fruit and veg stand which is in the quiet meadow just down the stairs from the plaza. Then, create a field in which you will plant vegetables using your shovel. With the construction mode (furniture), remove all the elements of the decor that bother you to be able to create a large enough garden. In this game you can easily move trees, small stones, anything that you cannot destroy with your pickaxe. 
When it's done, take out your shovel and dig no less than 100 holes! To speed up the process, remember to leave your finger pressed on the key allowing to dig so that your character continues his task on a whole row. After plowing the land with a view to planting your vegetables, go to Goofy's stand and buy carrot seeds from him. You will need to upgrade the stand twice in a row with some gold to be able to buy large quantities of carrot seeds. As Scrooge himself will tell you, upgrading the Stand can be a solid investment over time. And for once, he is not wrong!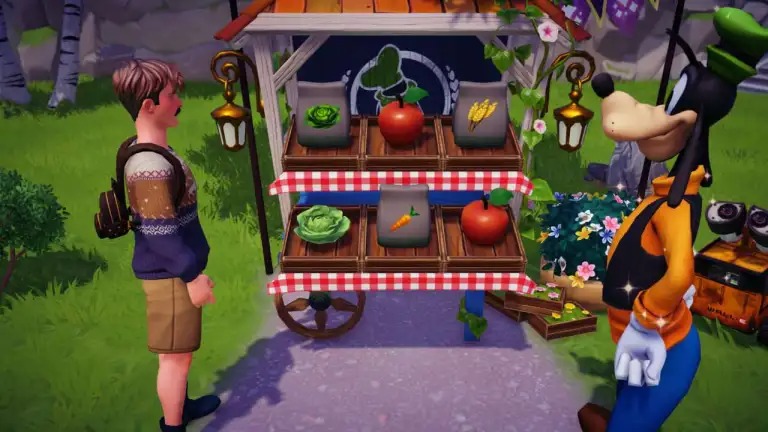 Buy 99 Carrot Seeds and plant them in your garden (ours is right next to Goofy's stall) . Once all the seeds are planted, get out your watering can (as a reminder, you'll find this royal accessory right behind your house) and water all the plants. In 15 minutes you will be able to harvest more than 99 carrots. You will necessarily have more than you planted, because sometimes several carrots come out of the field when you harvest them. It also happens that there is a sort of "lucky pick-up" where a planting in the garden begins to shine in gold. All you have to do is approach and press the collection button continuously to collect between 5 and 10 carrots at once!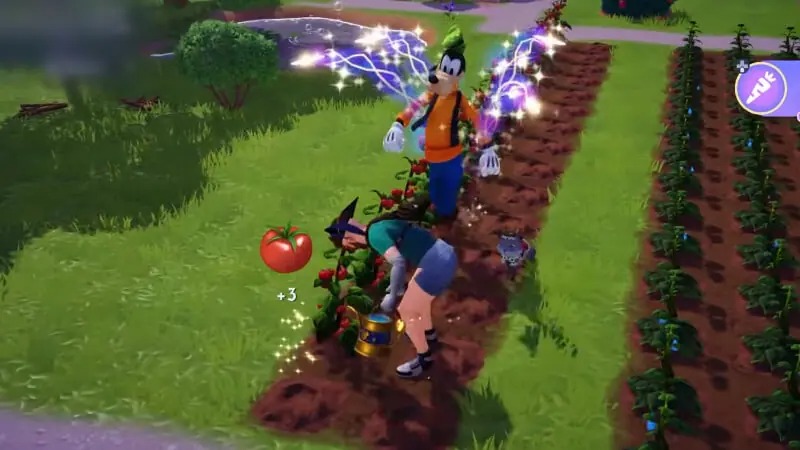 You can sell each of your carrots for 44 star coins at the Goofy stand, which gives you 4400 coins if you sell 100. But let's optimize the thing! After planting and watering your future vegetables, take out your fishing rod and catch fish that are found in the three bodies of water around Goofy's stand. It will often happen that you catch the "Bremen" , a silver-colored fish that sells on the stand for 600 gold coins. You can easily catch up to 7 Bremen fish every 15 minutes (the time it takes your carrots to reach maturity) in addition to other kinds of fish.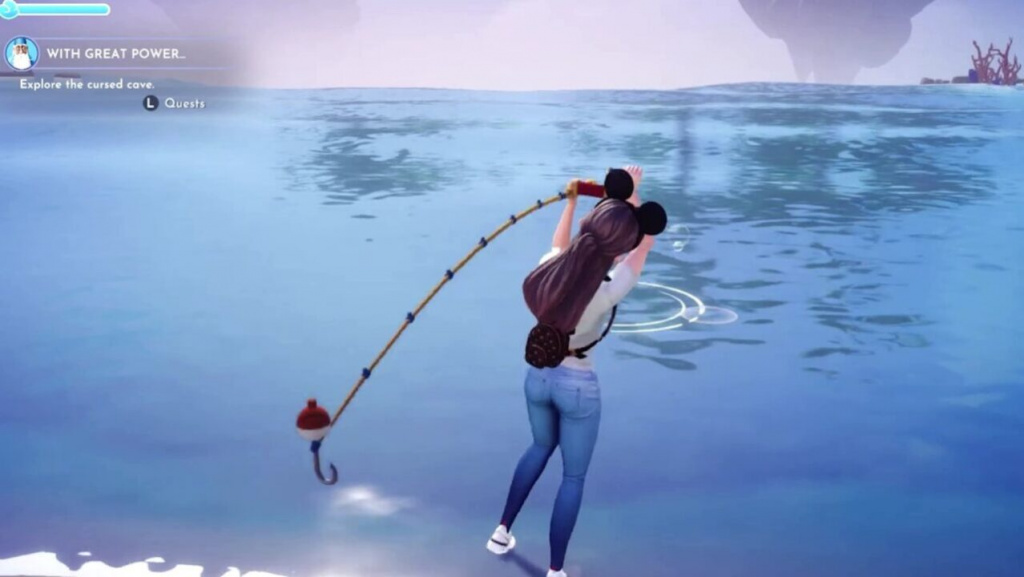 You will therefore be able to make 4200 additional gold coins by reselling the "Bremen" and even more with all your catches. You exceed a total of 10k coins that you can get every 15 ≈ 20 minutes of play or so. You can repeat the operation as many times as you want. If your character is low on stamina, return from your house and cook the fruit salad (which only requires an apple) and immediately restores 410 energy to your character when consumed.
Advanced method to get a lot of gold in the game Disney Dreamlight Valley:
Once you have advanced far enough in the game, at least enough to welcome Moana to your village and have freed the enchanted beach. You will be able to earn even more gold by completing the Repair Abandoned Ship quest for Moana. You'll need to fetch him some softwood, fiber, and pink hydrangeas before you have to prepare a rustic wooden box, baskets, and ropes for him. When this is done, Moana will be able to go to sea to catch fish for you, which she will keep for you in a box. Every 10 minutes she will add a fish to the box.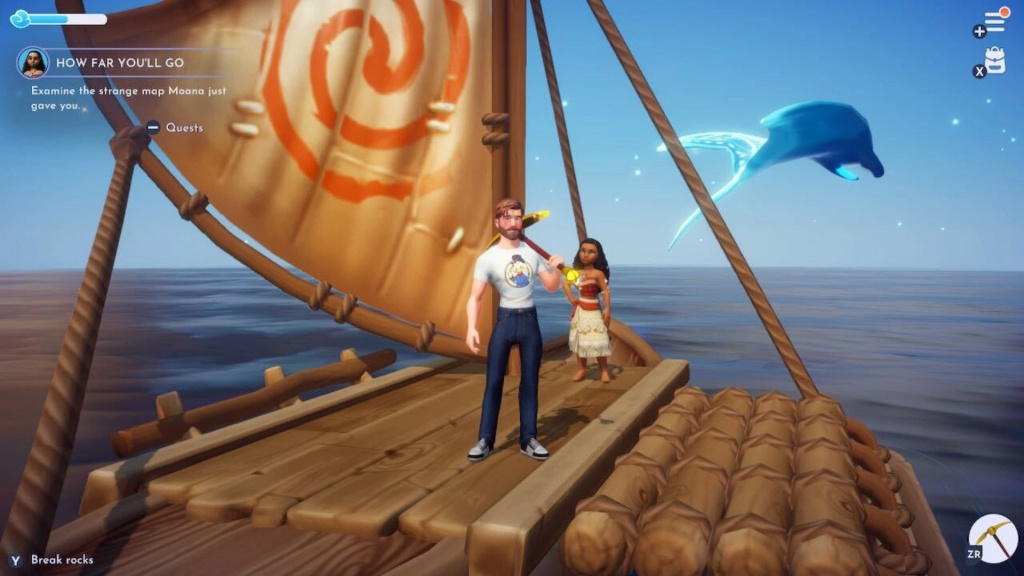 Upgrade her facility as much as possible by giving Scrooge Gold so Moana will be able to bring you rarer types of fish. A monkfish sells for 1,500 coins, for example, and a white sturgeon for 1,200 coins. Thanks to her, you will earn gold regularly by reselling her catches without having to do anything. Now you know how you can become as rich as Scrooge by playing Disney Dreamlight Valley.
Is Disney Dreamlight Valley a good video game?
Yes Disney Dreamlight Valley is a great video game, we are proud to have given it a rating of 84%. Any good gamer must have played Disney Dreamlight Valley at least once in his life, we can even fully consider it as one of the best games of the genre! In short, it is a must and you must try it if you have the opportunity!
Can I play Disney Dreamlight Valley with my friends?
No, as far as we know, there is no multiplayer mode for Disney Dreamlight Valley, you'll have to lend the controller to each other and take turns playing! We hope that a multiplayer mode will be available thanks to a next update, a remake or even a sequel, who knows!
Is Disney Dreamlight Valley available on multiple platforms?
Yes, the game Disney Dreamlight Valley is developed to be compatible with PC (Microsoft Windows), PlayStation 4, Xbox One, Nintendo Switch, PlayStation 5, Xbox Series X|S and Mac. It's quite handy to be able to play it on several different consoles, thanks to the Gameloft development studio!
Is Disney Dreamlight Valley a recent game?
Yes, Disney Dreamlight Valley is a recent game, it was launched in most regions on Sep 06th 2022, 1 year 29 days ago.
Disney Dreamlight Valley has been released on PC (Microsoft Windows), PlayStation 4, Xbox One, Nintendo Switch, PlayStation 5, Xbox Series X|S and Mac.
Is there an official website for Disney Dreamlight Valley?
Yes Disney Dreamlight Valley has its own official website! You can find it by clicking here.
Is there a forum on the internet to discuss the game Disney Dreamlight Valley?
Yes there is a website where Disney Dreamlight Valley fans can meet to discuss and exchange content, tips and advice on the game. It's on the Reddit website and you can find this Subreddit by clicking here.
Is Disney Dreamlight Valley compatible with VR?
No, Disney Dreamlight Valley is not currently compatible with virtual reality, but we hope that one day it will be possible to play it with this new technology!
Does the game Disney Dreamlight Valley have other names around the world?
Yes, the game is also known by these names around the world:
ディズニー ドリームライトバレー (Japanese title - original)
디즈니 드림라이트 밸리 (Korean title)

What are similar games to Disney Dreamlight Valley?
Disney Dreamlight Valley is a game similar to Star Control: Origins, GreedFall, Immortal: Unchained, Dragon: Marked for Death, The Elder Scrolls VI, Eternity: The Last Unicorn, Warhammer: Chaosbane, The Elder Scrolls: Blades, Torchlight III and Hytale, if you liked Disney Dreamlight Valley, you will surely love this list of games we just mentioned! You can find our dedicated portals by clicking on the name of the games, and make your own opinion very quickly!
×