The Two-Handed Sword is present in force in Elden Ring , with everything that made its charm in previous titles, and more. This is by far your best option to use a colossal sword quickly during your adventures in the Underworld, since it is both very easy to obtain, inexpensive, with low requirements, at 19 strength and 11 dexterity for be handled with one hand , and formidable techniques, so all-in-one. We even love it so much that it has followed us throughout the story, and we killed the last boss with this fully upgraded weapon. Suffice to say that it is a safe bet.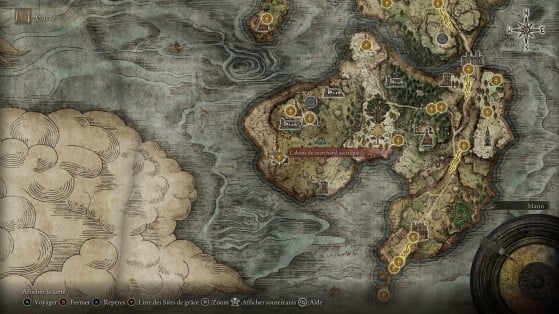 Get the Zweihander
You can get this weapon only a few minutes after starting the game in theory if you are efficient, but wait until you have your mount and 3500 Runes in stock. Upon exiting the tutorial, travel south to reach the Tearful Peninsula (check our maps as needed). You have to go to the southwestern part of the area, to the Ascetic Merchant's Hut . At this price, it's an excellent deal. He is probably one of the best merchants in the game, since he has other highly desirable products. You should come back later with more runes to buy his Stoneblade Keys, his lantern (which saves you from having to hold a torch) and later still, the sacrificial branches, which will help you not to lose a large amount of runes by dying in a secluded corner.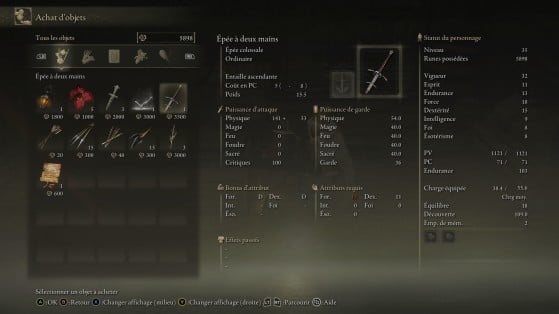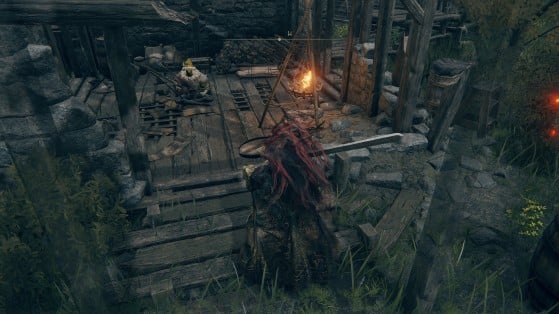 Wield a two-handed weapon
Let's take this opportunity to re-explain a fundamental point of the gameplay, since this weapon is made to be wielded preferably with two hands, and it's not very intuitive, since it has been modified compared to Demon's Souls, Dark Souls and the other FromSoftware games. Now, if you want to wield a two-handed weapon, just pressing Y/Triangle is no longer enough. You have to press Y + RB or Triangle + R1 for the weapon in the right hand. Or, Y + LB or Triangle + L1 for the off-hand weapon, depending on the type of pad used.
Note in passing that this also allows you to change the weapon used on horseback, if you prefer to cast spells for example. You cannot wield a two-handed weapon while mounted.
It is also not possible to go from one to two hands in the Round Table .
Is Elden Ring a good video game?
Yes Elden Ring is a great video game, we are proud to have given it a rating of 96%. Any good gamer must have played Elden Ring at least once in his life, we can even fully consider it as one of the best games of the genre! In short, it is a must and you must try it if you have the opportunity!
Can I play Elden Ring with my friends?
Yes, you can play Elden Ring multiplayer (online) with your friends! So think about it the next time you have a party at home, it can be a great opportunity to have a great time with your friends and family, while determining who is the best at Elden Ring!
Is Elden Ring available on multiple platforms?
Yes, the game Elden Ring is developed to be compatible with PC (Microsoft Windows), PlayStation 4, Xbox One, PlayStation 5 and Xbox Series X|S. It's quite handy to be able to play it on several different consoles, thanks to the FromSoftware development studio!
Is Elden Ring a recent game?
Yes, Elden Ring is a recent game, it was launched in most regions on Feb 25th 2022, 1 year 7 months 5 days ago.
Elden Ring has been released on PC (Microsoft Windows), PlayStation 4, Xbox One, PlayStation 5 and Xbox Series X|S.
Is there an official website for Elden Ring?
Yes Elden Ring has its own official website! You can find it by clicking here.
Is there a forum on the internet to discuss the game Elden Ring?
Yes there is a website where Elden Ring fans can meet to discuss and exchange content, tips and advice on the game. It's on the Reddit website and you can find this Subreddit by clicking here.
Is Elden Ring compatible with VR?
No, Elden Ring is not currently compatible with virtual reality, but we hope that one day it will be possible to play it with this new technology!
Does the game Elden Ring have other names around the world?
Yes, the game is also known by these names around the world:
艾尔登法环 (Chinese title - simplified)
艾爾登法環 (Chinese title - traditional)
ELDEN RING デジタルデラックスエディション (Japanese title - original)
エルデンリング (Japanese title - translated)
엘든 링 (Korean title)
엘든 링 (Korean title - unofficial)
Great Rune (Other)
ELDEN RING (Stylized title)

What are similar games to Elden Ring?
Elden Ring is a game similar to Borderlands 3, Immortal: Unchained, Dragon: Marked for Death, The Elder Scrolls VI, Eternity: The Last Unicorn, Warhammer: Chaosbane, The Elder Scrolls: Blades, Torchlight III, Hytale and Pokémon Shield, if you liked Elden Ring, you will surely love this list of games we just mentioned! You can find our dedicated portals by clicking on the name of the games, and make your own opinion very quickly!
×