Even if Elden Ring does not promise to be as rich as Zelda Breath of the Wild in terms of puzzles and twisted mechanisms, it is not entirely devoid of them either. Some examples are already waiting for you on the piece of map available in the beta, and this is only the beginning.
How to solve the riddle of the white traces on the beach in Elden Ring?
Probably the first such puzzle you'll come across is the series of icy footprints that circle the rocks on the beach. Hitting them seems to not pay off. As you can see in the video above, the solution is actually very simple, you actually had to attack the invisible, intangible creature that caused the tracks, but timing is important.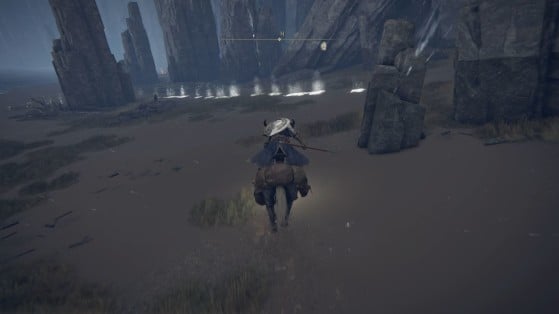 The best method is to place yourself at a point on your route and anticipate the arrival of the tracks. Imagine that the creature is in front of the first track, do not try to attack the white print. Using a zone technique can also help, if you have one. The Prophet's Earth Claws spell and especially the Champion's Dragon's Breath should allow you to kill the Invisible Tear Beetle easily.
Once the critter responsible is killed, you will get the Ashes of War : Determination as a reward, which is not fantastic, as far as we know. This grants a damage bonus to your attacks for a few seconds.