Recall that the events of Hogwarts Legacy take place in the late 1800s, about a century before Harry's adventures at Hogwarts. This is why the school of witchcraft will be significantly different from that seen through the eight feature films. Same observation on the side of the characters who will be mostly unknown to the fans.
Who to replace Voldemort?
After the State of Play , the Avalanche teams quickly mentioned the enemies that our young magician will encounter during his stay at Hogwarts. First, there's Ranrok, a goblin leading a goblin rebellion (logic). It must be said that relations between these creatures and wizards have always been strained. According to the license's mythology, three rebellions took place in the years preceding Harry's adventures.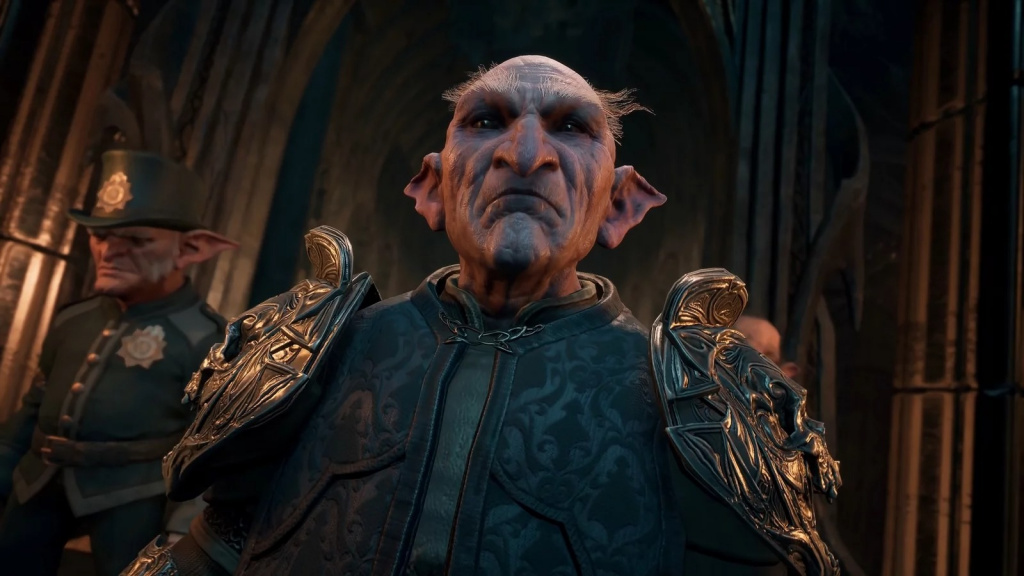 The second major villain of Hogwarts Legacy is a certain Victor Rookwood. The latter leads a faction of wizards adept in black magic. He appears to be the ancestor of Augustus Rookwood, a Death Eater sent to Azkaban after being exposed by Igor Karkaroff (Pensieve scene in Harry Potter and the Goblet of Fire ). Our hero will therefore have to face an army of wizards and goblins in Hogwarts Legacy .
Is Hogwarts Legacy a good video game?
Yes Hogwarts Legacy is a great video game, we are proud to have given it a rating of 86%. Any good gamer must have played Hogwarts Legacy at least once in his life, we can even fully consider it as one of the best games of the genre! In short, it is a must and you must try it if you have the opportunity!
Can I play Hogwarts Legacy with my friends?
No, as far as we know, there is no multiplayer mode for Hogwarts Legacy, you'll have to lend the controller to each other and take turns playing! We hope that a multiplayer mode will be available thanks to a next update, a remake or even a sequel, who knows!
Is Hogwarts Legacy available on multiple platforms?
Yes, the game Hogwarts Legacy is developed to be compatible with PC (Microsoft Windows), PlayStation 4, Xbox One, Nintendo Switch, PlayStation 5 and Xbox Series X|S. It's quite handy to be able to play it on several different consoles, thanks to the Avalanche Software development studio!
Is Hogwarts Legacy a recent game?
Yes, Hogwarts Legacy is a recent game, it was launched in most regions on Feb 10th 2023, 1 month 22 days ago.
Hogwarts Legacy has been released on PC (Microsoft Windows), PlayStation 4, Xbox One, Nintendo Switch, PlayStation 5 and Xbox Series X|S.
Is there an official website for Hogwarts Legacy?
Yes Hogwarts Legacy has its own official website! You can find it by clicking here.
Is there a forum on the internet to discuss the game Hogwarts Legacy?
No, according to our information, Hogwarts Legacy does not yet have a forum or subreddit clearly identified to the community. However, it is possible that you can find one by searching on your favorite search engine, which we invite you to do! You can also look at social networks, indeed many groups exist for example on Facebook to allow communities to exchange between enthusiasts.
Is Hogwarts Legacy compatible with VR?
No, Hogwarts Legacy is not currently compatible with virtual reality, but we hope that one day it will be possible to play it with this new technology!
Does the game Hogwarts Legacy have other names around the world?
Yes, the game is also known by these names around the world:
霍格華茲的傳承 (Chinese title - traditional)
호그와트 레거시 (Korean title)

What are similar games to Hogwarts Legacy?
Hogwarts Legacy is a game similar to Borderlands 3, God Eater 3, Pokémon Sword, The Elder Scrolls VI, Eternity: The Last Unicorn, Anima: Gate of Memories - The Nameless Chronicles, The Elder Scrolls: Blades, Remnant: From the Ashes, Torchlight III and Pokémon Shield, if you liked Hogwarts Legacy, you will surely love this list of games we just mentioned! You can find our dedicated portals by clicking on the name of the games, and make your own opinion very quickly!
×