The League of Legends client gets a makeover today and includes some highly anticipated new features. Yesterday Riot Games presented the brand new challenges , similar to the traditional achievements, challenges, successes and other trophies. To go along with them, the endgame screen has been completely redone . We return in detail to this overhaul which should please all statistics enthusiasts.
OVER 9000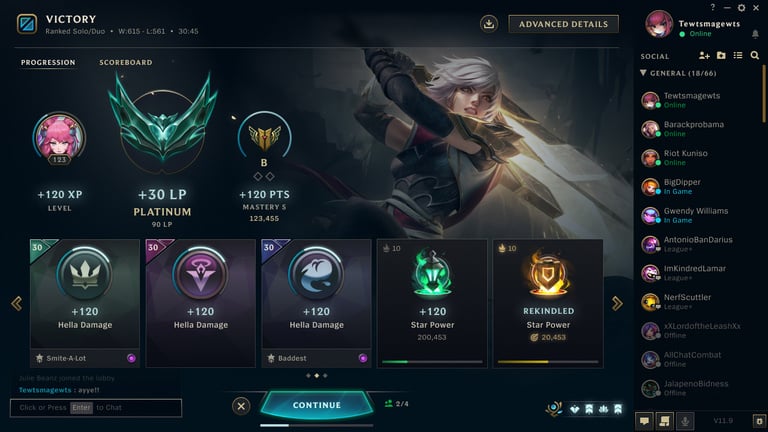 If the loading screen has seen the birth of a third side to its player cards to accompany the arrival of the challenges, this is not the case for the end of game screen which retains its two sides . On the other hand, one like the other has been greatly changed.
On the first page, you will find all the information you could already see before:
Your ranking progress when playing in a ranked game
The mastery of the champion, and the grade you obtained for the game (from D to S+)
Summoner level
The honor given by other players (bottom right of the screen)
In addition to all of this information, you'll quickly see that most of the screen is dedicated to progressing new challenges, as well as Eternals . Showcased online, you'll be able to see all of the challenge cards you've progressed through your game, and even leveled up. You will also find in this same line the eternal, sort of ancestors of the challenges adapted to each champion.
Thanks to this new graphical layout of the end of game page, you will be able to see at a glance all your immediate progress, whether it is for your champion, for your ranking or for your challenges . But for those who spent more time analyzing their game stats than looking at their Champion Masteries, the second page is for you.
JUNGLE DIFF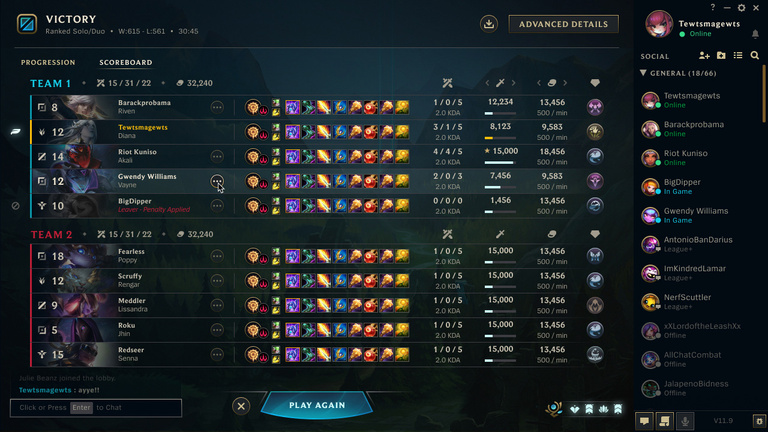 If its appearance remains broadly similar, the statistics page at the end of the game has still benefited from a certain facelift, and new data . In addition to everything you could already find before, you will now be able to see at each end of the game:
The position played by each player (in supported game modes)
The famous KDA (abbreviation of Kill/Death/Assist, a score which acts as a ratio of these three elements)
A column that alternates between damage dealt to champions, damage taken, healing/shields given, and crowd control score
A column that displays the total number of gold gained, the number of gold gained per minute, and the number of minions killed
A column that displays the challenge each player has made the most progress in during the game
The Honor given by other players, always at the bottom right, to ensure that players who have moved on to the second page will still be able to see this data easily.
Of course, the chat box is always displayed at the bottom left of both sides of the endgame window. Something to remind everyone how much your statistics prove that you were better than the others, or that you lost because of your very bad jungler whom you also call to postpone for intentional feeding.
Is League of Legends a good video game?
Yes League of Legends is a great video game, we are proud to have given it a rating of 79%. Any good gamer must have played League of Legends at least once in his life, we can even fully consider it as one of the best games of the genre! In short, it is a must and you must try it if you have the opportunity!
Can I play League of Legends with my friends?
Yes, you can play League of Legends multiplayer (online) with your friends! So think about it the next time you have a party at home, it can be a great opportunity to have a great time with your friends and family, while determining who is the best at League of Legends!
Is League of Legends available on multiple platforms?
Yes, the game League of Legends is developed to be compatible with PC (Microsoft Windows) and Mac. It's quite handy to be able to play it on several different consoles, thanks to the Riot Games development studio!
Is League of Legends a recent game?
No, League of Legends is not a recent game, it was launched in most regions on Oct 27th 2009, 13 years 11 months 6 days ago.
League of Legends has been released on PC (Microsoft Windows) and Mac.
Is there an official website for League of Legends?
Yes League of Legends has its own official website! You can find it by clicking here.
Is there a forum on the internet to discuss the game League of Legends?
Yes there is a website where League of Legends fans can meet to discuss and exchange content, tips and advice on the game. It's on the Reddit website and you can find this Subreddit by clicking here.
Is League of Legends compatible with VR?
No, League of Legends is not currently compatible with virtual reality, but we hope that one day it will be possible to play it with this new technology!
Does the game League of Legends have other names around the world?
Yes, the game is also known by these names around the world:
LoL (Acronym)
英雄联盟 (Chinese title)
英雄聯盟 (Chinese title - traditional)
Liga der Legenden (German title)
リーグ・オブ・レジェンド (Japanese title)
リーグオブレジェンズ (Japanese title - translated)
롤 (Korean Alias)
리그 오브 레전드 (Korean title)
Liga das Lendas (Portuguese title)
Liga dos lendários (Portuguese title)
League (Short-name)

What are similar games to League of Legends?
League of Legends is a game similar to Strife, Heroes of the Storm, Forsaken World, Borderlands 3, God of War, Battlerite, Fire Emblem Heroes, GreedFall, Mobile Legends: Bang Bang and Eternity: The Last Unicorn, if you liked League of Legends, you will surely love this list of games we just mentioned! You can find our dedicated portals by clicking on the name of the games, and make your own opinion very quickly!
×