These beginner tips will mostly focus on exploration the combat system and resource management of Tower of Fantasy. Let's get right into it.
Customize your controls and settings
To start off make your gameplay experience more personalized by customizing your button mapping and display preferences.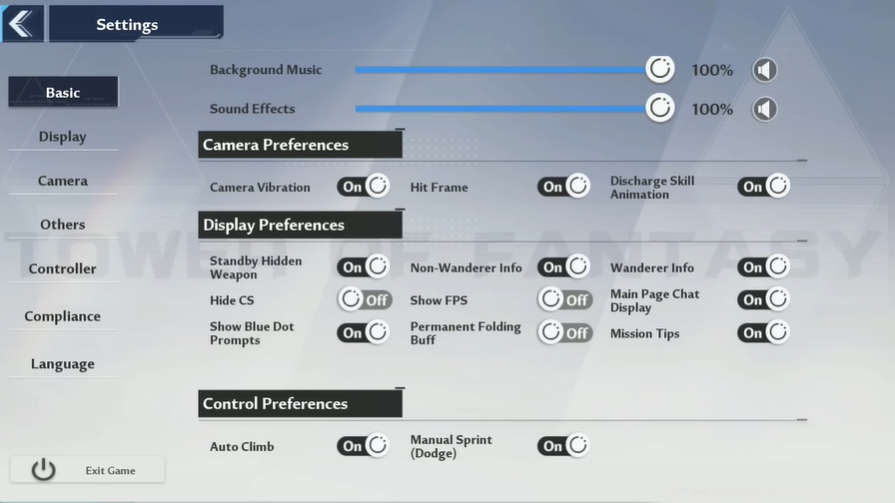 Mastering combat especially relies on switching to your arsenal of different weapons, so map the weapon keys to what works best for you.
I personally set mine to 1-2-3 rather than their default and this made for a more comfortable experience.
Another menu of items you can toggle are these display preferences. Here you can choose what information will be displayed on your interface. As you become more familiar with the game's mechanics, you can opt to show or hide certain elements. One unique setting that I also appreciate are the style settings, It's like putting a visual filter on the open world to help suit your tastes and create a more immersive vibe.
Get through the early story
Once you get through the tutorial, you'll find a lot of things to do browse and explore right away. It's easy to get distracted by all the shiny new options available and I can't fault you for that as the open world has much to offer.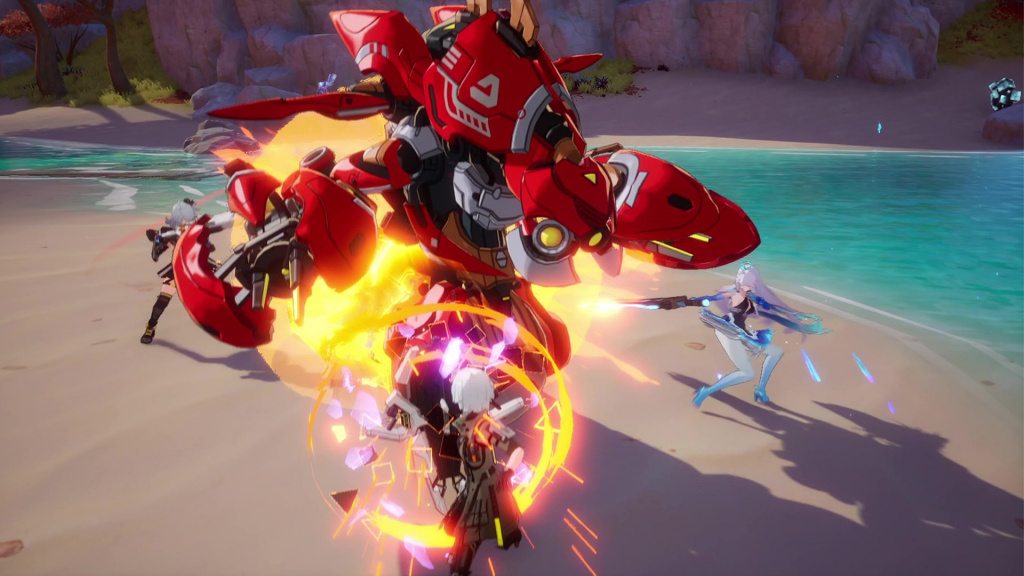 Still I highly recommend you focus on getting through the early story until you're about level 15 to 20. It's only after much of the story's first arc that most of the games mechanics menus and equipment will be made available to you. Finishing that first major chapter also lets you access more of the open world in order to get the full experience. You can also save weapon upgrade resources.
By the time you get through the first major chapter of the story, you should have a better understanding of combat upgrading and weapon mechanics. This lets you be a bit wiser on where you'll spend your upgrades.
Know your weapon details
Now let's talk about tower of fantasy's fun combat system, the highlight of its gameplay. There's a wide variety of weapons to choose from with SR and SSR rarities being your goal to collect.
Understanding how a weapon works will help you master combat faster.
This icon indicates whether the weapon is cured for offense defense or support.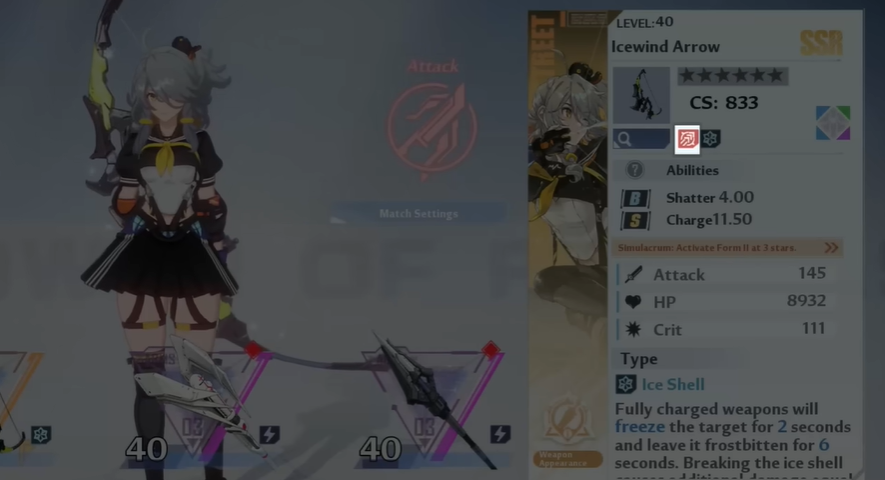 They have elemental and non-elemental types.
Enemies can have increased weakness or resistance to certain types which are indicated by an icon below their hp bar.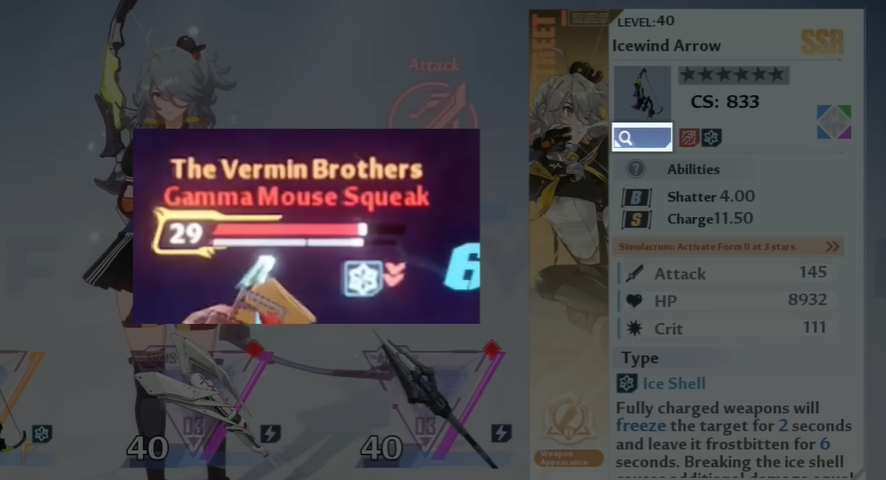 Clicking this magnifying glass icon reveals its details tab.
Here you can see the normal attack combos, damage multipliers, dodge abilities skill effect and discharge effect.
To the right are the matrix slots, you'll learn to match up matrix effects to synergize with each weapon.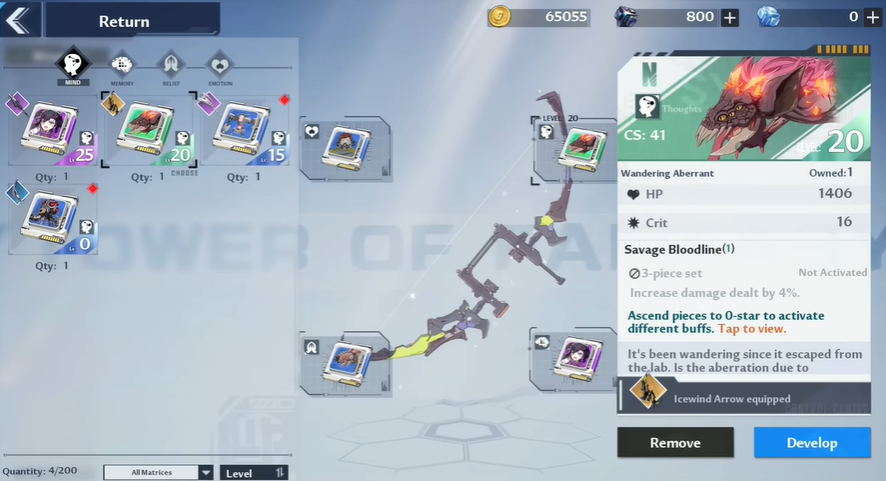 Then weapons have a shatter and charge value. In summary, shatter value indicates how fast a weapon can break enemy shields.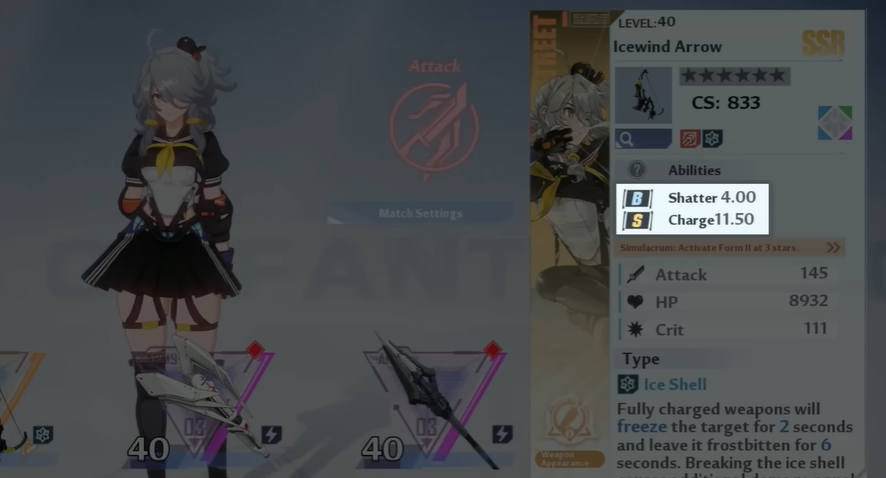 Charge value is how fast it charges your weapons by hitting enemies indicated by the outline of the adjacent hexagons.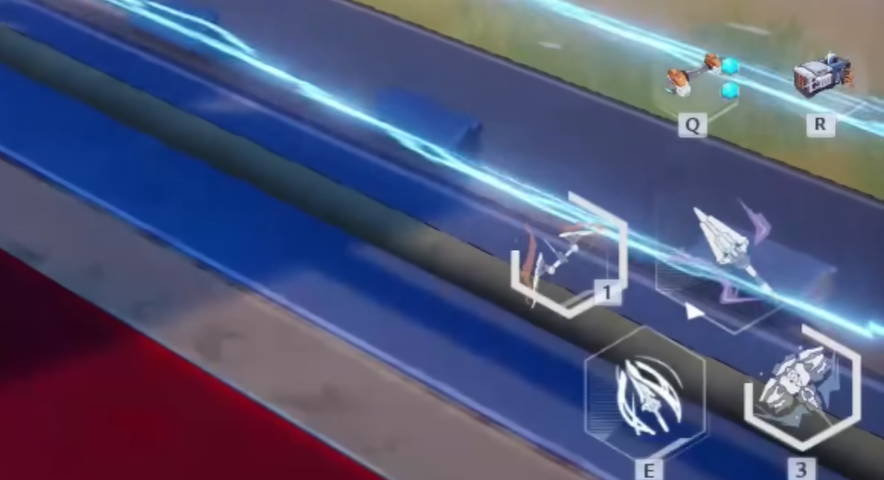 This type description explains the weapon's on-field effect when it's fully charged.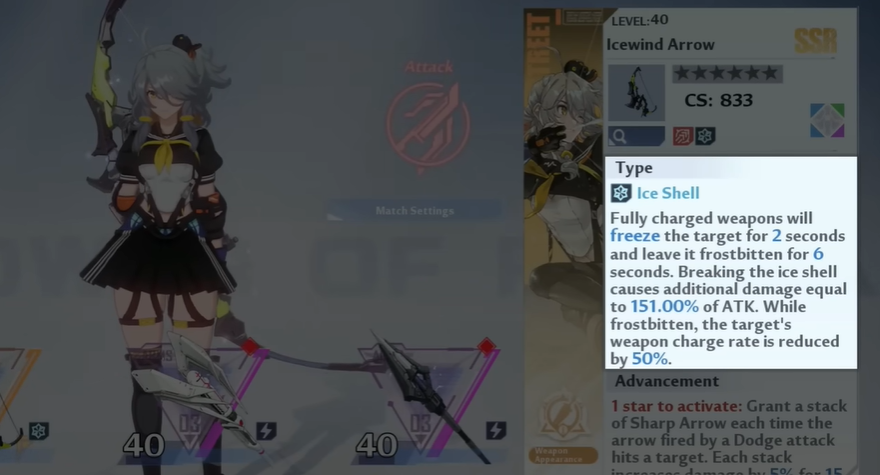 Then switching to another weapon at that point will unleash that weapon's discharge effect mentioned in the info tab.
Finally SR and SSR weapons have advancements which are additional effects indicated by these stars.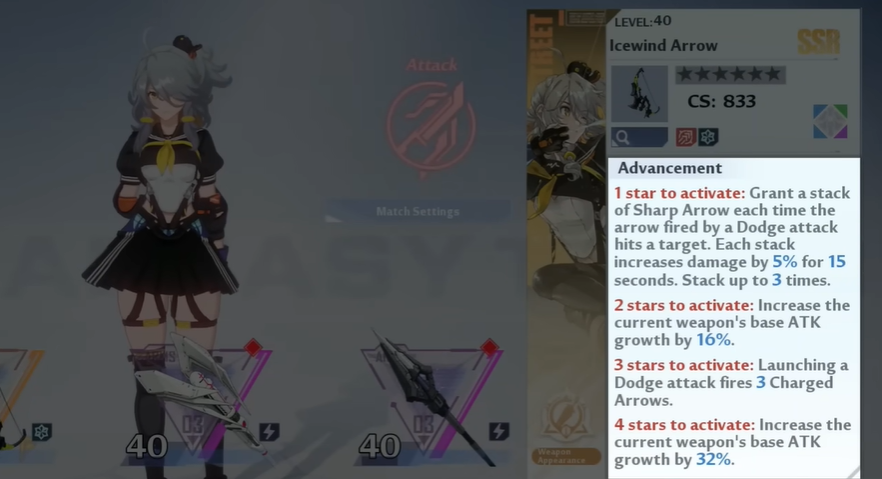 Feed duplicates to advance it understanding these details is one important step to understanding and unlocking your arsenal's potential.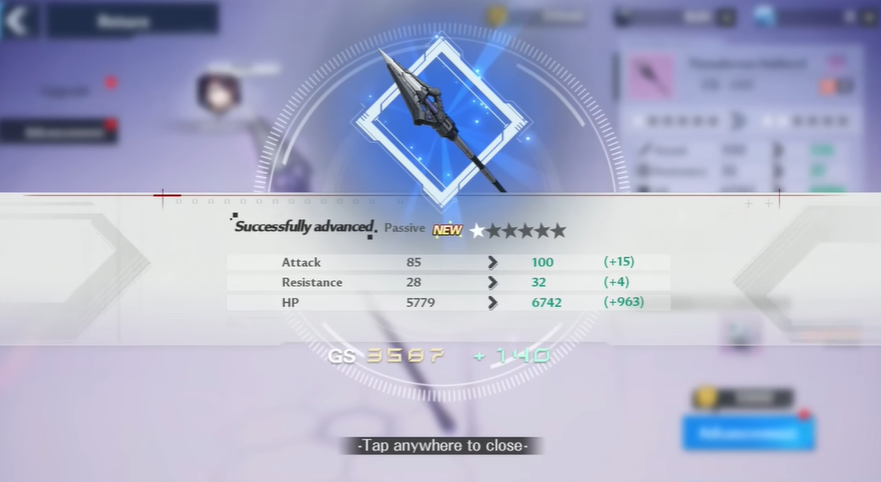 Experiment with attack combos
Tower of Fantasy's combat allows for skill expression, in terms of reflexes chaining combos and creating seamless cool looking attack sequences.
You can learn about weapons combos both on the weapon info tab and on their survival guide weapon skills section.
Depending on the weapon there's a variety of tap and hold combos, sneak attacks, dodge attacks, ground, mid air and plunging attacks.
You can even do attacks mid-air which can deal more damage but the endurance bar limits how much aerial combat you can perform.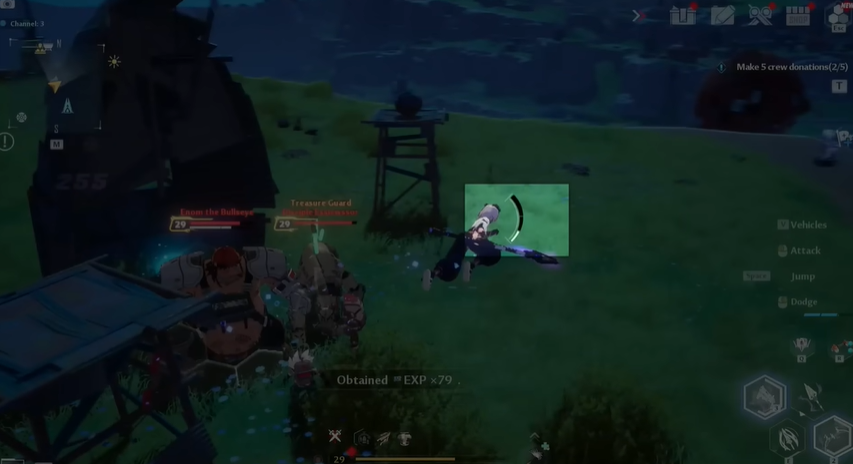 Weapons also have a skill button. Don't forget to weave that into your attack combos as they can improve your damage and chain attacks.
In the early game, it's not so crucial to learn these combos by heart yet. But as you advance into the game and even engage in PVP battles, these specific combos and movements might come more in handy.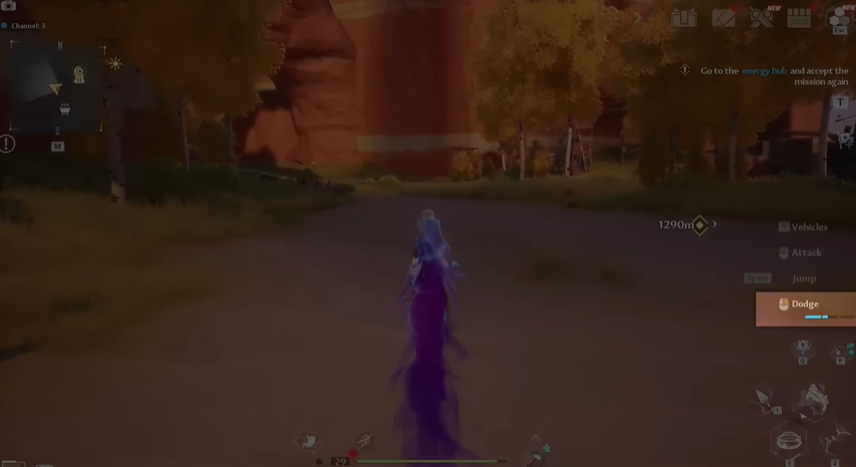 To help with that combat mobility, you have three dodge charges. There's a short cooldown between executing dodges, but once you deplete all three and try to dodge again all your dodges are on cooldown.
More importantly performing a perfect dodge will enter you into a fantasia which slows time and lets you land lots of blows before the enemy can land its next attack. It also lets you instantly use your discharge skill even if your weapon isn't fully charged.
Dodge was precision to stay alive and destroy enemies faster.
Experiment with effective weapon loadouts
Tower of Fantasy's weapon system lets you equip 3 weapons, which opens up more possibilities for effective loadouts and rotations. When you understand what your weapons do, you'll be able to create weapon combinations that complement one another.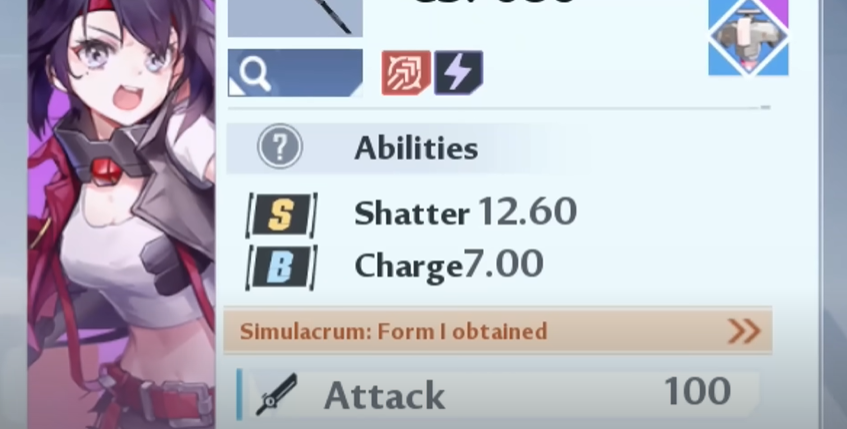 One basic example is having one weapon that has a high shatter value to ensure you have something to break shields with faster.
You can also mix offensive defensive and support weapons. Different combinations of weapons also unlock different weapon resonances that will affect your stats.
Eventually, you'll have three powerful loadouts to help with a wide variety of combat and exploration scenarios.
Farm for gear and resources
Upgrading your weapons and matrices are a major part of combat.
As you progress, you'll feel weaker against enemies if your gear are under-leveled. However, there are more pieces of equipment that you shouldn't ignore, in particular are these equipment or armor that you can equip several types of at a time.
These add to your power level or cs. You can get these equipment in the open world from chests, but you can also farm them and their level of materials from doing various trials and challenges.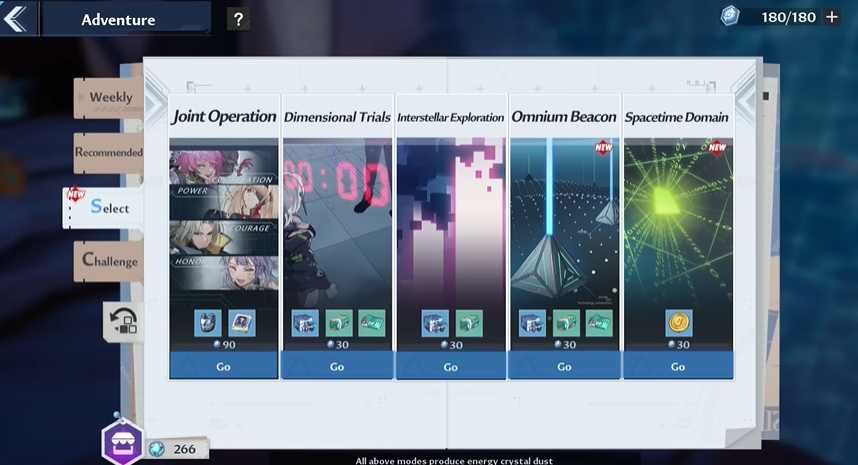 Doing certain activities like joint operation will let you farm materials resources and xp, to get such rewards you need to spend what's called vitality. This limits those activities you can do per day but it continuously recharges.
Don't forget to spend vitality as it would be a waste to let it cap for a long time.
Explore explore explore
In addition to spending vitality, Tower of Fantasy's open world gives you a ton of resources. Exploring alone gives you a lot of Black Nucleus/Nuclei and sometimes gold Nuclei/Nucleus for ordering new weapons.
Points of interest are scattered all over for rewards, they can be easy to spot though some are less obvious and will require a bit of movement tricks or puzzle solving.
Enter ruins which are like quick dungeons, doing them asap will allow you to get relics to give you more options for traversal or combat.
Do training facilities to get currency for spending in the game shop.
Collects cooking ingredients too, eating regularly keeps up your satiaty and speeds up healing outside of combat.
Tower of Fantasy's world gives you so much to do, rack up exploration achievements complete your world progress and get more rewards to help collect your waifus and husbandos.
Those are my tips to start your Tower of Fantasy adventure. Hopefully this helped you understand the game's basics more. There's much more to discover throughout the game as you play along, so have fun exploring the world of Aida !
Is Tower of Fantasy a good video game?
Yes Tower of Fantasy is a great video game, we are proud to have given it a rating of 70%. Any good gamer must have played Tower of Fantasy at least once in his life, we can even fully consider it as one of the best games of the genre! In short, it is a must and you must try it if you have the opportunity!
Can I play Tower of Fantasy with my friends?
Yes, you can play Tower of Fantasy multiplayer (online) with your friends! So think about it the next time you have a party at home, it can be a great opportunity to have a great time with your friends and family, while determining who is the best at Tower of Fantasy!
Is Tower of Fantasy available on multiple platforms?
Yes, the game Tower of Fantasy is developed to be compatible with PC (Microsoft Windows), Android and iOS. It's quite handy to be able to play it on several different consoles, thanks to Perfect World, Hotta Studio and Perfect World and Hotta Studio and Perfect World development studios!
Is Tower of Fantasy a recent game?
Yes, Tower of Fantasy is a recent game, it was launched in most regions on Dec 16th 2021, 1 year 9 months 17 days ago.
Tower of Fantasy has been released on PC (Microsoft Windows), Android and iOS.
Is there an official website for Tower of Fantasy?
Yes Tower of Fantasy has its own official website! You can find it by clicking here.
Is there a forum on the internet to discuss the game Tower of Fantasy?
Yes there is a website where Tower of Fantasy fans can meet to discuss and exchange content, tips and advice on the game. It's on the Reddit website and you can find this Subreddit by clicking here.
Is Tower of Fantasy compatible with VR?
No, Tower of Fantasy is not currently compatible with virtual reality, but we hope that one day it will be possible to play it with this new technology!
Does the game Tower of Fantasy have other names around the world?
Yes, the game is also known by these names around the world:
幻塔 (Japanese title - original)
타워 오브 판타지 (Korean title)
환탑 (Korean title - alternative)

What are similar games to Tower of Fantasy?
Tower of Fantasy is a game similar to Borderlands 3, Citadel: Forged With Fire, Immortal: Unchained, Dragon: Marked for Death, The Elder Scrolls VI, Eternity: The Last Unicorn, The Elder Scrolls: Blades, Torchlight III, Hytale and Pokémon Shield, if you liked Tower of Fantasy, you will surely love this list of games we just mentioned! You can find our dedicated portals by clicking on the name of the games, and make your own opinion very quickly!
×