V Rising 's Blood Altar isn't the only way to start boss fights, some of them are going to be summonable, including the infamous level 30 Putrid Rat that a lot of players seem to be looking for . In this guide, we explain how to nab the most complicated element of the summoning recipe.
The Quest for the Putrid Rat
The Putrid rat boss is in the blood altar like the others, but it is impossible to launch a blood hunt . To fight it, you will have to summon it in the vermin nest using several types of ingredients, including the famous twilight snapper which, as we will see, will require significant effort. Defeating this boss within your castle grounds will grant you access to the vampiric rat form, perfect for going unnoticed.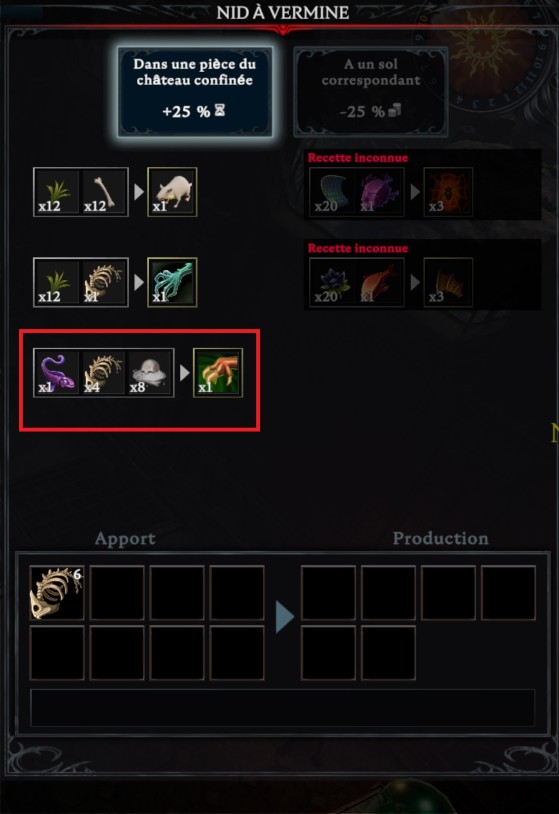 Twilight Snapper Fishing
It's very simple and very complicated at the same time: the twilight snapper can be caught in any waterhole in the woods of V Rising, however the spawn rate of this particular fish is absolutely infamous . To give you an idea, it took us 1 hour of shooting to find the fishing spots that appear randomly on the water. Note that the other types of fish will also be useful to you, since you can feed them to the Devourer of your castle so that it makes you fish bones, another component necessary to summon the Putrid Rat.
A quick point on fishing
While waiting for the little guide dedicated to fishing, we make it short: locate the boss who will unlock the rod and the cabinetmaker's workbench to be able to craft everything you need. Once the cane is on you, you will have to cover ground and look at all the sources of the map in search of small bubbles on the surface. Once the hook is launched, wait for a big splash to occur to left click and collect your reward.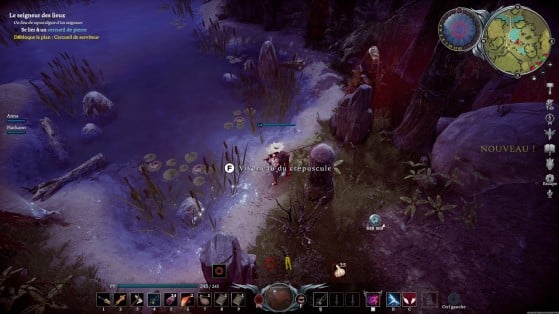 Is V Rising a good video game?
Yes V Rising is a great video game, we are proud to have given it a rating of 76%. Any good gamer must have played V Rising at least once in his life, we can even fully consider it as one of the best games of the genre! In short, it is a must and you must try it if you have the opportunity!
Can I play V Rising with my friends?
Yes, you can play V Rising multiplayer (online) with your friends! So think about it the next time you have a party at home, it can be a great opportunity to have a great time with your friends and family, while determining who is the best at V Rising!
Is V Rising available on multiple platforms?
No, the game V Rising is currently only available on PC (Microsoft Windows). We hope that Stunlock Studios development studio will release the game on other consoles soon, even if nothing is planned for the moment!
Is V Rising a recent game?
Yes, V Rising is a recent game, it was launched in most regions on May 17th 2022, 1 year 4 months 16 days ago.
V Rising has been released on PC (Microsoft Windows).
Is there an official website for V Rising?
Yes V Rising has its own official website! You can find it by clicking here.
Is there a forum on the internet to discuss the game V Rising?
No, according to our information, V Rising does not yet have a forum or subreddit clearly identified to the community. However, it is possible that you can find one by searching on your favorite search engine, which we invite you to do! You can also look at social networks, indeed many groups exist for example on Facebook to allow communities to exchange between enthusiasts.
Is V Rising compatible with VR?
No, V Rising is not currently compatible with virtual reality, but we hope that one day it will be possible to play it with this new technology!
Does the game V Rising have other names around the world?
No, according to our information, there is no other way to name V Rising, or it is very marginal.
What are similar games to V Rising?
V Rising is a game similar to Cyberpunk 2077, Life is Feudal: Your Own, Rising World, Miscreated, Savage Lands, Borderlands 3, Sky Break, Force of Nature, Dude Simulator and Dude Simulator 2, if you liked V Rising, you will surely love this list of games we just mentioned! You can find our dedicated portals by clicking on the name of the games, and make your own opinion very quickly!
×