The Esports industry is currently all over the media and is experiencing rapid growth. Esports refers to professional video gamers playing competitively against each other. Similar to traditional sports, Esports has professional teams, organizations, sponsors, and tournaments. The scene is catching up to sports such as Football and Basketball as a source of entertainment. Standing at the peak of the Esports industry is Counter-Strike: Global Offensive. Here are some reasons why CS:GO is one of the most developed Esports you can find!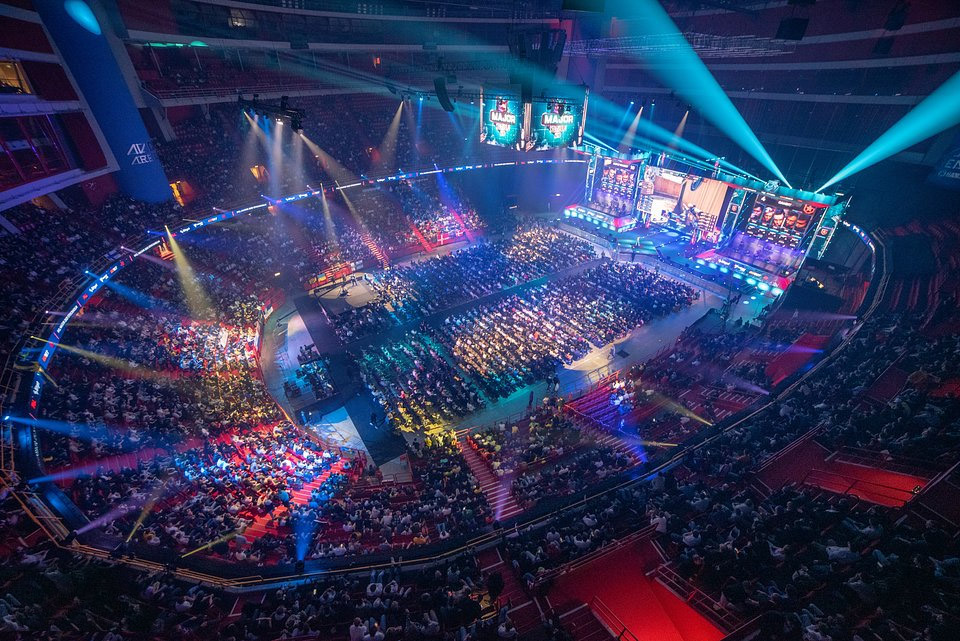 Large-Scale Tournaments and Inclusiveness
Counter-Strike: Global Offensive is notoriously known for having some of the best tournaments in the entirety of Esports. A handful of million-dollar tournaments occur yearly in CSGO, making these tournaments incredibly large-scale. CSGO Major tournaments six years ago used to offer $250,000 in prize pools. Still, Major tournaments in the present time provide more than one million dollars in winnings.
These tournaments are held in large venues with thousands of fans in attendance. Despite having events in different countries and continents, these large venues still sell out almost every time. Watching these tournament matches becomes very exciting, especially when you hear a crowd roaring in the background. 
CSGO also does a great job when it comes to being inclusive of teams that come from regions all around the world. CSGO tournaments often provide smaller regions with chances to qualify for their tournaments. 
The most notable example would be the Asian qualifiers, where teams from the Asia Pacific and Oceania can have a chance to qualify for big tournaments. Having teams qualify worldwide will ensure that more fans will be interested in watching their respective regions compete in large-scale tournaments.
Fast-Paced and Intense Matches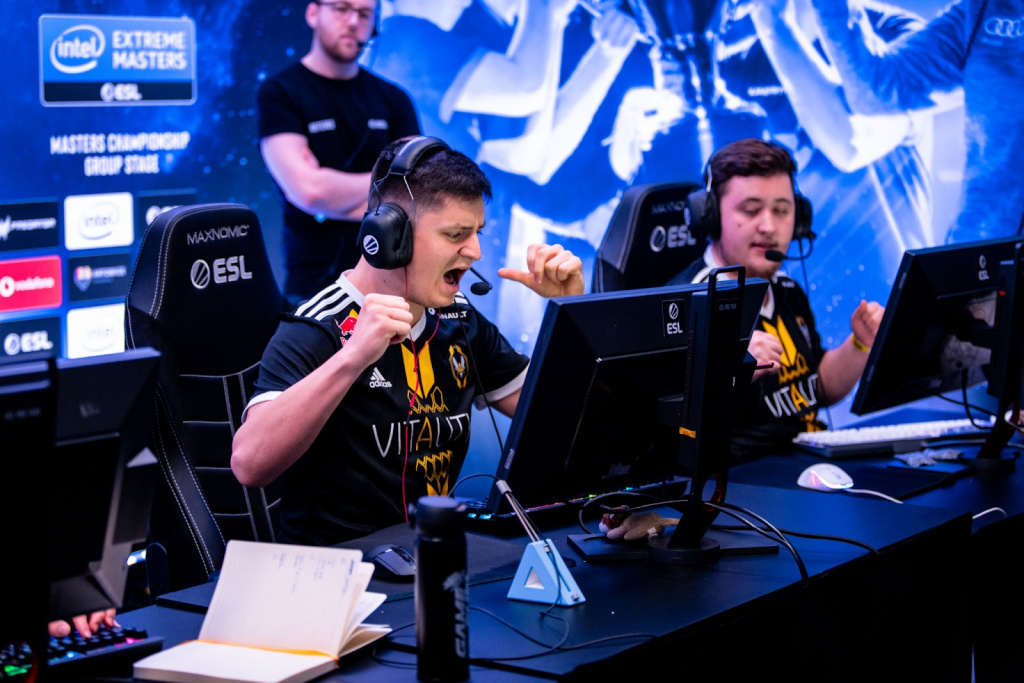 Counter-Strike is also popular due to its action-packed gameplay. CSGO almost always has non-stop action, as players must use fast-paced strategies in every round. The quick pace that CSGO is played makes it less dull for fans to watch the game. 
Other Esports, such as Dota 2 and League of Legends, require lots of farming and idle time. Meanwhile, viewers can enjoy every round of CSGO as there is non-stop action.
CSGO maps used to favor the Counter-Terrorist side heavily. Still, over the years, Valve has changed the Competitive Map Pool and the Competitive Maps, making it easier to play on the Terrorist side. 
These changes allow for more balanced gameplay between the two opposing sides. As a result, many professional matches can go into Overtime, where lots of intense and high-pressure moments can be found.
Safe and Interesting Betting
Counter-Strike is also one of the most popular options regarding Esports betting. CSGO matches are generally safer, as a team must reach sixteen rounds to win. This makes CSGO betting a safe option compared to other Esports. 
For example, in Dota 2 or League of Legends, a game can be completely turned around from a single team fight and lead to a comeback. Meanwhile, CSGO teams will need to claw their way one round at a time when attempting a comeback making betting on CSGO much safer.
It's also important to note that CSGO offers a handful of betting markets, making it very flexible for different types of CSGO bets. Markets such as Match Winner, Map Winner, First to 5 Rounds, Over and Under are always available on CSGO betting sites. This makes the game more appealing for people who bet on CSGO matches regularly. Many options will also allow different types of analysis and approaches for people to bet on CSGO.
Amazing Community Surrounding CSGO 
In addition to the game itself, CSGO can be very proud of the community that it has built, as the CSGO community is undoubtedly one of the best Esports communities. You can find Counter-Strike fans worldwide, on all seven continents. A diverse player base is present, making the community very inclusive to people from all around the world.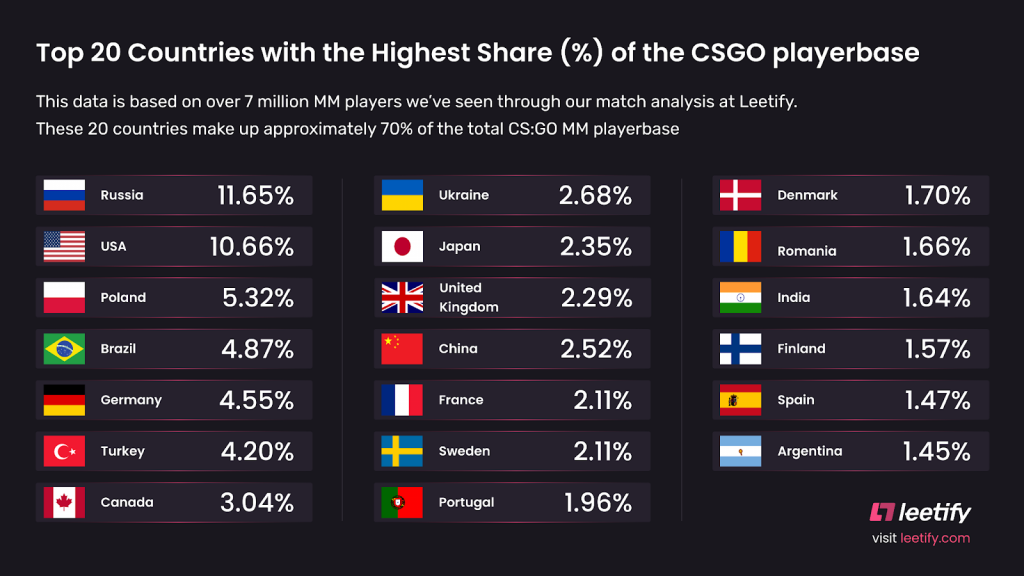 Courtesy Leetify
With millions of players in the CSGO community, newer players won't have a hard time seeking help and advice related to the game. It's also pretty easy for newbies to look for CS GO betting advice. Many forum pages, such as HLTV or Reddit, are places you can go if you want to ask some questions. 
The CSGO community is also very supportive of the professional scene, as tournament venues almost always sell out completely. Sold-out venues allow thousands of fans to show up to watch these tournament matches live. And if fans can't make it to the venue, watching on streaming platforms can always be an option.
Simple Yet Exciting Gameplay
Last but not least, one of the most significant reasons for CSGO's success as an Esport is the game's simplicity. The game is straightforward to understand and doesn't require a steep learning curve compared to other Esports.
 Valorant and League of Legends will require players to learn dozens of characters or champions. In contrast, players who try out CSGO for the first time can immediately understand the game and dive into online matches.
The straightforwardness of the game also allows non-CSGO players to still watch CSGO matches and know precisely what is happening. People who don't play games can watch CSGO matches and feel the hype. Again, CSGO offers incredible inclusiveness as the game's simplicity allows a broader audience to enjoy CSGO as an Esport.
Conclusion
In conclusion, CSGO has many determining factors that have allowed the game to be one of the leading Esport titles for a decade. The game is easy to learn and has lots of action, making the game perfect for both casual and competitive players to enjoy. The excitement players get from playing or watching CSGO has allowed the professional scene and community to snowball, and they are now in a very healthy state. One thing the CSGO community can be proud of is the inclusiveness that is present in the game we know and love.
Is Counter-Strike: Global Offensive a good video game?
Yes Counter-Strike: Global Offensive is a great video game, we are proud to have given it a rating of 81%. Any good gamer must have played Counter-Strike: Global Offensive at least once in his life, we can even fully consider it as one of the best games of the genre! In short, it is a must and you must try it if you have the opportunity!
Can I play Counter-Strike: Global Offensive with my friends?
Yes, you can play Counter-Strike: Global Offensive multiplayer with your friends! So think about it the next time you have a party at home, it can be a great opportunity to have a great time with your friends and family, while determining who is the best at Counter-Strike: Global Offensive!
Is Counter-Strike: Global Offensive available on multiple platforms?
Yes, the game Counter-Strike: Global Offensive is developed to be compatible with PC (Microsoft Windows), Mac, PlayStation 3, Linux and Xbox 360. It's quite handy to be able to play it on several different consoles, thanks to Hidden Path Entertainment, Valve Corporation development studios!
Is Counter-Strike: Global Offensive a recent game?
No, Counter-Strike: Global Offensive is not a recent game, it was launched in most regions on Aug 21st 2012, 11 years 1 month 9 days ago.
Counter-Strike: Global Offensive has been released on PC (Microsoft Windows), Mac, PlayStation 3, Linux and Xbox 360.
Is there an official website for Counter-Strike: Global Offensive?
Yes Counter-Strike: Global Offensive has its own official website! You can find it by clicking here.
Is there a forum on the internet to discuss the game Counter-Strike: Global Offensive?
Yes there is a website where Counter-Strike: Global Offensive fans can meet to discuss and exchange content, tips and advice on the game. It's on the Reddit website and you can find this Subreddit by clicking here.
Is Counter-Strike: Global Offensive compatible with VR?
No, Counter-Strike: Global Offensive is not currently compatible with virtual reality, but we hope that one day it will be possible to play it with this new technology!
Does the game Counter-Strike: Global Offensive have other names around the world?
Yes, the game is also known by these names around the world:
CS: Global Offensive (Abbreviation)
CS:GO (Acronym)
CSGO (Acronym)
Counterstrike: Global Offensive (Alternative spelling)
反恐精英:全球攻势 (Chinese title - simplified)
カウンター ストライク: グローバル攻勢 (Japanese title - original)
カウンターストライク グローバルオフェンシブ (Japanese title - original)
글옵 (Korean Acronym)
카운터 스트라이크: 글로벌 오펜시브 (Korean title - unofficial)
Counter-Strike: Ofensiva Global (Portuguese title)

What are similar games to Counter-Strike: Global Offensive?
Counter-Strike: Global Offensive is a game similar to Counter-Strike, Tom Clancy's Ghost Recon, Dota 2, Enemy Front, Tom Clancy's Rainbow Six Siege, America's Army: Proving Grounds, Breach & Clear, Global Operations, Sniper: Ghost Warrior 3 and Escape from Tarkov, if you liked Counter-Strike: Global Offensive, you will surely love this list of games we just mentioned! You can find our dedicated portals by clicking on the name of the games, and make your own opinion very quickly!
×