Among the hundreds of millions of League of Legends players , and regardless of their respective regions, not all of them can claim the top of the ladder. In fact, the vast majority stagnates in the lower divisions, while only 0.028% of registered users manage to reach the holy grail: the Challenger division.
And, when it comes to pushing it even further, and grabbing the Top 1, few of them seem as talented as Carl Felix "MagiFelix" Boström. The Swedish midlaner, who has often been talked about for his exploits in ranked queue, had more or less disappeared from the radar after his express stint at Astralis , but here he is back for this Season 12, since he has just come to take the throne of the European server with almost 300 LP ahead of the second .
The problem ? To achieve this, MagiFelix has abused a strategy that is making headlines, and which highlights how strange the current meta is.
A high-level midlaner locked in a weird meta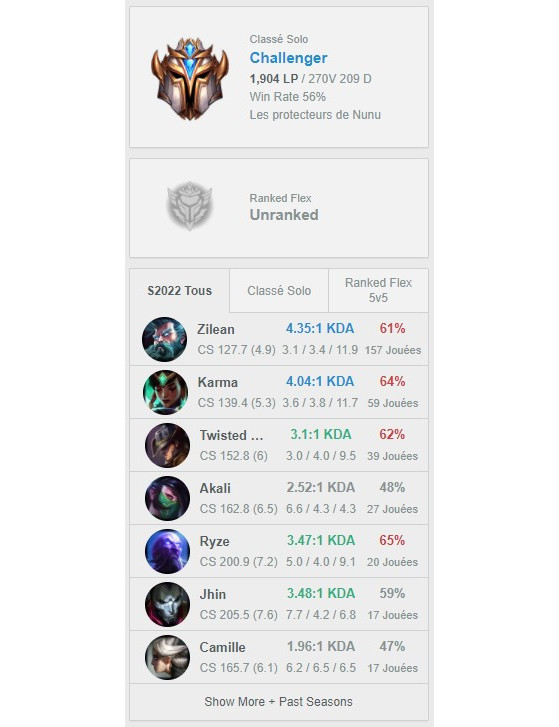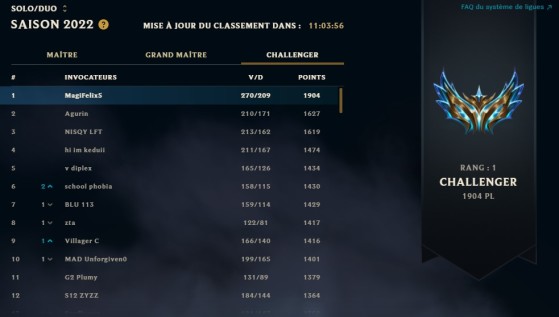 It's hard to blame a player of this caliber for using the techniques and strategies that work best, although they may be out of the ordinary. In the end, if there is to be someone responsible, it's definitely not MagiFelix — because he just reads the meta and then applies what works. In this case, and if we trust the extravagant difference in LPs between him and the second in the ranking, the Control Mages and the Midlane Assassins are overwhelmed. No, what to play today... are utility or aggressive supports. Evidenced by his win rate with Karma and Zilean , 66% and 61% respectively.
Admittedly, both champions have found their niche in this role for quite some time now, but it was more often than not as exotic picks placed in the hands of genius OTPs. This time around, it looks like they both fit perfectly into the meta — which says a lot, generally speaking, about the current state of the game.
A build that is too efficient and that Riot does not seem to want to change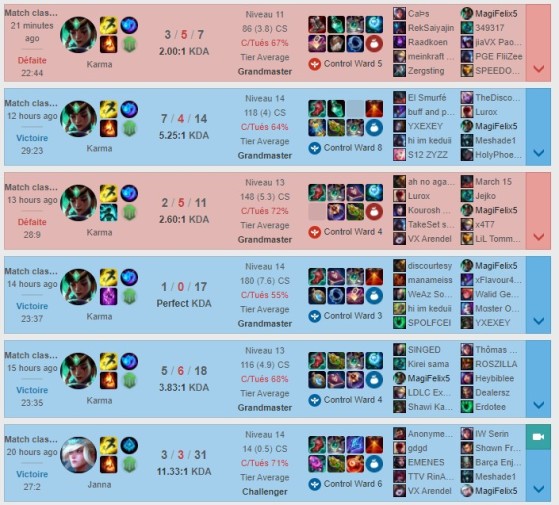 As seen in the image below, MagiFelix isn't really looking for DPS and is focused on the peel that Karma (or Janna) can generate. What is most surprising about her build is the fact that it looks exactly like the one you can find when the champion is played in support - except that, when she is in midlane, she has vastly additional resources. In other words, it is possible to reach power spikes much faster, which makes the strategy all the more powerful. 
And besides, its use is not insignificant, since it coincides perfectly with the discovery of the " Janna Top Smite " technique which has been making headlines over the past few weeks - a strategy which, like the one employed by MagiFelix, seems to point out a real problem in the current meta...