Here we are projected during the Edo period of Japan. Kamizawa tells the story of Ebizo, an amateur thief who wants to steal from the rich to give to the poor. During his first mission, he finds himself with his mentor Ainosuke, witnesses of the massacre, by their own teammates, of the family that occupies the mansion they are looting. Disillusioned by this display of violence, Ainosuke advises Ebizo to flee with the only survivor, a young girl who is now an orphan.
Ten years later, Ebizo is still true to his morals, leading an honest and fulfilling life with Suzuna, the rescued girl he now considers his own daughter. But this fleeting happiness quickly turns into a nightmare when Suzuna falls ill. In order to be able to buy the medicines she desperately needs, Ebizo must bear a terrible financial burden. To deal with it, he has no choice but to return to the slums of the city of Mikado, but promises himself to steal only for the good of the most destitute.
Will you choose the path of honor, even as a thief? The choice is yours.
Features :
- Family first: How far would you be willing to go for those who are dear to you? Family ties will be put to the test in this moving and unique tale.
- A story in the making: Your decisions as a thief will be decisive for your future in this story with multiple storyline branches.
- Sophisticated footwork: Use stealth actions to avoid detection and earn a reputation as a thief!
A very good game provided you accept its unmodified ancient heritage
Kamiwaza does not advocate non-stop violent action but stealth. We knock out the guards, we are discreet, the goal being to steal various objects and put them in a backpack carried on his back, the capacity of which will expand as you succeed. Be careful though, you are necessarily less discreet with a big bag on your back.
The important thing is not to be identified because otherwise you will see posters popping up on the walls offering rewards for your capture. It is quite possible to destroy these posters in an attempt to blend discreetly into the crowd again or simply play the Robin Hood with the poorest to gain protection from them. Various services will therefore be available to you to gain this notoriety.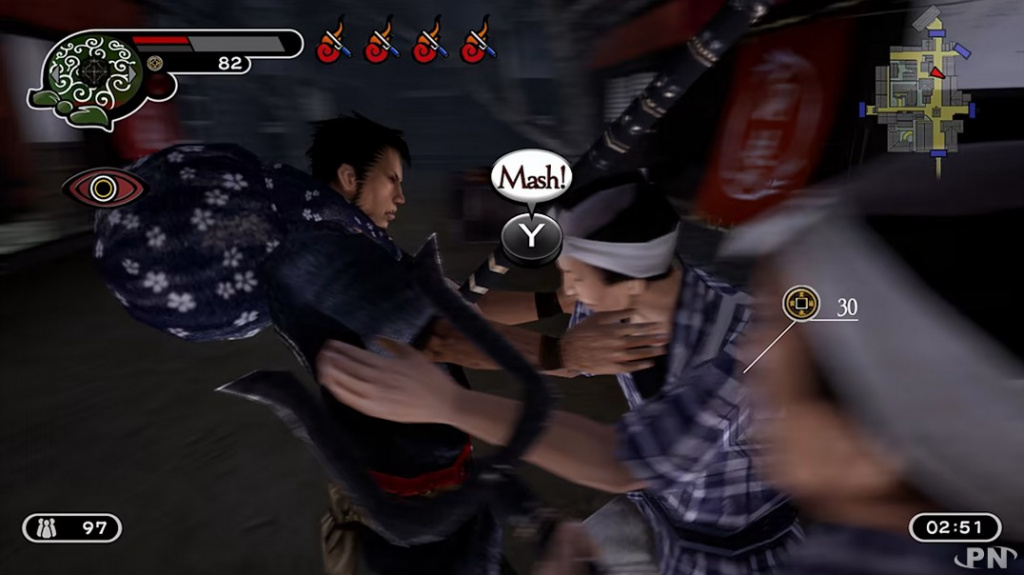 The choice will be as follows: give your loot to the villagers to improve your reputation or sell it to a small guild of thieves, in order to recover the money necessary for the treatment of Suzuna. The little thieves' guide will serve as your den to buy upgrades and new techniques. This will be the way for you to get money, but with a constraint. Its leader will claim a regular tribute otherwise beware of the brutal price increase of the improvements.
By learning stealth techniques, you will be able to make yourself invisible to an NPC for a few moments in order to rob or fight them. A very interesting gameplay but which will sometimes be technically rough because the port retains this visual heritage of the initial game of the PS2, angular with large textures, and a camera angle of view far from optimal. We bet that a small patch should correct two or three collision problems with the decor.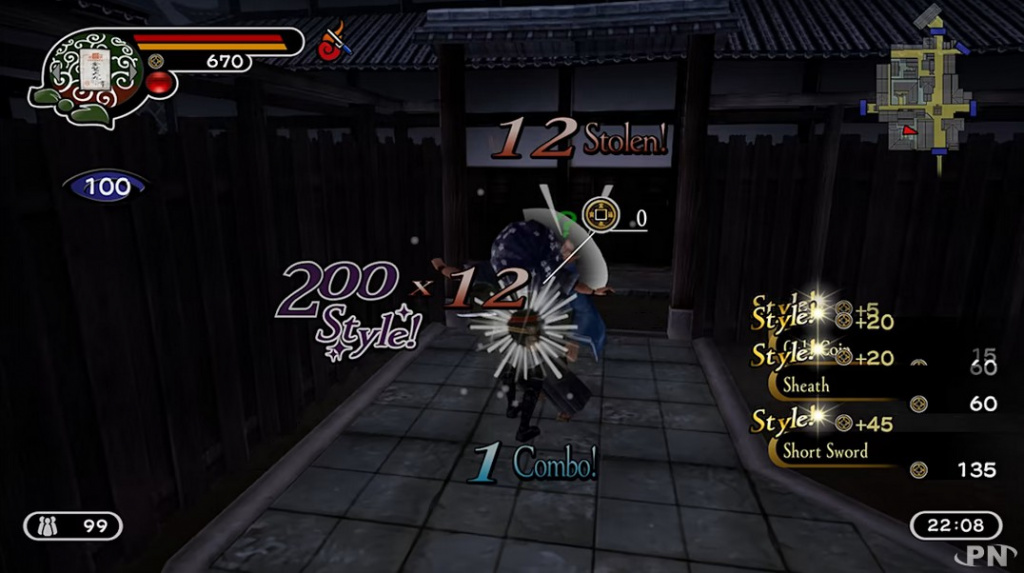 Kamiwaza: Way of the Thief is a technical throwback, both in terms of graphics and sound processing. The voices are in Japanese, the text in English without any French translation. But if those warnings don't put you off, you've got a great game from the PS2 era that retains plenty of appeal even today.
Is Kamiwaza: Way of the Thief a good video game?
Yes Kamiwaza: Way of the Thief is a great video game, we are proud to have given it a rating of 75%. Any good gamer must have played Kamiwaza: Way of the Thief at least once in his life, we can even fully consider it as one of the best games of the genre! In short, it is a must and you must try it if you have the opportunity!
Can I play Kamiwaza: Way of the Thief with my friends?
No, as far as we know, there is no multiplayer mode for Kamiwaza: Way of the Thief, you'll have to lend the controller to each other and take turns playing! We hope that a multiplayer mode will be available thanks to a next update, a remake or even a sequel, who knows!
Is Kamiwaza: Way of the Thief available on multiple platforms?
Yes, the game Kamiwaza: Way of the Thief is developed to be compatible with PC (Microsoft Windows), PlayStation 4 and Nintendo Switch. It's quite handy to be able to play it on several different consoles, thanks to the ACQUIRE Corp. development studio!
Is Kamiwaza: Way of the Thief a recent game?
Yes, Kamiwaza: Way of the Thief is a recent game, it was launched in most regions on Oct 11th 2022, 11 months 20 days ago.
Kamiwaza: Way of the Thief has been released on PC (Microsoft Windows), PlayStation 4 and Nintendo Switch.
Is there an official website for Kamiwaza: Way of the Thief?
Yes Kamiwaza: Way of the Thief has its own official website! You can find it by clicking here.
Is there a forum on the internet to discuss the game Kamiwaza: Way of the Thief?
No, according to our information, Kamiwaza: Way of the Thief does not yet have a forum or subreddit clearly identified to the community. However, it is possible that you can find one by searching on your favorite search engine, which we invite you to do! You can also look at social networks, indeed many groups exist for example on Facebook to allow communities to exchange between enthusiasts.
Is Kamiwaza: Way of the Thief compatible with VR?
No, Kamiwaza: Way of the Thief is not currently compatible with virtual reality, but we hope that one day it will be possible to play it with this new technology!
Does the game Kamiwaza: Way of the Thief have other names around the world?
Yes, the game is also known by these names around the world:
神業 盗来 -KAMIWAZA TOURAI- (Japanese title - original)
神業 盗来 Kamiwaza Tourai (Japanese title - original)

What are similar games to Kamiwaza: Way of the Thief?
Kamiwaza: Way of the Thief is a game similar to The Black Death, Dragon: Marked for Death, Devil May Cry 5, Ancient Cities, Garena Free Fire, Eternity: The Last Unicorn, Assassin's Creed Odyssey, Gears 5, Torchlight III and Apsulov: End of Gods, if you liked Kamiwaza: Way of the Thief, you will surely love this list of games we just mentioned! You can find our dedicated portals by clicking on the name of the games, and make your own opinion very quickly!
×