As we saw recently, iron ores in V Rising are quite rare in nature. So be careful, there are a few and this should allow you to make your first ingots without too much trouble. However , it's time to step up a gear , with this guide showing you the best iron-farming spot on the entire map .
Mine location
It's roughly in the center of the world map , you might be exposed to garlic cloves on the way , if you're coming from the south, but nothing really dangerous if you don't hang around. In truth, once you know this spot, you have no more reason to search for veins in the wild. On the other hand, if you play in PVP , the control of this portion risks being a very very hot point. Iron is the big resource needed to improve your castle heart , then its defenses, many will risk it, but few will come out alive. To give you an idea, emptying the mine allowed us to harvest more than 2000 ores in about fifteen minutes.. The profitability is maximum and the sector rather cool to empty. Remember, as we said in our guide to harvesting iron ore, you will need a weapon with 12 strength to cause damage to the veins .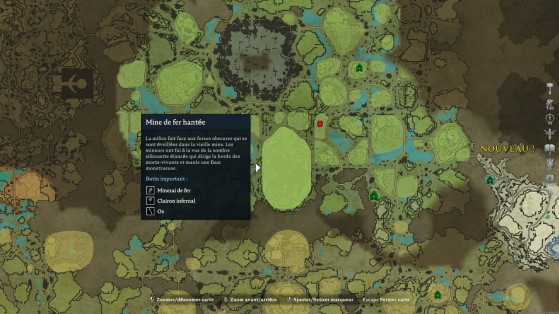 Specifics of the area
The haunted mine is probably bigger than most structures you've explored so far. It is also well guarded, and by many skeletons, depriving you of easy blood bags. In addition, the blue set to discover thanks to the research office will be essential if you intend to survive a minimum in its corridors , and again, certain packs may slow you down badly. There's even a guard hanging around. We recommend that you eliminate it, since it is likely to drop a blueprint for a unique scythe. Finally, beware of acid fusions that will explode on the ground at regular intervals.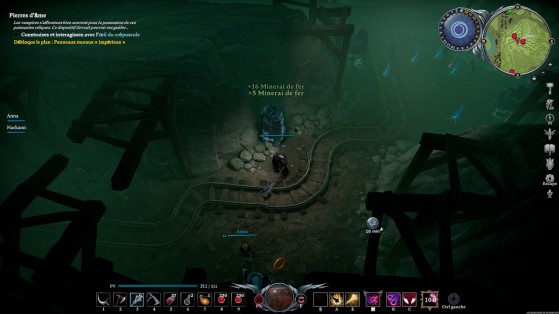 Is V Rising a good video game?
Yes V Rising is a great video game, we are proud to have given it a rating of 76%. Any good gamer must have played V Rising at least once in his life, we can even fully consider it as one of the best games of the genre! In short, it is a must and you must try it if you have the opportunity!
Can I play V Rising with my friends?
Yes, you can play V Rising multiplayer (online) with your friends! So think about it the next time you have a party at home, it can be a great opportunity to have a great time with your friends and family, while determining who is the best at V Rising!
Is V Rising available on multiple platforms?
No, the game V Rising is currently only available on PC (Microsoft Windows). We hope that Stunlock Studios development studio will release the game on other consoles soon, even if nothing is planned for the moment!
Is V Rising a recent game?
Yes, V Rising is a recent game, it was launched in most regions on May 17th 2022, 1 year 4 months 16 days ago.
V Rising has been released on PC (Microsoft Windows).
Is there an official website for V Rising?
Yes V Rising has its own official website! You can find it by clicking here.
Is there a forum on the internet to discuss the game V Rising?
No, according to our information, V Rising does not yet have a forum or subreddit clearly identified to the community. However, it is possible that you can find one by searching on your favorite search engine, which we invite you to do! You can also look at social networks, indeed many groups exist for example on Facebook to allow communities to exchange between enthusiasts.
Is V Rising compatible with VR?
No, V Rising is not currently compatible with virtual reality, but we hope that one day it will be possible to play it with this new technology!
Does the game V Rising have other names around the world?
No, according to our information, there is no other way to name V Rising, or it is very marginal.
What are similar games to V Rising?
V Rising is a game similar to Cyberpunk 2077, Life is Feudal: Your Own, Rising World, Miscreated, Savage Lands, Borderlands 3, Sky Break, Force of Nature, Dude Simulator and Dude Simulator 2, if you liked V Rising, you will surely love this list of games we just mentioned! You can find our dedicated portals by clicking on the name of the games, and make your own opinion very quickly!
×