V Rising 's multiplayer features server types that deliver radically different experiences, from simple private co-op with your friends, to hardcore PVP modes where you'll need to have a heightened knowledge of the workings of the world to hope to get by. .
Create a clan to evolve more easily
We've already told you in our tips to take into account during your first hour of play, but a reminder never hurts: if you play solo you may have a lot of trouble progressing properly. We strongly recommend that you round up all your buddies with you if you want to erect a building worthy of Castlevania.
How do I invite someone to a clan?
Just press P and write down the name of the player you want to invite. The maximum number of people in a clan is determined in the server rules, so you can have fun on a private server by organizing small 20 VS 20 families.
Clan chat
To talk to people in your clan wherever you are, enter the /clan command then space in the chat to switch to the group channel.
Shared progress
Members of the same clan can already use the workshops of other members of the group to progress at high speed in the red thread quests of V Rising.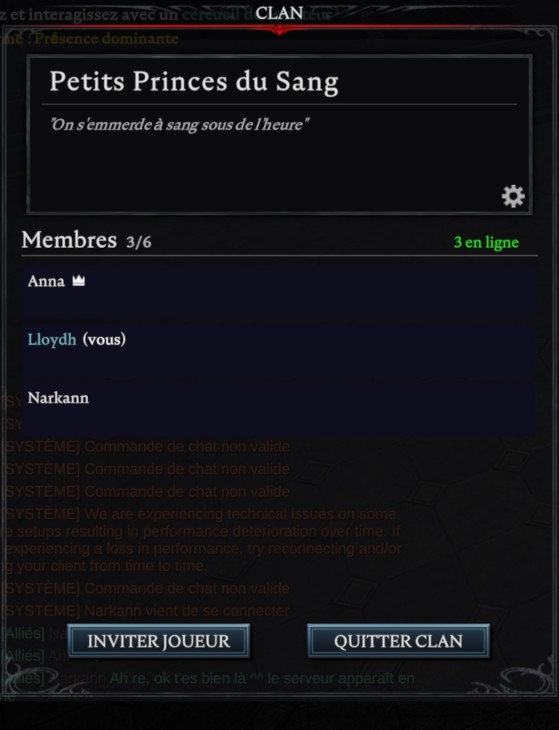 This story is going to go wrong!
With its combat system that inherits many features from Battlerite , an exclusively PVP game, many players may heat up to take the plunge in V Rising and create large groups to build a huge castle in cooperation to invade buildings. of their next door neighbours. There is potential, it is undeniable and this component reserved for the most seasoned players should offer great performances if Stunlock manages to improve its servers.
Is V Rising a good video game?
Yes V Rising is a great video game, we are proud to have given it a rating of 76%. Any good gamer must have played V Rising at least once in his life, we can even fully consider it as one of the best games of the genre! In short, it is a must and you must try it if you have the opportunity!
Can I play V Rising with my friends?
Yes, you can play V Rising multiplayer (online) with your friends! So think about it the next time you have a party at home, it can be a great opportunity to have a great time with your friends and family, while determining who is the best at V Rising!
Is V Rising available on multiple platforms?
No, the game V Rising is currently only available on PC (Microsoft Windows). We hope that Stunlock Studios development studio will release the game on other consoles soon, even if nothing is planned for the moment!
Is V Rising a recent game?
Yes, V Rising is a recent game, it was launched in most regions on May 17th 2022, 1 year 4 months 16 days ago.
V Rising has been released on PC (Microsoft Windows).
Is there an official website for V Rising?
Yes V Rising has its own official website! You can find it by clicking here.
Is there a forum on the internet to discuss the game V Rising?
No, according to our information, V Rising does not yet have a forum or subreddit clearly identified to the community. However, it is possible that you can find one by searching on your favorite search engine, which we invite you to do! You can also look at social networks, indeed many groups exist for example on Facebook to allow communities to exchange between enthusiasts.
Is V Rising compatible with VR?
No, V Rising is not currently compatible with virtual reality, but we hope that one day it will be possible to play it with this new technology!
Does the game V Rising have other names around the world?
No, according to our information, there is no other way to name V Rising, or it is very marginal.
What are similar games to V Rising?
V Rising is a game similar to Cyberpunk 2077, Life is Feudal: Your Own, Rising World, Miscreated, Savage Lands, Borderlands 3, Sky Break, Force of Nature, Dude Simulator and Dude Simulator 2, if you liked V Rising, you will surely love this list of games we just mentioned! You can find our dedicated portals by clicking on the name of the games, and make your own opinion very quickly!
×