If you are looking to exploit the iron you have collected in V Rising to make ingots, you will inevitably have to eliminate a boss who comes to close your quests a little in the woods. Then you will have to make your way to the farmlands in search of cotton and scrolls , but back to our topic: in this guide we will see how to break the barricade of the entrance to the fortress and we will explain how to overcome this. general .
Where to find it?
You'll find Quincey at the Bandit Fortress, the very north of the woodland map , right in the center. But there is a catch, to be able to cross you will have to break down a barricade . Here it is you who sees how to approach the thing: either you go get the recipe for explosives from Clive the Incendiary in the sulfur mines, or you go get the form of the bear to the east, which has an attack capable of shattering the barricade . Inside there are plenty of guard troops waiting for you, so be sure to have a good blood class equipped and avoid wasting any on the small packs inside.In addition, the fortress is quite generous in chests and loot, especially in paper and books, so rake the surroundings well, it can always be useful.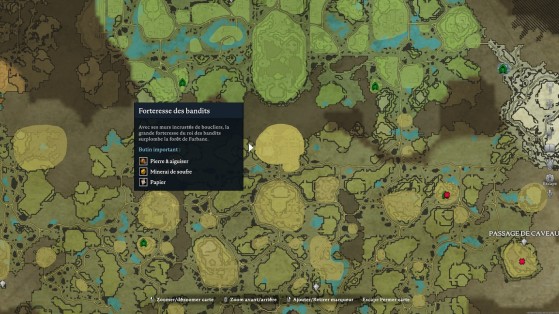 How to beat him?
Level 37
Quincey The Bandit King is a fairly cumbersome boss but not necessarily very difficult to defeat. He will take the trouble to summon allied soldiers from time to time, who will have to be decimated before returning to him.
He will brandish a big red shield in front at regular intervals, be careful not to launch attacks at this time otherwise he will send them back to you .
Quincey's biggest attack is his very violent dash, which he will sometimes chain several times. This potentially painful assault, however, will turn against the boss if he comes to chain 3 of them : he will then be stunned and vulnerable for a few precious moments. seconds
Recipes unlocked
Powers
Barrier
Ruthless Charge (Ult)
Structures
Ironwork bench
Tailor's bench
Objects
Iron ingot
iron weapons
Canine-hollow war gear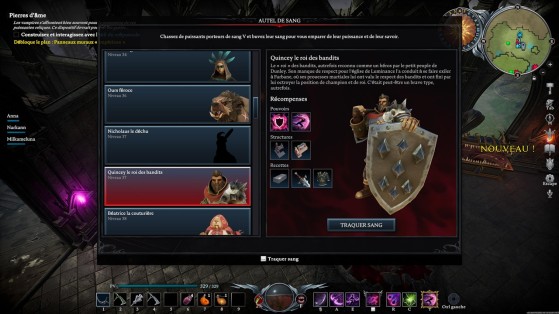 Is V Rising a good video game?
Yes V Rising is a great video game, we are proud to have given it a rating of 76%. Any good gamer must have played V Rising at least once in his life, we can even fully consider it as one of the best games of the genre! In short, it is a must and you must try it if you have the opportunity!
Can I play V Rising with my friends?
Yes, you can play V Rising multiplayer (online) with your friends! So think about it the next time you have a party at home, it can be a great opportunity to have a great time with your friends and family, while determining who is the best at V Rising!
Is V Rising available on multiple platforms?
No, the game V Rising is currently only available on PC (Microsoft Windows). We hope that Stunlock Studios development studio will release the game on other consoles soon, even if nothing is planned for the moment!
Is V Rising a recent game?
Yes, V Rising is a recent game, it was launched in most regions on May 17th 2022, 1 year 4 months 13 days ago.
V Rising has been released on PC (Microsoft Windows).
Is there an official website for V Rising?
Yes V Rising has its own official website! You can find it by clicking here.
Is there a forum on the internet to discuss the game V Rising?
No, according to our information, V Rising does not yet have a forum or subreddit clearly identified to the community. However, it is possible that you can find one by searching on your favorite search engine, which we invite you to do! You can also look at social networks, indeed many groups exist for example on Facebook to allow communities to exchange between enthusiasts.
Is V Rising compatible with VR?
No, V Rising is not currently compatible with virtual reality, but we hope that one day it will be possible to play it with this new technology!
Does the game V Rising have other names around the world?
No, according to our information, there is no other way to name V Rising, or it is very marginal.
What are similar games to V Rising?
V Rising is a game similar to Cyberpunk 2077, Life is Feudal: Your Own, Rising World, Miscreated, Savage Lands, Borderlands 3, Sky Break, Force of Nature, Dude Simulator and Dude Simulator 2, if you liked V Rising, you will surely love this list of games we just mentioned! You can find our dedicated portals by clicking on the name of the games, and make your own opinion very quickly!
×