The progression of your castle continues in V Rising and among the quests that will be asked of you very quickly, there will be the crafting of a research office, essential element of your progress in the levels of objects. In this guide we will see everything there is to know about this new workshop, which will later have its dedicated room in your castle.
How to Unlock Research Bureau Recipes
There are two main ways to clear all ? game research offices and you will have to combine the two methods to complete all of this 100% . Note that there are special cases, with special enemies likely to drop unique and personal books for each player. If you are in a clan, the set of items unlocked in library-type structures is common, on the other hand, everyone must go and learn the recipes so that they are available in the various workshops. At level 3 of the heart of the castle , you can even unlock a library room, dedicated to workshops in this category and simply make your own paper yourself .
Unlock Recipes
Random search through paper.
Farm bandits and humanoids to find books more easily, even if it means recycling duplicates at the Devourer.
For the farm, aim for the most imposing human camps, even the copper mine could potentially be an excellent source of papers, since it is populated by humans .
Why unlock recipes?
Research is an essential part of your progress in the world of V Rising. We give you an example: without the weapons of the good ilvl contained in the recipes of the research office, it is just impossible to harvest iron by typing the ore.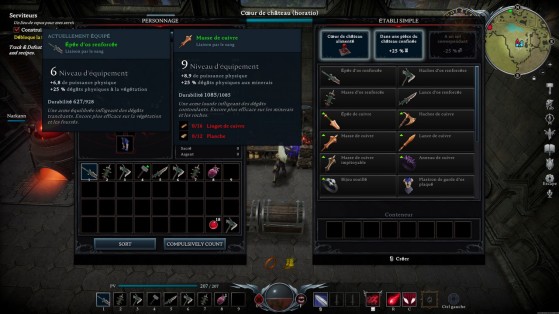 Farm of books
Like Unsullied Hearts , books are a fairly rare loot that you will get from bosses, some elite enemies, and mostly from human troops . Each large region has its own dedicated set of books, which you will then have to go and learn in the office. For the surplus, we will come back to it, the Devourer will take care of chewing up your work by producing paplar.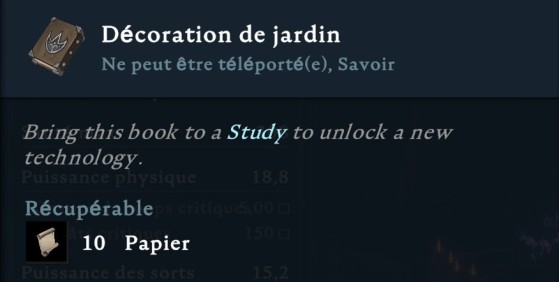 Random search using paper, then parchment
It's the roulette method that will add a little (a lot) of RNG in the race to dominate a PVP server . Random searches work like a lottery, by spending 50 papers or 75 scrolls depending on the workshop, you will open a box among all those on display. Which means you can just as easily unlock a weapon or a piece of ruthless armor, as an assortment of curtains for your windows.
Recycling with the Devourer
The Devourer is an underworld recycler whose recipe you will obtain by sucking the V blood of Lidia the Chaos Archer . This one will devour duplicate books to create pages, scrolls and everything else for you, depending on the areas in which you are farming. It's a really good way to finish the pile of papers that separated you from a new random search.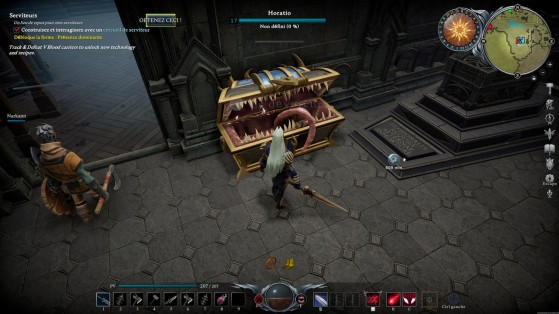 Is V Rising a good video game?
Yes V Rising is a great video game, we are proud to have given it a rating of 76%. Any good gamer must have played V Rising at least once in his life, we can even fully consider it as one of the best games of the genre! In short, it is a must and you must try it if you have the opportunity!
Can I play V Rising with my friends?
Yes, you can play V Rising multiplayer (online) with your friends! So think about it the next time you have a party at home, it can be a great opportunity to have a great time with your friends and family, while determining who is the best at V Rising!
Is V Rising available on multiple platforms?
No, the game V Rising is currently only available on PC (Microsoft Windows). We hope that Stunlock Studios development studio will release the game on other consoles soon, even if nothing is planned for the moment!
Is V Rising a recent game?
Yes, V Rising is a recent game, it was launched in most regions on May 17th 2022, 1 year 4 months 13 days ago.
V Rising has been released on PC (Microsoft Windows).
Is there an official website for V Rising?
Yes V Rising has its own official website! You can find it by clicking here.
Is there a forum on the internet to discuss the game V Rising?
No, according to our information, V Rising does not yet have a forum or subreddit clearly identified to the community. However, it is possible that you can find one by searching on your favorite search engine, which we invite you to do! You can also look at social networks, indeed many groups exist for example on Facebook to allow communities to exchange between enthusiasts.
Is V Rising compatible with VR?
No, V Rising is not currently compatible with virtual reality, but we hope that one day it will be possible to play it with this new technology!
Does the game V Rising have other names around the world?
No, according to our information, there is no other way to name V Rising, or it is very marginal.
What are similar games to V Rising?
V Rising is a game similar to Cyberpunk 2077, Life is Feudal: Your Own, Rising World, Miscreated, Savage Lands, Borderlands 3, Sky Break, Force of Nature, Dude Simulator and Dude Simulator 2, if you liked V Rising, you will surely love this list of games we just mentioned! You can find our dedicated portals by clicking on the name of the games, and make your own opinion very quickly!
×