Independent development came to save the video game market from the lack of novelties and V Rising became the hot game on Steam . A vampire adventure that comes in the form of an ARPG and is currently only available for PC gamers . However, many Xbox , PlayStation , or Nintendo Switch gamers are wondering what they can expect for their platforms. No one wants to miss out on a headline, let alone in times of scarcity.
Will V Rising be released on consoles?
The first thing we need to know is that V Rising is not currently available on any console, like the vast majority of games that come out in early access , often exclusive to PC. It's not a universal truth, but it's a common modus operandi because focusing on a single platform is much easier, and the support gives developers more flexibility. Especially in a genre like this.
In any case, the worst news for PlayStation, Xbox or Nintendo Switch gamers is that the port project isn't even in sight . It is true that no possibility should be closed since the ARPG genre and many titles that were not initially intended for more than desktop platforms have managed to make the leap. However, with an early access release that just happened on May 17, it will be a long time before the game hits those platforms.
V Rising is not yet compatible with a controller
The thing that makes us most pessimistic about a version of V Rising on consoles is the fact that it doesn't even support a controller . The developers considered the best way to enjoy the game was using a keyboard and mouse, ensuring that in their testing even players less familiar with this system could adapt. So while it's possible to plug in an Xbox, PlayStation, or Switch controller and get it working, shortcuts can't be configured.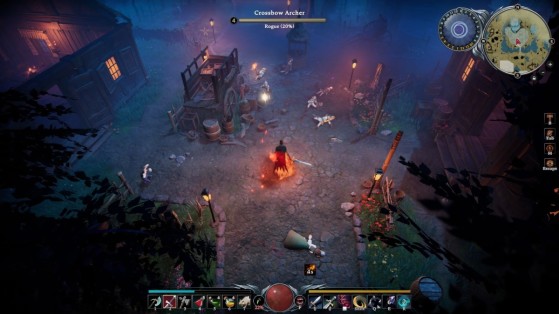 As often, the final decision will depend on the community. If V Rising is able to stay in shape, be a long-term success, and players keep clamoring for it to come out on consoles or be able to use a controller, there's a good chance it could happen. However, this resistance to the passage of time is essential .
Is V Rising a good video game?
Yes V Rising is a great video game, we are proud to have given it a rating of 76%. Any good gamer must have played V Rising at least once in his life, we can even fully consider it as one of the best games of the genre! In short, it is a must and you must try it if you have the opportunity!
Can I play V Rising with my friends?
Yes, you can play V Rising multiplayer (online) with your friends! So think about it the next time you have a party at home, it can be a great opportunity to have a great time with your friends and family, while determining who is the best at V Rising!
Is V Rising available on multiple platforms?
No, the game V Rising is currently only available on PC (Microsoft Windows). We hope that Stunlock Studios development studio will release the game on other consoles soon, even if nothing is planned for the moment!
Is V Rising a recent game?
Yes, V Rising is a recent game, it was launched in most regions on May 17th 2022, 1 year 4 months 16 days ago.
V Rising has been released on PC (Microsoft Windows).
Is there an official website for V Rising?
Yes V Rising has its own official website! You can find it by clicking here.
Is there a forum on the internet to discuss the game V Rising?
No, according to our information, V Rising does not yet have a forum or subreddit clearly identified to the community. However, it is possible that you can find one by searching on your favorite search engine, which we invite you to do! You can also look at social networks, indeed many groups exist for example on Facebook to allow communities to exchange between enthusiasts.
Is V Rising compatible with VR?
No, V Rising is not currently compatible with virtual reality, but we hope that one day it will be possible to play it with this new technology!
Does the game V Rising have other names around the world?
No, according to our information, there is no other way to name V Rising, or it is very marginal.
What are similar games to V Rising?
V Rising is a game similar to Cyberpunk 2077, Life is Feudal: Your Own, Rising World, Miscreated, Savage Lands, Borderlands 3, Sky Break, Force of Nature, Dude Simulator and Dude Simulator 2, if you liked V Rising, you will surely love this list of games we just mentioned! You can find our dedicated portals by clicking on the name of the games, and make your own opinion very quickly!
×