We hope you're having a blast on V Rising and that your first steps as a vampire go smoothly. After having seen some things to know about your first hour of play , we continue our guides to start well with 5 mistakes to avoid and which could cost you dearly during your progress.
Going PVP too quickly
You risk becoming disgusted with the game before you even understand how the gameplay works if you jump onto the PVP servers without a minimum of preparation . Instead, create a private server with your clan and explore the content, at least until you unlock Castle Heart Tier 3 through Iron , Glass, and Greater Blood Essences . At this point, you should already have a good idea of ​​what the different systems are like and you may be able to try the adventure of player versus player.
Bet it all on your first base
Your first castle will necessarily be placed in the woods, which will no longer necessarily be optimal after a certain point in the adventure. Once you have collected enough leather and copper ingots to upgrade your castle core to level 2, start looking for a location for a second castle that will serve as your main base thereafter. Then you can create teleportation portals between each of your bases and manage your slaves to farm components for you.
Eat intact hearts
If you manage to defeat a boss in the game, you will have a good chance of coming across an intact heart, necessary for the manufacture of superior blood essences , which are quite rare in the first areas of the game. The thing is, this object is consumes directly to fill your pockets with blood, just like tainted hearts, so it's very easy to make the mistake. If you have any on you, go directly to put them in the blood press to convert them back to your base.
Hire a day boss
Vampire life isn't easy every day and the worst that can happen to you during a complicated fight is to see the day dawn in the middle of it. It's a bit different for the bosses you'll be fighting in graveyards that are shrouded in mist all the time, but generally coordinating to attack at night will always be a good idea. If in addition you fall on a bloody night, able to boost the percentage of your blood type gauge.
Neglect blood groups
This is a mechanic that is not necessarily very well explained by the game, but it is essential if you want to optimize your vampire before a big fight . Before you suck an enemy's last breath of life, you'll see their name with a percentage corresponding to their blood quality. Once inhaled, you will earn passive bonuses related to the class and quality of the hemoglobin ingested. A little extra that makes all the difference, you can expose your vein to your comrades so that they too can benefit from the effects of the blood type .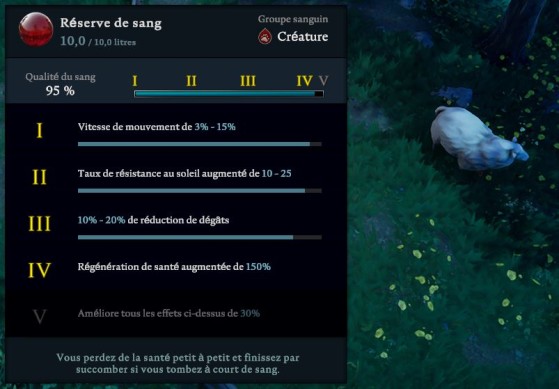 Is V Rising a good video game?
Yes V Rising is a great video game, we are proud to have given it a rating of 76%. Any good gamer must have played V Rising at least once in his life, we can even fully consider it as one of the best games of the genre! In short, it is a must and you must try it if you have the opportunity!
Can I play V Rising with my friends?
Yes, you can play V Rising multiplayer (online) with your friends! So think about it the next time you have a party at home, it can be a great opportunity to have a great time with your friends and family, while determining who is the best at V Rising!
Is V Rising available on multiple platforms?
No, the game V Rising is currently only available on PC (Microsoft Windows). We hope that Stunlock Studios development studio will release the game on other consoles soon, even if nothing is planned for the moment!
Is V Rising a recent game?
Yes, V Rising is a recent game, it was launched in most regions on May 17th 2022, 1 year 4 months 13 days ago.
V Rising has been released on PC (Microsoft Windows).
Is there an official website for V Rising?
Yes V Rising has its own official website! You can find it by clicking here.
Is there a forum on the internet to discuss the game V Rising?
No, according to our information, V Rising does not yet have a forum or subreddit clearly identified to the community. However, it is possible that you can find one by searching on your favorite search engine, which we invite you to do! You can also look at social networks, indeed many groups exist for example on Facebook to allow communities to exchange between enthusiasts.
Is V Rising compatible with VR?
No, V Rising is not currently compatible with virtual reality, but we hope that one day it will be possible to play it with this new technology!
Does the game V Rising have other names around the world?
No, according to our information, there is no other way to name V Rising, or it is very marginal.
What are similar games to V Rising?
V Rising is a game similar to Cyberpunk 2077, Life is Feudal: Your Own, Rising World, Miscreated, Savage Lands, Borderlands 3, Sky Break, Force of Nature, Dude Simulator and Dude Simulator 2, if you liked V Rising, you will surely love this list of games we just mentioned! You can find our dedicated portals by clicking on the name of the games, and make your own opinion very quickly!
×