Are you tired of farming for hours on V Rising for a simple plague stone or do you wish the Sun never came? Here are some cheat codes that can be used on the game's command console. But be careful, cheating can damage your gaming experience.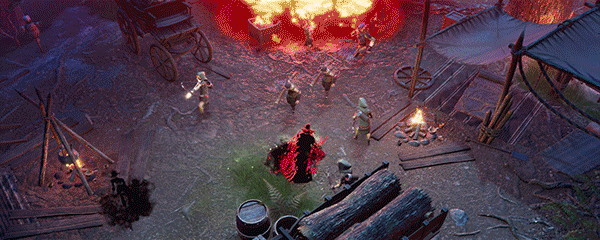 How to activate the console on V Rising?
In V Rising, using console commands is simple and requires only a few basic options to activate.
From the Main Menu (title screen), select Options ,
In the General tab, check the "Cpnsole enabled" box: this will activate it
Return to your game and press the Tilde ( ` ) key (on a French keyboard, you must press Alt Gr and the 7 - è key at the same time)
The console menu appears and you can exit it by pressing the ( ` ) key again.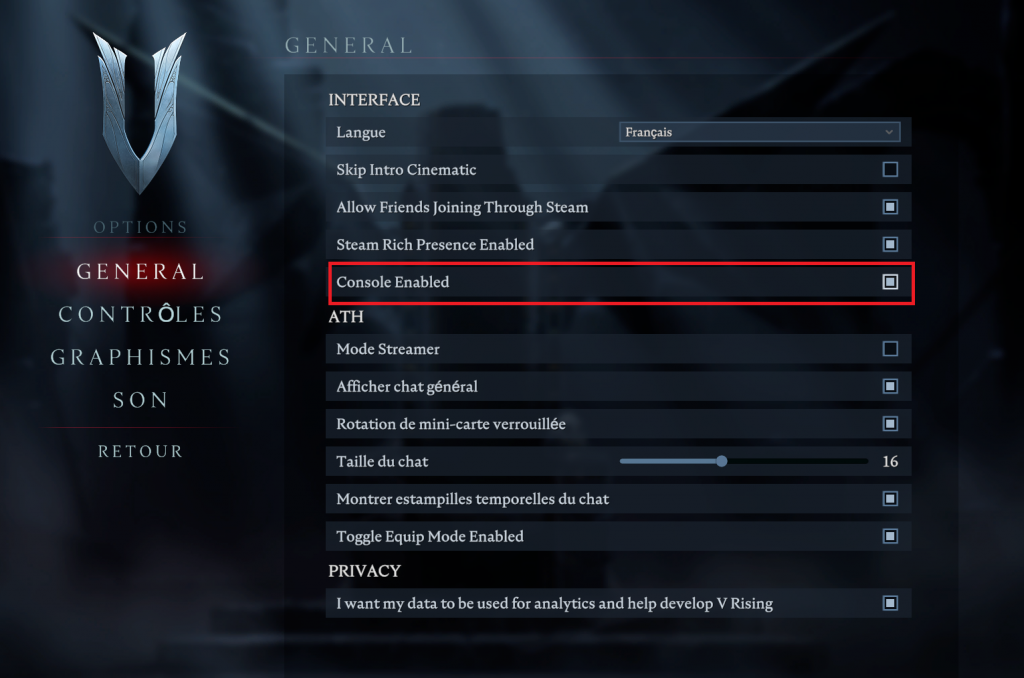 Now that console commands are allowed, make sure you have administrative rights enabled as well.
Open the Console command by pressing the ( ` ) key.
Once open, type adminauth and hit enter to enable admin access. There you go, you will be able to use a ton of cheat codes to obtain infinite resources or even change the weather, for example.
When you handle the console, make sure you are in the shade, in your castle for example, to be sure not to die from the sun.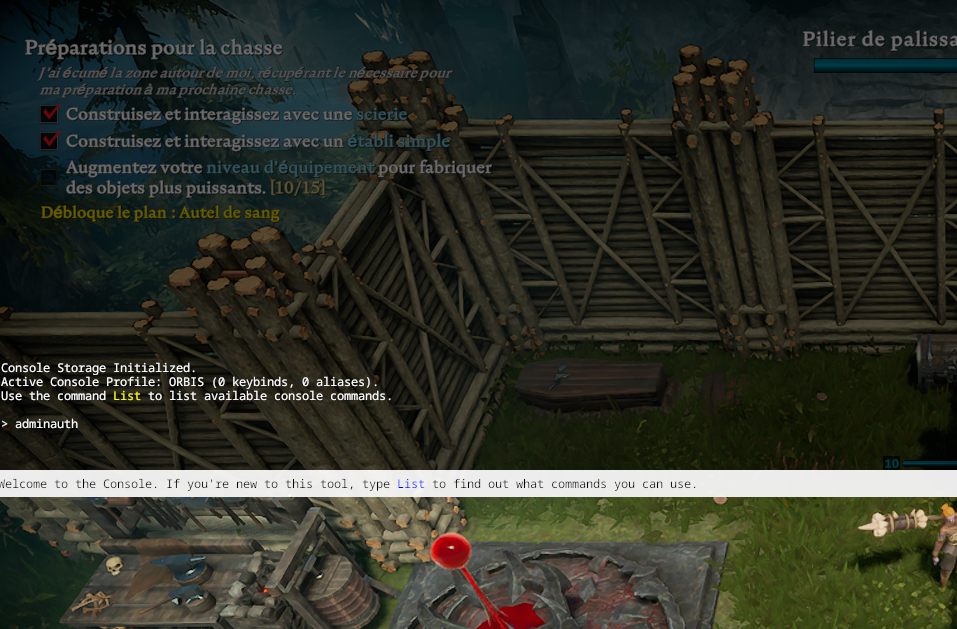 The best cheat codes to use
Of course, the command console can be used to configure your server without necessarily cheating, but if you want to advance faster in the game or not have a hard time farming the necessary resources for hours, then here are some very useful codes.
Get resources with one click
The following command allows you to allocate a defined number of the resource of your choice, directly in your inventory:
Press Alt Gr + ` to open the console,
Type Give and press Space for the line to be completed automatically: you will then see all the resources of the game in a list,
Use the arrows on your keyboard to select the line that suits you, or type the name of the resource directly (in English or French depending on the game language chosen),
Once the resource is chosen, press Tab to select it and write the desired number of resources: 1000 for example
Press Enter to validate.
Example of a successful command: give "[Name]BloodEssence – Item_BloodEssence_T01 – Guid: 862477668" 1000
Make sure you have plenty of room in your inventory otherwise it won't work.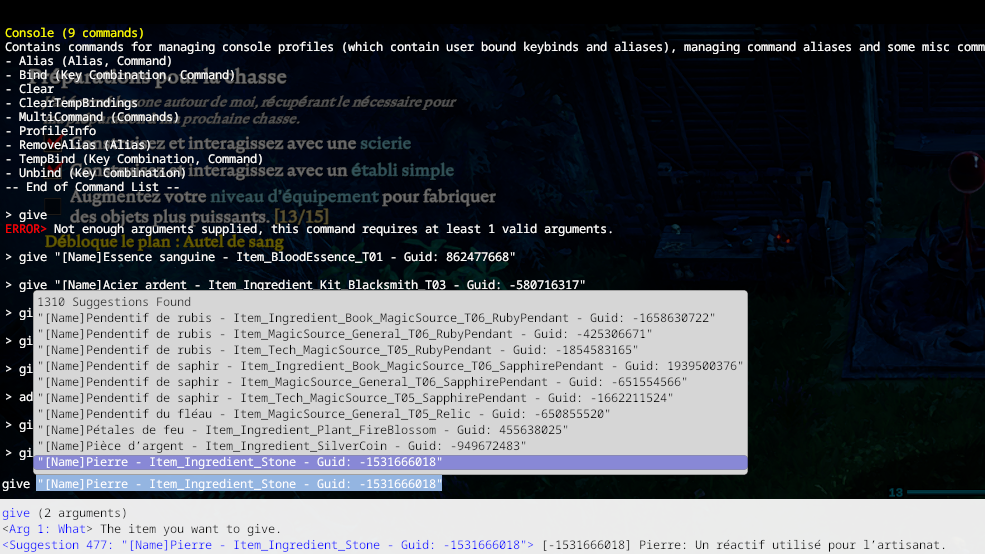 Make sure you never get hit by the sun
This command simply adds time to the in-game clock. As soon as it is sunny, simply add 12 hours to change back to night.
Open the command console,
Type: addtime
Press Tab and write "12"
Entrance
Example of a successful command: addtime 12
Easily teleport to a location on the map
Are you lost or don't you like to walk all the way back to the castle? Since it is impossible to teleport with resources in the inventory via the portals, it is necessary to use this command:
Open the command console,
Type: TeleportToChunkWaypoint
Press Tab and enter the coordinates where you want to go
Successful command example: TeleportToChunkWaypoint 6.1
That being said, you will notice that it is impossible to identify the coordinates on your Map. Here is the exact location of the notable points of the game:
12, 15 – Dunley Farmlands Waygate East
13, 13 – Dunley Farmlands Waygate South East
13, 19 – Cursed Forest Waygate
14, 11 – Farbane woods Waygate North East
14, 8 – Farbane Woods Waygate South East
15, 13 – Hallowed Mountains Waygate
6, 16 – Silverlight Hills Waygate
8, 8 – Farbane woods Waygate South West
9, 10 – Farbane Woods Waygate West
9, 13 – Dunley Farmlands Waygate South West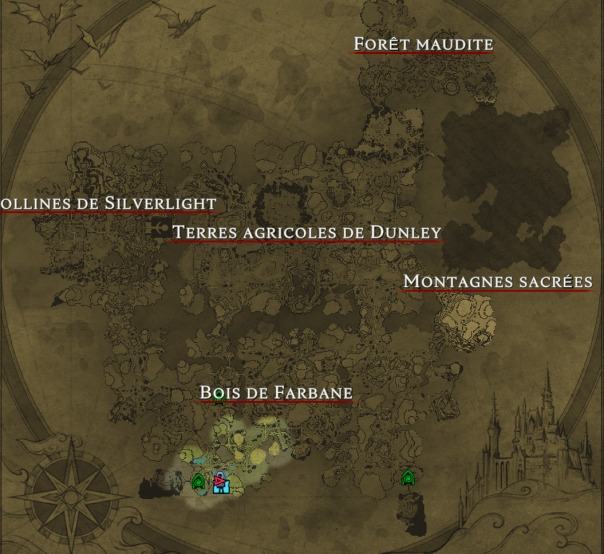 The full list of commands
If you want to have an overview of all the commands available in the game, here they are. This will be particularly useful to all players who are administrators of their own multiplayer servers or LAN organizers, for example.
Alias ​​(Alias, Command)
Bind (Key Combination, Command)
Clear
ClearTempBinding
MultiCommand (Commands)
ProfileInfo
RemoveAlias ​​(Alias)
TempBind (Key Combination, Command)
Unbind (Key Combination)
Adminauth
Admindeauth
Adminonlydebugevents (Unnamed Argument)
Bankcharacter (Character Name)
Banned
Banuser (Steam ID)
Clanaccept
Clandecline
Claninvite (Unnamed Argument)
clanleave
ClientBuildingDebugging (Unnamed Argument)
Connect (address or steamid, port, password)
Copy (Command)
CopyDebugDump
CopyPositionDump
CreateDebugDump
CreatePerformanceDump
DebugViewEnabled (Unnamed Argument)
Depth of field (Unnamed Argument)
Disconnect
DumpArchetypeInformation (Which, Num to print, Full info)
DumpBlobAssetMemoryInfo (Which)
DumpChunkFragmentation (Which, ExtraDebugging)
DumpComponentMemoryInfo (Which)
DumpDynamicBufferMemoryInfo (Which)
DumpEntity (World, Entity, Full Dump)
DumpEntityQueries (Which)
DumpEverything (Which)
DumpPrefabGUIDEntities (World, Component, Include Disabled, Include Prefabs)
DumpQueryArchetypes(Which, OnlyRequired, AlsoLogToConsole)
DumpSystemMemory(Which, AlsoLogToConsole)
GarbageCollectArchetypes (Which)
GatherAllAllies
GatherAllAlliesExceptMe
GatherAllNonAllies
GatherAllPlayers
GatherAllPlayersExceptMe
GcCollect
Give (What, Amount)
Giveset (What)
Hidecursor (Unnamed Argument)
JobThreads
Kick (Character Name)
Kill
List (Optional: Category)
Listusers (Include Disconnected)
Localization (Language)
Logdestroyevents (Which, State)
Lowqualityatmosphere (Unnamed Argument)
MeasureSystemPerformance (Unnamed Argument)
Motionblur (Unnamed Argument)
OpenCrashDumpFolder
OpenLogsFolder
PerformanceTestChunks (Jump Distance, Test Mode)
Performchunkdefragmentation (Which)
PlayerTeleport
Printactivesequences
Printactivesounds
printallsequences
Printdestroyevents (Which)
PrintDynamicResSettings
Printsunvfxstate
Reconnect
Setadminlevel (user, level)
Setmipmaplevel (Unnamed Argument, Unnamed Argument)
Setresolution (Unnamed Argument, Unnamed Argument)
Setsystemenabled (Which, Unnamed Argument, Enabled)
Startbuildwallpaper (Unnamed Argument)
Teleport (Who, Where, WorldPosX, WorldPosY)
TeleportPlayerToMe (User)
TeleportPlayerToMousePosition (User)
TeleportToChunk (Unnamed Argument)
TeleportToChunkWaypoint (Unnamed Argument)
TeleportToNether
TeleportToPlayer (User)
Texturestreamingenabled (Unnamed Argument)
Texturestreamingmaxlevelreduction (Unnamed Argument)
Texturestreamingmemorybudget (Unnamed Argument)
ToggleDebugViewCategory (Unnamed Argument)
Toggleobserve (Mode)
ToggleSetting (Setting Name, Optional Setting Values)
Unban (User Index)
UnloadUnusedAssets
Useoptimized queries (Which, State)
Is V Rising a good video game?
Yes V Rising is a great video game, we are proud to have given it a rating of 76%. Any good gamer must have played V Rising at least once in his life, we can even fully consider it as one of the best games of the genre! In short, it is a must and you must try it if you have the opportunity!
Can I play V Rising with my friends?
Yes, you can play V Rising multiplayer (online) with your friends! So think about it the next time you have a party at home, it can be a great opportunity to have a great time with your friends and family, while determining who is the best at V Rising!
Is V Rising available on multiple platforms?
No, the game V Rising is currently only available on PC (Microsoft Windows). We hope that Stunlock Studios development studio will release the game on other consoles soon, even if nothing is planned for the moment!
Is V Rising a recent game?
Yes, V Rising is a recent game, it was launched in most regions on May 17th 2022, 1 year 4 months 14 days ago.
V Rising has been released on PC (Microsoft Windows).
Is there an official website for V Rising?
Yes V Rising has its own official website! You can find it by clicking here.
Is there a forum on the internet to discuss the game V Rising?
No, according to our information, V Rising does not yet have a forum or subreddit clearly identified to the community. However, it is possible that you can find one by searching on your favorite search engine, which we invite you to do! You can also look at social networks, indeed many groups exist for example on Facebook to allow communities to exchange between enthusiasts.
Is V Rising compatible with VR?
No, V Rising is not currently compatible with virtual reality, but we hope that one day it will be possible to play it with this new technology!
Does the game V Rising have other names around the world?
No, according to our information, there is no other way to name V Rising, or it is very marginal.
What are similar games to V Rising?
V Rising is a game similar to Cyberpunk 2077, Life is Feudal: Your Own, Rising World, Miscreated, Savage Lands, Borderlands 3, Sky Break, Force of Nature, Dude Simulator and Dude Simulator 2, if you liked V Rising, you will surely love this list of games we just mentioned! You can find our dedicated portals by clicking on the name of the games, and make your own opinion very quickly!
×