Yarn is the level 3 castle heart step that will give you the opportunity to craft better gear in V Rising . In this guide, we will see the best places to find this resource and how to turn it into exploitable material in your workshops .
Where to find cotton? Best farming spot
According to us, if you want to find sufficient quantities of cotton for your loom, you will have to turn in the fields around the farms of the zone You will be very strongly exposed to garlic, with a penalty which will make you much less resistant to enemy attacks. Proceed carefully, beware of patrols on the trails and be sure to eliminate any soldier with a bugle in hand , likely to raise the alarm throughout the block. Going around the 4 points that we have noted for you in the image below, you should come across many items necessary for your advancement in the tier 2 crafting workshops , such as scrolls and books, containing valuable recipes to expand your crafting possibilities.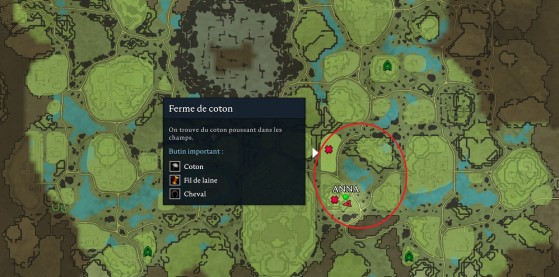 In addition, these points are located just east of the mine containing iron ore , you have a way to make yourself a really simple farming route to set up and profitable as ever . This will be especially useful if you are playing solo .
Cotton seeds and gardening
By dint of robbing the villagers, there is a chance that some will drop precious cotton seeds . We've never mentioned gardening in our game guides before, but it's really very simple: you put what you want to plant in your hotbar, then by tapping on the corresponding button, you will enter construction mode. You are then free to put them in the ground wherever you wish within the borders of your castle . Cotton plants regrow automatically, do not require watering, and are permanent, like the rest of the garden's resources.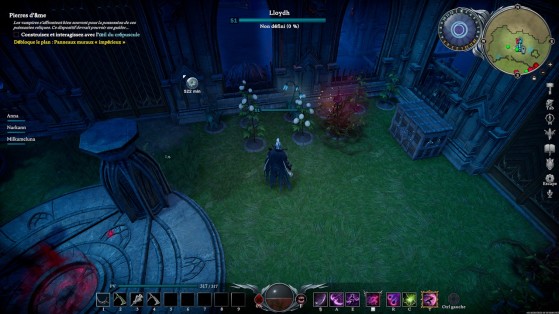 How to unlock sewing and wool yarn?
In the center of the village of the farms area, you can find the boss needed to unlock the loom recipe . To target it on your Blood Altar, it's the seamstress and you should have no trouble getting rid of it. This is an original boss who never attacks, but flees like the other villagers by shouting, which will have the effect of rounding up all the guards in the place. Try leading her out of town to the northeast (easier with multiple people) and have her party in the woods. Once the workbench is unlocked and placed in your HQ, you will need 20 cotton to make 1 yarn , but this cost can be reduced by a quarter if you put the loom in a dedicated room.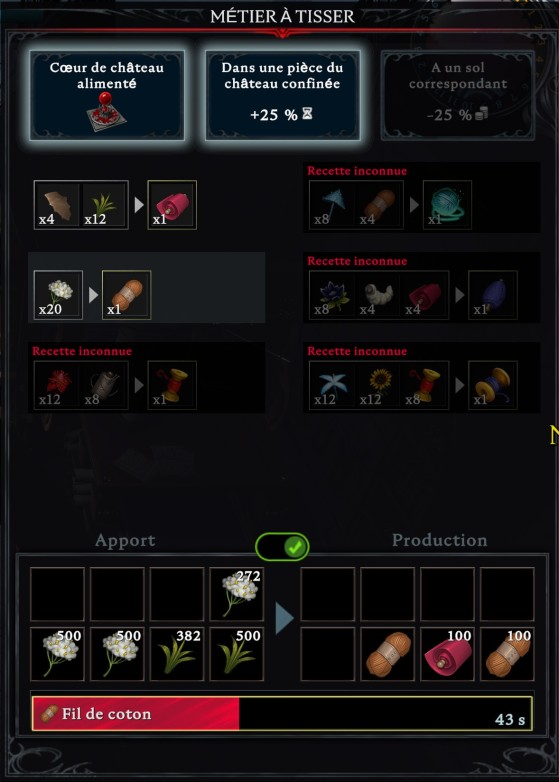 Is V Rising a good video game?
Yes V Rising is a great video game, we are proud to have given it a rating of 76%. Any good gamer must have played V Rising at least once in his life, we can even fully consider it as one of the best games of the genre! In short, it is a must and you must try it if you have the opportunity!
Can I play V Rising with my friends?
Yes, you can play V Rising multiplayer (online) with your friends! So think about it the next time you have a party at home, it can be a great opportunity to have a great time with your friends and family, while determining who is the best at V Rising!
Is V Rising available on multiple platforms?
No, the game V Rising is currently only available on PC (Microsoft Windows). We hope that Stunlock Studios development studio will release the game on other consoles soon, even if nothing is planned for the moment!
Is V Rising a recent game?
Yes, V Rising is a recent game, it was launched in most regions on May 17th 2022, 1 year 4 months 16 days ago.
V Rising has been released on PC (Microsoft Windows).
Is there an official website for V Rising?
Yes V Rising has its own official website! You can find it by clicking here.
Is there a forum on the internet to discuss the game V Rising?
No, according to our information, V Rising does not yet have a forum or subreddit clearly identified to the community. However, it is possible that you can find one by searching on your favorite search engine, which we invite you to do! You can also look at social networks, indeed many groups exist for example on Facebook to allow communities to exchange between enthusiasts.
Is V Rising compatible with VR?
No, V Rising is not currently compatible with virtual reality, but we hope that one day it will be possible to play it with this new technology!
Does the game V Rising have other names around the world?
No, according to our information, there is no other way to name V Rising, or it is very marginal.
What are similar games to V Rising?
V Rising is a game similar to Cyberpunk 2077, Life is Feudal: Your Own, Rising World, Miscreated, Savage Lands, Borderlands 3, Sky Break, Force of Nature, Dude Simulator and Dude Simulator 2, if you liked V Rising, you will surely love this list of games we just mentioned! You can find our dedicated portals by clicking on the name of the games, and make your own opinion very quickly!
×