While there isn't really an elaborate set-up or storyline in V Rising , there is still a suite of quests to complete to progress ever further in your world domination. In this guide, we'll cover all of the progression stages, taking the full list of quests one by one and giving you useful information to help you pass them smoothly.
Note: Like many big guides on our portal, this walkthrough will be updated over time. For this first part, we will focus on the steps leading to the level 2 castle core .
Collect the leftovers
Goal
Walkthrough
Simply advance through the graveyard by tapping a few skeletons to unlock your first weapon.
Recipe unlocked
Wield the sword
Goals
Craft a Bone Sword
Kill 3 enemies with a bone sword
Walkthrough
The crafting tab is just at the top right of the inventory window. Use the collected bones to make the famous weapon and go and test its left click on a few piles of bones.
Recipe unlocked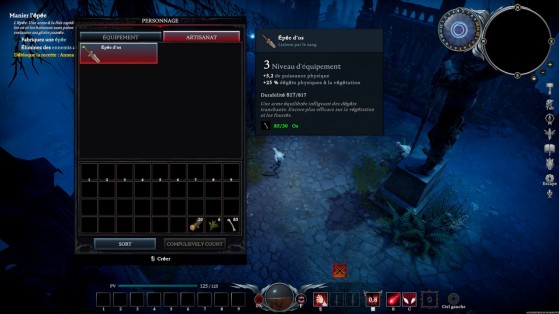 Mastery of magic
Goals
Craft a Bone Ring
Hit two enemies with a shadow trait
Walkthrough
The bones reinforce your magic attacks, assigned to R and C. In the starting build, you have the shadow trait which is a ranged attack and a fairly powerful counter which will reflect the damage by causing a shock wave and heal you along the way. Train yourself to place it at the right times against the last enemies of the cemetery of the tutorial, they are perfect for that.
Recipes unlocked
Armor: Bone Guard Vestments
Consumable: Vermin Balm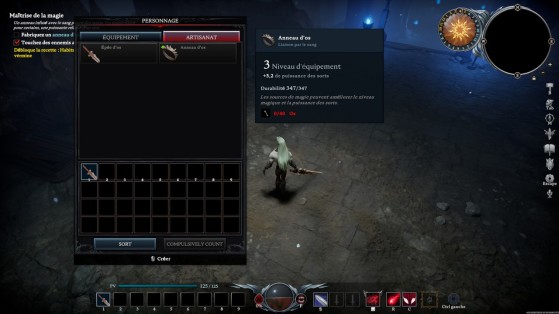 Bone armor
Goals
Craft a Bone Guard Breastplate
Craft Boneguard Leggings
Craft Bone Guard Gloves
Craft Bone Guard Boots
Walkthrough
For the breastplate and the leggings, no problem, on the other hand for the gloves and the boots, you will have to leave the tutorial area and go a little deeper into the woods , in search of some wild animals. The wolves and deer you come across will provide the skins needed to craft the two missing pieces of armor.
Recipe unlocked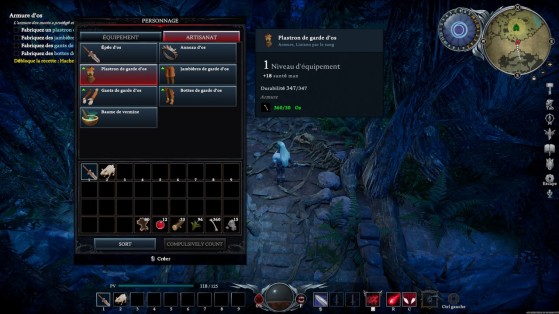 In the woods
Goals
Craft Bone Axes
Cut down 3 trees
Walkthrough
Just craft the ax and go smash some trees, you're spoiled for choice. A little trick to go a little faster: try to position yourself so as to touch as many trees as possible.
Recipe unlocked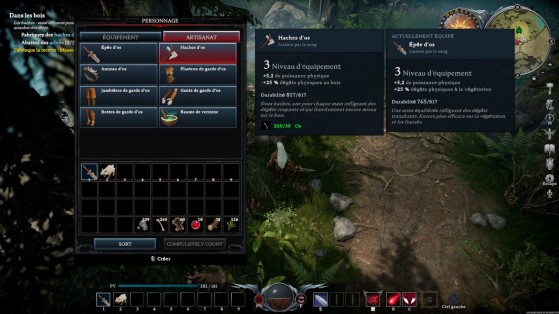 stone breaker
Goal
Craft a mace
Smash 3 rocks to pieces
Walkthrough
Exactly the same principle as for bone axes. Please note, however, that it is not necessary to hit with a club to harvest ores or axes to harvest wood: it is the level of the object that takes precedence over the type of tool used.
Recipes unlocked
Structure: Heart of a castle
Structure: Borders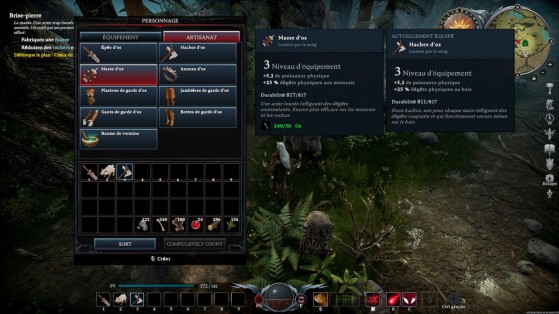 The Dark Lord
Goals
Build and interact with the heart of the castle
Expand your territory by placing 3 borders
Walkthrough
It's time to choose a good location for your base! If you are looking for easy spots to place the castle , we recommend that you look for ruins, those with a small building in the center. To enter construction mode, simply press B and place your structures, it is done very quickly.
Recipe unlocked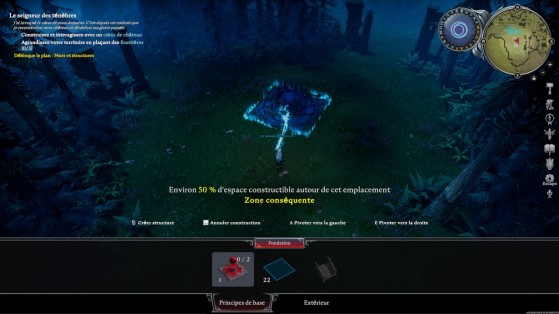 Strengthen
Goals
Protect your territory by placing 3 palisades
Place a wooden coffin
Place a supply of wood
Walkthrough
Nothing special to say about this step, just continue to build whatever is asked of you using the materials around you.
Recipes unlocked
Workshop: Basic Crafting
Workshop: Refining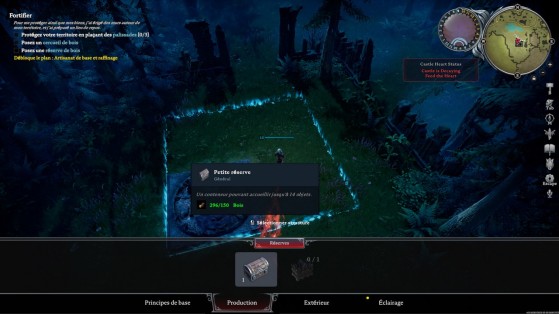 Preparations for hunting
Goals
Build and interact with a sawmill
Build and interact with a simple workbench
Increase your gear level up to 15
Walkthrough
Start by building the sawmill, go place blood essences in the heart of the castle and once you have produced 8 planks, put the workbench in your camp. Then, you will have to make improvements for all the equipment available at this table, even if it means exceeding the ilvl 15 required by the game . Thanks to the improved weapons, you will be able to type the copper ores and with a complete set, you should already be able to venture into the mine in the center of the woods.
Recipe unlocked
Structure: Altar of Blood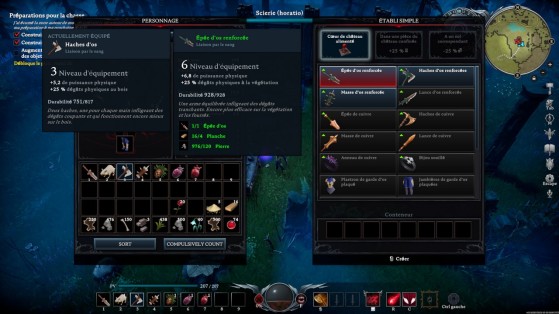 bloody hunt
Goals
Build and interact with a Blood Altar
Obtain knowledge and new powers by drinking the blood of a Bloodbearer V
Walkthrough
The blood altar can be found in the "basic principles" crafting category: place it and interact with it to see the list of game bosses appear . Hunt down the alpha wolf blood, then follow the blood line to meet the boss. This first elite enemy will give you access to the wolf form, which will be useful to you throughout the game , since you will be able to move faster thanks to it.
Recipe unlocked
Workshop: Research Office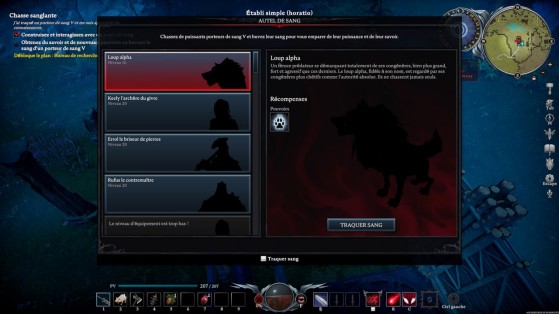 The first library book
Goal
Build and interact with a research desk
Walkthrough
Very simple, just build the workshop to discover the research system of the game. By bringing books to this workbench, or by spending 50 papers, you will unlock boxes contained in the table , corresponding to new crafting recipes.
Recipe unlocked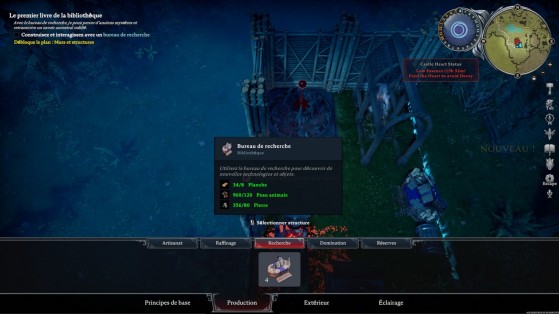 The expansion of my domain
Goal
Upgrade the heart of the castle and interact with it
Walkthrough
Recipe unlocked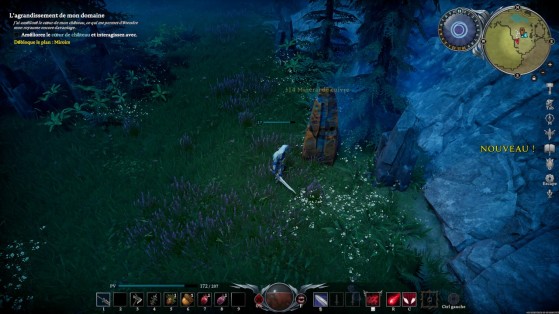 Is V Rising a good video game?
Yes V Rising is a great video game, we are proud to have given it a rating of 76%. Any good gamer must have played V Rising at least once in his life, we can even fully consider it as one of the best games of the genre! In short, it is a must and you must try it if you have the opportunity!
Can I play V Rising with my friends?
Yes, you can play V Rising multiplayer (online) with your friends! So think about it the next time you have a party at home, it can be a great opportunity to have a great time with your friends and family, while determining who is the best at V Rising!
Is V Rising available on multiple platforms?
No, the game V Rising is currently only available on PC (Microsoft Windows). We hope that Stunlock Studios development studio will release the game on other consoles soon, even if nothing is planned for the moment!
Is V Rising a recent game?
Yes, V Rising is a recent game, it was launched in most regions on May 17th 2022, 1 year 4 months 13 days ago.
V Rising has been released on PC (Microsoft Windows).
Is there an official website for V Rising?
Yes V Rising has its own official website! You can find it by clicking here.
Is there a forum on the internet to discuss the game V Rising?
No, according to our information, V Rising does not yet have a forum or subreddit clearly identified to the community. However, it is possible that you can find one by searching on your favorite search engine, which we invite you to do! You can also look at social networks, indeed many groups exist for example on Facebook to allow communities to exchange between enthusiasts.
Is V Rising compatible with VR?
No, V Rising is not currently compatible with virtual reality, but we hope that one day it will be possible to play it with this new technology!
Does the game V Rising have other names around the world?
No, according to our information, there is no other way to name V Rising, or it is very marginal.
What are similar games to V Rising?
V Rising is a game similar to Cyberpunk 2077, Life is Feudal: Your Own, Rising World, Miscreated, Savage Lands, Borderlands 3, Sky Break, Force of Nature, Dude Simulator and Dude Simulator 2, if you liked V Rising, you will surely love this list of games we just mentioned! You can find our dedicated portals by clicking on the name of the games, and make your own opinion very quickly!
×