It's not going to be a big surprise for those who follow the news of big games online, Diablo Immortal will not be officially released in these two European countries, and it is illegal for players to download them from another country like France to play there afterwards for example.
The announcement comes from Reddit , which you can find in full below. What makes it quite predictable is that Lost Ark recently ran into the same problem . Belgian and Dutch legislation affiliate lootboxes with gambling, in order to protect vulnerable players and minors. Games are forced to remove this type of content to be legally available, as Overwatch had to do . Activision Blizzard does not seem to have any intention of doing the same with Diablo Immortal at this time.
The precise reasons behind the prohibition of Diablo Immortal in these regions, is not exactly specified, since the monetization affects different aspects. But it is probably the fact of being able to buy keys with the premium currency, Platinum, which is responsible for this. Since they then allow you to open special chests in a vault. Hiding the lootboxes in a dungeon rather than in a menu was obviously not enough.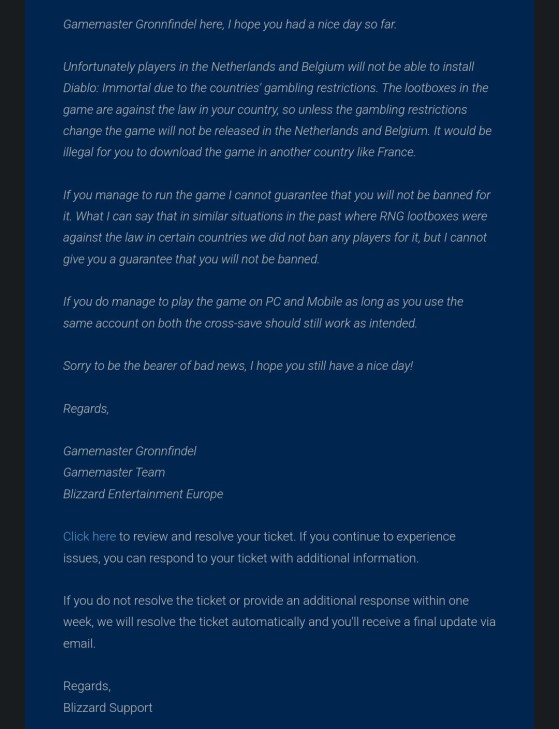 What are the risks for those who use a VPN or the APK?
As you probably know, there are many ways to circumvent the online gambling ban in Europe. Union heavily restricts geo-blocking, so by creating a French Battle.net account and using a VPN for the initial download, it's easy to override. Downloading the Diablo Immortal APK on Android is also a popular way to circumvent such restrictions.
But of course, all this is not without risks. As the official message mentions, they could theoretically ban players from these two countries who play Diablo Immortal illegally, however they have never taken the initiative to do so in their other games in the past, and it is unlikely let them do so in the future. You just need to be aware that this possibility exists. For example, if the legislation gets tougher and Blizzard decides to take the risk of banning suspicious accounts. But that's completely hypothetical, since they already fail to ban hordes of bots on all of their other games.
Is Diablo Immortal a good video game?
No, we can't tell you that Diablo Immortal is a good video game. Unfortunately we gave it a 47% rating. Of course tastes and emotions vary according to each person and some will surely enjoy it, but for the majority of gamers, it's a safe bet that this game will never make it into your TOP 10 best video games of all time. It's a pity, the original idea was nice, but maybe the studio was too ambitious this time!
Can I play Diablo Immortal with my friends?
Yes, you can play Diablo Immortal multiplayer with your friends! So think about it the next time you have a party at home, it can be a great opportunity to have a great time with your friends and family, while determining who is the best at Diablo Immortal!
Is Diablo Immortal available on multiple platforms?
Yes, the game Diablo Immortal is developed to be compatible with PC (Microsoft Windows), Android and iOS. It's quite handy to be able to play it on several different consoles, thanks to the Blizzard Entertainment development studio!
Is Diablo Immortal a recent game?
Yes, Diablo Immortal is a recent game, it was launched in most regions on Jun 02nd 2022, 1 year 4 months 3 days ago.
Diablo Immortal has been released on PC (Microsoft Windows), Android and iOS.
Is there an official website for Diablo Immortal?
Yes Diablo Immortal has its own official website! You can find it by clicking here.
Is there a forum on the internet to discuss the game Diablo Immortal?
Yes there is a website where Diablo Immortal fans can meet to discuss and exchange content, tips and advice on the game. It's on the Reddit website and you can find this Subreddit by clicking here.
Is Diablo Immortal compatible with VR?
No, Diablo Immortal is not currently compatible with virtual reality, but we hope that one day it will be possible to play it with this new technology!
Does the game Diablo Immortal have other names around the world?
Yes, the game is also known by these names around the world:
Diablo Immortal (Alternative spelling)
디아블로 이모탈 (Korean title)

What are similar games to Diablo Immortal?
Diablo Immortal is a game similar to Borderlands 3, Shadows: Awakening, Dragon: Marked for Death, The Elder Scrolls VI, Eternity: The Last Unicorn, Dragalia Lost, The Elder Scrolls: Blades, Torchlight III, Rangers of Oblivion and Pokémon Shield, if you liked Diablo Immortal, you will surely love this list of games we just mentioned! You can find our dedicated portals by clicking on the name of the games, and make your own opinion very quickly!
×