After the build and the visual effects , Blizzard invites us to take a look at what the vast world of Sanctuary will offer us in the darkest and most gothic of Diablo IV .
This quarterly report therefore gives voice to the many artists who are working to give Diablo IV an atmosphere worthy of the franchise. To open the ball, it is Chris Ryder, artistic director and environments of the game, who begins the hostilities. He tells us that the Diablo IV Sanctuary will have five distinct regions and hundreds of dungeons. Every corner of the world must respect one cardinal rule: to convey the dark and iconic gothic atmosphere of the Diablo universe .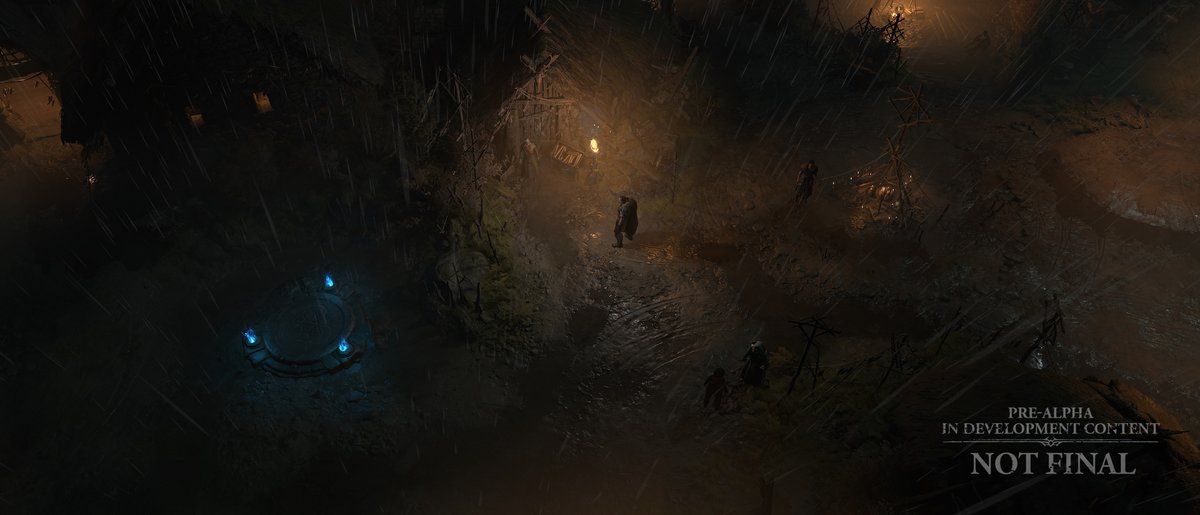 The team thus intends to stand out from previous opuses (and especially the third) by aspiring to credible and coherent sets. Similarly, the geographical location of each region must offer its own identity, its own climate, while sticking to the whole. The artists of Diablo IV wish in this way to immerse the players in Sanctuary, as much by its combats as by its exploration and its moments of respite by the corner of a salutary fire.
In order to display this heavy atmosphere specific to the Diablo universe in this fourth opus, the teams took advantage of modern technologies to offer a physical rendering of light. Once again, the emphasis was on " gameplay first ". If the artists want to show a Sanctuary more beautiful and darker than ever, this must in no way touch the heart of the game which is its gameplay.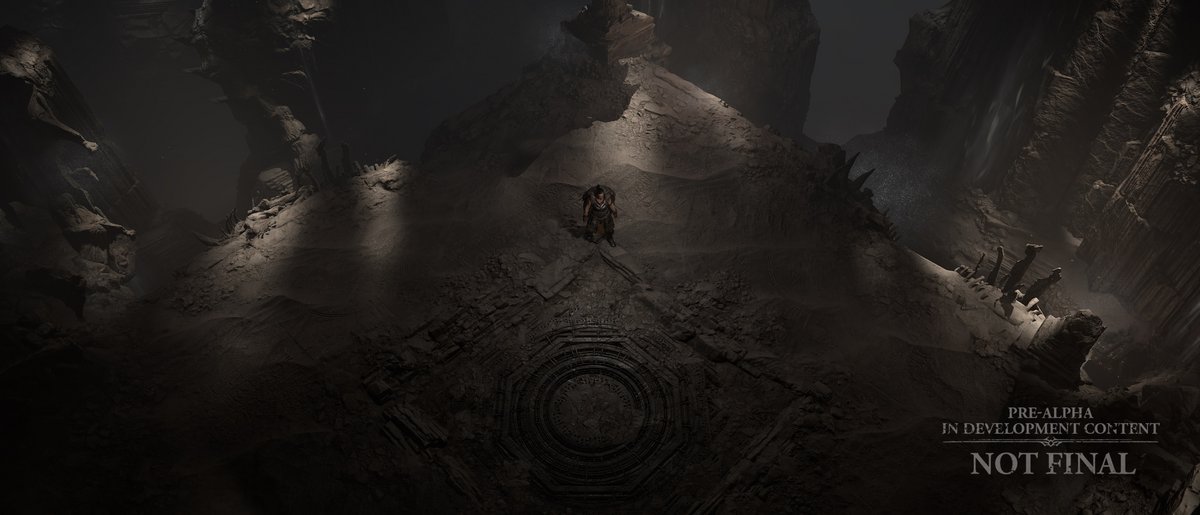 Since videos speak louder than words, this quarterly report is full of them and offers us an overview of the different regions that we will explore in Diablo IV . To inaugurate this anthology of videos, we have the wild coastal village of Scosglen.
The village is followed by a highly important location in the Diablo universe : a monastery. More precisely that of Orbei, located in the Arid Steppes.
To end this overview of Sanctuary, Blizzard gives us a change of climate with Kyovashad, a region covered in ice and snow.
So many different dungeons to loot
After exploring the surface of Sanctuary, Blizzard takes us deep into its depths by introducing us to some of the more than a hundred dungeons promised in Diablo IV . To maintain consistency in the universe, the game artists have developed a system of sets of environments. This will notably make it possible to anchor each dungeon in a given region thanks to a similar environment.
Among these famous sets of environments, Blizzard has once again presented a few through videos, starting with the Forgotten Places of the World, which house an abject corruption conducive to a deliciously dark and horrifying atmosphere.
Then place at an old resting place of the Druids (one of the classes of the game), invaded by demons. They have perverted the once noble and spiritual nature of this sacred place and transformed it into the Cave of the Wretched.
To complete the discovery of these sets of environments, the team presents us with a rather intriguing concept. In Diablo IV , certain dungeons we will pass without transition from one environment to another, without ever breaking the coherence desired by the artists. This is particularly well illustrated by the Flooded Depths, which first takes us through a relatively intact ruined fort. Then, we discover a large part of the gutted fort, in which marshy undergrounds have invited themselves.
Here's what the Diablo IV teams had to share with us in this rather compelling quarterly report. If you want to know more about the work done by the artists, the report is available in French via the source below. The highly anticipated game ( not until at least 2023 ) will be back in the news in three months for a new report.
Is Diablo IV a good video game?
Yes Diablo IV is a great video game, we are proud to have given it a rating of 88%. Any good gamer must have played Diablo IV at least once in his life, we can even fully consider it as one of the best games of the genre! In short, it is a must and you must try it if you have the opportunity!
Can I play Diablo IV with my friends?
Yes, you can play Diablo IV multiplayer with your friends! So think about it the next time you have a party at home, it can be a great opportunity to have a great time with your friends and family, while determining who is the best at Diablo IV!
Is Diablo IV available on multiple platforms?
Yes, the game Diablo IV is developed to be compatible with PC (Microsoft Windows), PlayStation 4, Xbox One, PlayStation 5 and Xbox Series X|S. It's quite handy to be able to play it on several different consoles, thanks to the Blizzard Entertainment development studio!
Is Diablo IV a recent game?
Yes, Diablo IV is a recent game, it was launched in most regions on Jun 02nd 2023, 4 months 1 day ago.
Diablo IV has been released on PC (Microsoft Windows), PlayStation 4, Xbox One, PlayStation 5 and Xbox Series X|S.
Is there an official website for Diablo IV?
Yes Diablo IV has its own official website! You can find it by clicking here.
Is there a forum on the internet to discuss the game Diablo IV?
Yes there is a website where Diablo IV fans can meet to discuss and exchange content, tips and advice on the game. It's on the Reddit website and you can find this Subreddit by clicking here.
Is Diablo IV compatible with VR?
No, Diablo IV is not currently compatible with virtual reality, but we hope that one day it will be possible to play it with this new technology!
Does the game Diablo IV have other names around the world?
Yes, the game is also known by these names around the world:
D4 (Acronym)
디아블로 IV (Korean title)
Diablo 4 (Other)

What are similar games to Diablo IV?
Diablo IV is a game similar to Borderlands 3, Shadows: Awakening, Dragon: Marked for Death, Eternity: The Last Unicorn, Warhammer: Chaosbane, Torchlight III, Marvel Ultimate Alliance 3: The Black Order, Rangers of Oblivion, Vampire: The Masquerade - Bloodlines 2 and Baldur's Gate 3, if you liked Diablo IV, you will surely love this list of games we just mentioned! You can find our dedicated portals by clicking on the name of the games, and make your own opinion very quickly!
×