Once out of the Elden Ring tutorial , the first dark area that awaits you is the semi-human cave to the west, as part of the Boc the Seamster quest . By going to the nearest church, you can buy a Torch from Merchant Kalé for 200 Runes, but this is only a temporary and uncomfortable solution. In addition to being overweight, it will also occupy a hand that would be better off holding a shield or a weapon. Fortunately, by knowing where to go, it is possible to quickly obtain the lantern, which will greatly simplify your life.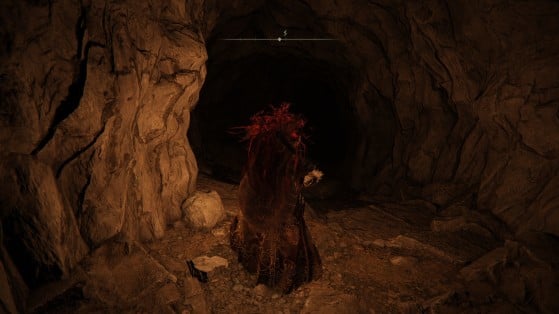 Where to find the lantern?
The only way to get a lantern in Elden Ring is to buy it from a merchant . The devs obviously thought about players, since there's one in the starting region, and one on the way north in the next region, and it's very hard to miss. It is sold for 1800 Runes by the two merchants, so there is no reason to go and see one rather than the other, apart from proximity, of course. This may seem like a lot at the start of the game, but it's quickly achieved by killing a few small enemies in a camp near a grace point for example. You can also sell your stock of physical runes to the merchant, in order to automatically convert them into usable runes. There is no urgency either, since the dark dungeons are not legion either. Just consider it a necessary investment.
The merchant southwest of the Weeping Peninsula of Necrolimbo is the closest and most accessible, it is the one we advise you to go to: Go to the Point of grace of the hut of the ascetic merchant . It also has other cool merchandise like the fantastic Two-Handed Sword , and cheap Blade Keys .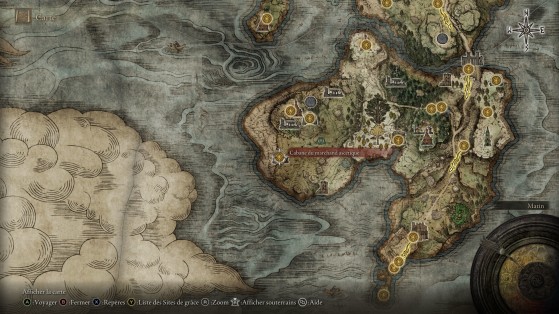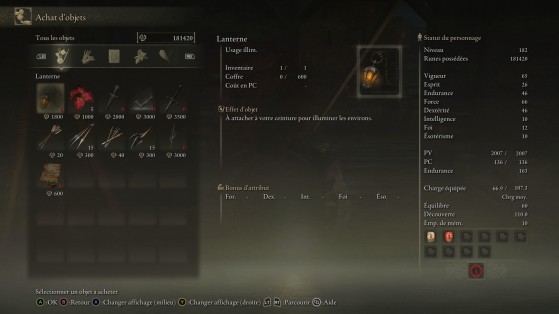 The second merchant is north of Necrolimbo, so south of Liurnia. You can wait for the area without facing Margit or Godrick , by taking the small cliffside path to the east.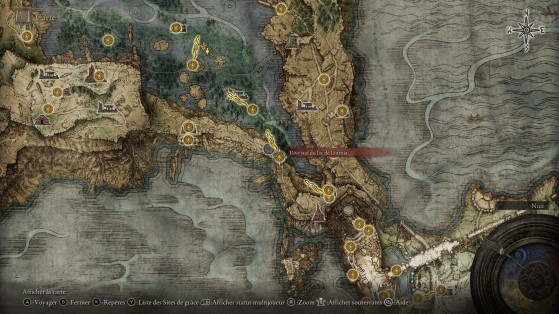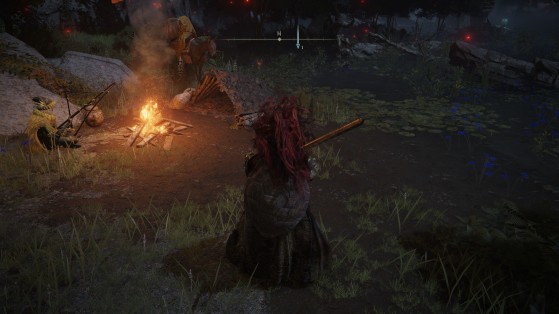 Use the lantern
The lantern is treated as an unlimited use consumable , you can activate it from inventory, even place it in the quick item bar, but this will quickly become a pain, especially when looking to use your healing potions in the heat of the action. The best thing to do is put it in the satchel , by opening the character menu. Notice the 4 boxes at the top right of the screen. By placing the lantern in one of the hotkeys using Y or Triangle and the D-pad , you can turn it on and off at will without ever having to worry about it again.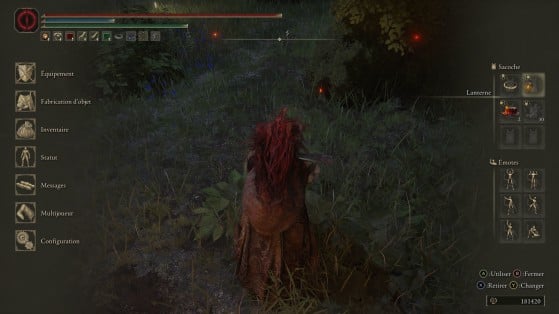 Is Elden Ring a good video game?
Yes Elden Ring is a great video game, we are proud to have given it a rating of 96%. Any good gamer must have played Elden Ring at least once in his life, we can even fully consider it as one of the best games of the genre! In short, it is a must and you must try it if you have the opportunity!
Can I play Elden Ring with my friends?
Yes, you can play Elden Ring multiplayer (online) with your friends! So think about it the next time you have a party at home, it can be a great opportunity to have a great time with your friends and family, while determining who is the best at Elden Ring!
Is Elden Ring available on multiple platforms?
Yes, the game Elden Ring is developed to be compatible with PC (Microsoft Windows), PlayStation 4, Xbox One, PlayStation 5 and Xbox Series X|S. It's quite handy to be able to play it on several different consoles, thanks to the FromSoftware development studio!
Is Elden Ring a recent game?
Yes, Elden Ring is a recent game, it was launched in most regions on Feb 25th 2022, 1 year 7 months 8 days ago.
Elden Ring has been released on PC (Microsoft Windows), PlayStation 4, Xbox One, PlayStation 5 and Xbox Series X|S.
Is there an official website for Elden Ring?
Yes Elden Ring has its own official website! You can find it by clicking here.
Is there a forum on the internet to discuss the game Elden Ring?
Yes there is a website where Elden Ring fans can meet to discuss and exchange content, tips and advice on the game. It's on the Reddit website and you can find this Subreddit by clicking here.
Is Elden Ring compatible with VR?
No, Elden Ring is not currently compatible with virtual reality, but we hope that one day it will be possible to play it with this new technology!
Does the game Elden Ring have other names around the world?
Yes, the game is also known by these names around the world:
艾尔登法环 (Chinese title - simplified)
艾爾登法環 (Chinese title - traditional)
ELDEN RING デジタルデラックスエディション (Japanese title - original)
エルデンリング (Japanese title - translated)
엘든 링 (Korean title)
엘든 링 (Korean title - unofficial)
Great Rune (Other)
ELDEN RING (Stylized title)

What are similar games to Elden Ring?
Elden Ring is a game similar to Borderlands 3, Immortal: Unchained, Dragon: Marked for Death, The Elder Scrolls VI, Eternity: The Last Unicorn, Warhammer: Chaosbane, The Elder Scrolls: Blades, Torchlight III, Hytale and Pokémon Shield, if you liked Elden Ring, you will surely love this list of games we just mentioned! You can find our dedicated portals by clicking on the name of the games, and make your own opinion very quickly!
×