Elden Ring always manages to surprise us with its many detours, it is possible to reach many seemingly blocked areas, exploring enough. The annex dungeon of the galleries located north of Liurnia is an excellent example. It allows you to reach the following regions and the outskirts of the capital without getting tired of finding the two halves of the Medallion of Dectus.
Where is the location of Makar the Magma Wyrm
Follow the riverbed north of the great lake of Liurnia. After the poison-spitting monsters are wooden structures with stairs that lead to the dungeon. It is even naturally indicated on the map, with a black circle bordered in orange, like all the mines in the game. All you have to do is progress inside, watch out for the harpies, they are tricky.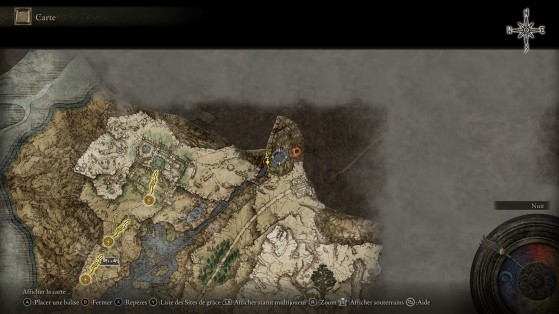 Preparations for kill the dragon
Fire resistance can help with this fight, although it's not strictly necessary. Avoid skills and weapons that also inflict Fire damage, prefer Frost damage, a good Freeze will calm this boss. He is also quite vulnerable to physical damage.
As often, ranged spirit summons have a better chance of surviving, especially with magma everywhere.
You can craft and use consumables that increase Fire resistance.
It's pretty rare, but you can summon a golden NPC to help you with this fight, Tragoth the Horned. It's a real tank on legs that will make the fight much easier. Even if you don't plan to use it, you should summon it in order to get its emote. You can send it back to its mode afterwards.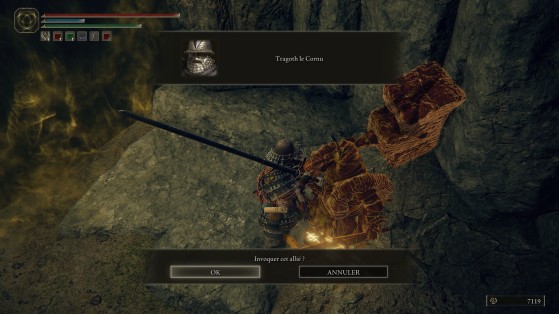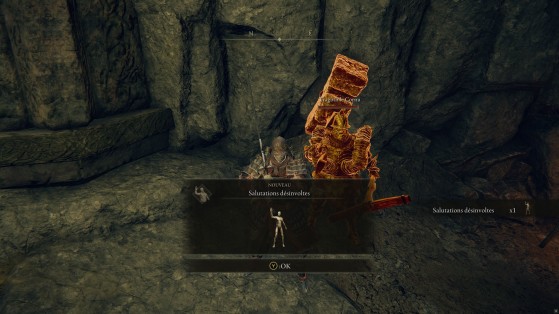 If you have completed the first step of Rya's quest, and bought at least one shrimp from the Thug, he can also lend you a hand in this fight. You can therefore have 2 AI as reinforcements to make your life easier.
Phase 1: Lying down
Makar will start by rushing at you and then going around the room, vomiting magma everywhere. Try not to get in its path. As you will discover, the No. 1 danger on this fight is magma, a puddle can kill you in seconds if you step in it.
From a distance, the fight is not particularly difficult, you can aim for the body to be sure to hit, but aiming for the head is better in terms of damage, and to have a chance of landing a critical hit.
In melee, this fight is quite painful, because of the lava and the erratic movements of the boss, it is better to attack the hind legs and the tail. As long as the boss doesn't turn around, you just have to be wary of the occasional tail swipe.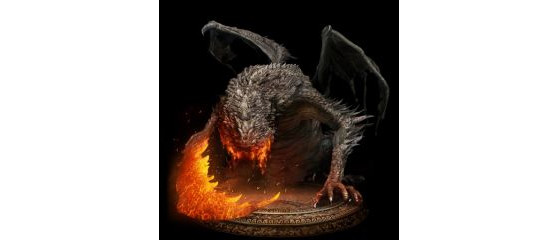 Phase 2: Standing
Once Makar's health is around 50%, he will stand up on his hind legs and make much more active use of his huge sword. Dodging it isn't particularly difficult, but it does take some practice, and more importantly, it hurts a lot. Once again, try to stay behind him, at the level of the hind legs in order to attack without too many risks in melee.
From a distance, the fight becomes much more risky, be sure to stay away from the boss.
During both phases, but especially the first, it is possible to use the terrain to your advantage to block or slow down the magma dragon. The large stone pillar in the middle of the room is perfect for this.
Is Elden Ring a good video game?
Yes Elden Ring is a great video game, we are proud to have given it a rating of 96%. Any good gamer must have played Elden Ring at least once in his life, we can even fully consider it as one of the best games of the genre! In short, it is a must and you must try it if you have the opportunity!
Can I play Elden Ring with my friends?
Yes, you can play Elden Ring multiplayer (online) with your friends! So think about it the next time you have a party at home, it can be a great opportunity to have a great time with your friends and family, while determining who is the best at Elden Ring!
Is Elden Ring available on multiple platforms?
Yes, the game Elden Ring is developed to be compatible with PC (Microsoft Windows), PlayStation 4, Xbox One, PlayStation 5 and Xbox Series X|S. It's quite handy to be able to play it on several different consoles, thanks to the FromSoftware development studio!
Is Elden Ring a recent game?
Yes, Elden Ring is a recent game, it was launched in most regions on Feb 25th 2022, 1 year 7 months 8 days ago.
Elden Ring has been released on PC (Microsoft Windows), PlayStation 4, Xbox One, PlayStation 5 and Xbox Series X|S.
Is there an official website for Elden Ring?
Yes Elden Ring has its own official website! You can find it by clicking here.
Is there a forum on the internet to discuss the game Elden Ring?
Yes there is a website where Elden Ring fans can meet to discuss and exchange content, tips and advice on the game. It's on the Reddit website and you can find this Subreddit by clicking here.
Is Elden Ring compatible with VR?
No, Elden Ring is not currently compatible with virtual reality, but we hope that one day it will be possible to play it with this new technology!
Does the game Elden Ring have other names around the world?
Yes, the game is also known by these names around the world:
艾尔登法环 (Chinese title - simplified)
艾爾登法環 (Chinese title - traditional)
ELDEN RING デジタルデラックスエディション (Japanese title - original)
エルデンリング (Japanese title - translated)
엘든 링 (Korean title)
엘든 링 (Korean title - unofficial)
Great Rune (Other)
ELDEN RING (Stylized title)

What are similar games to Elden Ring?
Elden Ring is a game similar to Borderlands 3, Immortal: Unchained, Dragon: Marked for Death, The Elder Scrolls VI, Eternity: The Last Unicorn, Warhammer: Chaosbane, The Elder Scrolls: Blades, Torchlight III, Hytale and Pokémon Shield, if you liked Elden Ring, you will surely love this list of games we just mentioned! You can find our dedicated portals by clicking on the name of the games, and make your own opinion very quickly!
×