Running recklessly or even suicidally after a stupid critter full of juicy loot has long become a cliché in video games, such as the Treasure Goblins of Diablo 3 , and the different types of crystal lizards found in Demon's Souls and its successors . . In order to show that the license is different, Elden Ring changes the formula a little, but not too much. It should be noted in passing that they do not have a particular resistance to spells, unlike lizards. They also don't give Forge Shards to upgrade your weapons, at least on the beta.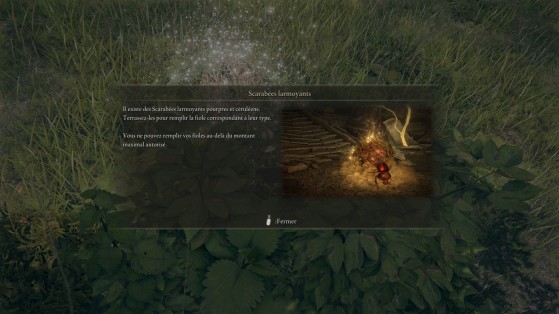 Teardrop Scarabs: How it works and in general
In the vast majority of cases, Teardrop Scarabs are in a fixed location on the map. If they see or hear you approaching, they run away and disappear after a few seconds. A beetle that was not killed respawns while resting at a Passed Out Grace Point. If he was killed, however, he does not return.
There are 3 types of approaches to kill them: The first is to simply rush at them on foot or on horseback and attack them in melee to kill them quickly. Touching them will delay their disappearance. The second technique consists in approaching discreetly from behind, in order to take them by surprise. There is obviously a problem: which side counts as the back for dung beetles who put their heads back? This remains to be confirmed. The last method is to simply kill him from a distance with a bow, spells, or projectile weapons.
Upon death, the Weeping Beetle automatically gives you a reward. This always includes refilling your health vials or CP depending on the type of beetle (red or white), which is of little interest outside of a large dungeon. But fear not, the majority of them seem to offer interesting rewards, the most common being Ashes of War or Spells .
There are special Teardrop Scarabs that double as mini-puzzles or a game of skill, like the White Footprints on the Beach , seen in the video above. The one in this example is invisible, intangible and always in motion, but it does not flee, unlike its congeners.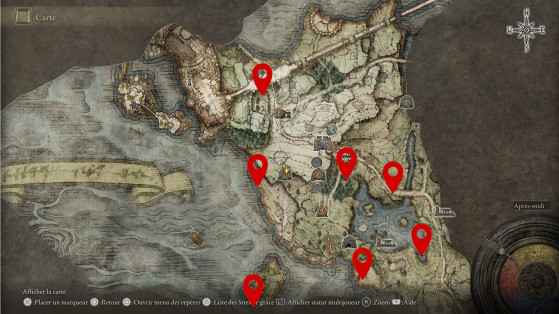 Teardrop Scarabs Location and Loot
Here is an initial list of watery beetles, it is based on the beta, so it is incomplete and subject to change, even for those listed, by the time the full game is released on February 25, 2022. This section will be updated and completed after this date.
A little after the church of Elleh, to the right of the road that leads to the map and to Melina, behind some ruins. He currently has no special loot.
On the road to Voilorage Castle, before the last ambush located in front of the door that leads to Margit the Fallen . Grants Ashes of War: Caria's Greatsword.
East of the Gate and Melina meeting point , towards the bridge over the river north of Lake Agheel. Grants Ashes of War: Piercing Fang.
At the very south of Lake Agheel, surrounded by giant crabs in ambush. It gives the spell Shardstone Arc.
On the second hard-to-reach beach, south of the tutorial area. It gives the cure poison spell.
South of the island of the Church of Draconic Communion, reached by passing through the Cave of the Demi-Human Chieftains . The reward is the Flaming Feast spell.
The invisible beetle that leaves white footprints visible in the video at the top of the article. He is on the beach west of the tutorial, you have to attack with the right timing, in front of the tracks, or cast an area spell. This time, the rewards include Ashes of War: Determination.
Is Elden Ring a good video game?
Yes Elden Ring is a great video game, we are proud to have given it a rating of 96%. Any good gamer must have played Elden Ring at least once in his life, we can even fully consider it as one of the best games of the genre! In short, it is a must and you must try it if you have the opportunity!
Can I play Elden Ring with my friends?
Yes, you can play Elden Ring multiplayer (online) with your friends! So think about it the next time you have a party at home, it can be a great opportunity to have a great time with your friends and family, while determining who is the best at Elden Ring!
Is Elden Ring available on multiple platforms?
Yes, the game Elden Ring is developed to be compatible with PC (Microsoft Windows), PlayStation 4, Xbox One, PlayStation 5 and Xbox Series X|S. It's quite handy to be able to play it on several different consoles, thanks to the FromSoftware development studio!
Is Elden Ring a recent game?
Yes, Elden Ring is a recent game, it was launched in most regions on Feb 25th 2022, 1 year 7 months 6 days ago.
Elden Ring has been released on PC (Microsoft Windows), PlayStation 4, Xbox One, PlayStation 5 and Xbox Series X|S.
Is there an official website for Elden Ring?
Yes Elden Ring has its own official website! You can find it by clicking here.
Is there a forum on the internet to discuss the game Elden Ring?
Yes there is a website where Elden Ring fans can meet to discuss and exchange content, tips and advice on the game. It's on the Reddit website and you can find this Subreddit by clicking here.
Is Elden Ring compatible with VR?
No, Elden Ring is not currently compatible with virtual reality, but we hope that one day it will be possible to play it with this new technology!
Does the game Elden Ring have other names around the world?
Yes, the game is also known by these names around the world:
艾尔登法环 (Chinese title - simplified)
艾爾登法環 (Chinese title - traditional)
ELDEN RING デジタルデラックスエディション (Japanese title - original)
エルデンリング (Japanese title - translated)
엘든 링 (Korean title)
엘든 링 (Korean title - unofficial)
Great Rune (Other)
ELDEN RING (Stylized title)

What are similar games to Elden Ring?
Elden Ring is a game similar to Borderlands 3, Immortal: Unchained, Dragon: Marked for Death, The Elder Scrolls VI, Eternity: The Last Unicorn, Warhammer: Chaosbane, The Elder Scrolls: Blades, Torchlight III, Hytale and Pokémon Shield, if you liked Elden Ring, you will surely love this list of games we just mentioned! You can find our dedicated portals by clicking on the name of the games, and make your own opinion very quickly!
×