Going around the mini-dungeons of Elden Ring to loot them and face their bosses is certainly one of the great charms of the game. This is the case with the Blackwater Catacombs, they are quite easy to find, you just have to follow the river north of Lake Agheel. A red wraith invasion awaits you along the way. It is theoretically possible to descend to the bottom of the canyon directly, using the giant tombstones, but this is a slightly more dangerous and less profitable exercise.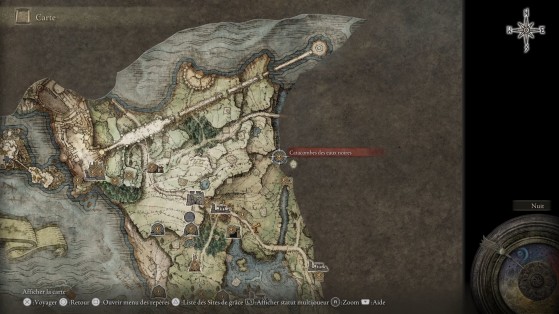 Preparations
These catacombs are very short, but the small stone gargoyles are also much more aggressive. Watch out for pressure plates on the ground that trigger traps, you can use them to easily defeat said gargoyles by deliberately stepping on them before pressing down the sides of the hallway.
Once the area has been explored, it is better to rest at the grace point, then rush to the boss without a fight, in order to preserve the healing vials.
If you have enough CP, be aware that summoning the Mercenary of the North will make the fight that follows completely trivial, in terms of difficulty.
How to fight
If you don't abuse summons, this fight is not easy. This boss pretends to be Kratos with his weapons linked to chains. He can greatly alter the distance his attacks will travel.
We will remember his whirling attack which affects a large area around him, the projection of his weapons forward, and his great combat jump which releases a powerful shock wave.
He will also enrage, which will envelop him in a characteristic red aura. It just increases his damage.
A good way to deal damage to this boss is to perform a big attack that will flinch it, then back off with a dodge. You can also circle around him with dodges, or by blocking. When he finishes his chain attack, the Tomb Guardian is exposed for a moment.
All in all, it's a pretty basic fight, but it's good practice against an enemy that hits fast and hard, but not too much.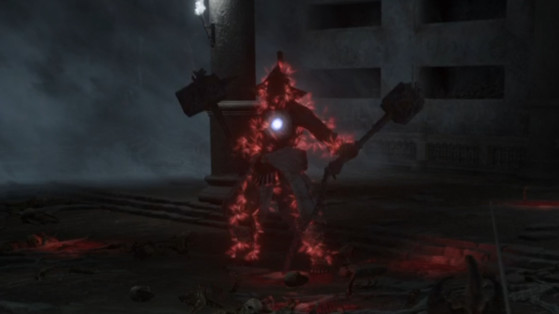 Awards
The boss drops Ashes of War: Stormblade, which unleashes a powerful wind attack several meters in front of you, which also has the advantage of tripping the enemy. The Warrior already starts with these ashes at the start. It is more important to search the rooms well before the boss, it would be a shame to miss the Northern Mercenary's Ashes.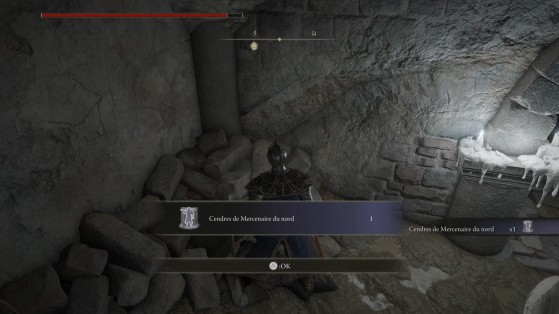 Is Elden Ring a good video game?
Yes Elden Ring is a great video game, we are proud to have given it a rating of 96%. Any good gamer must have played Elden Ring at least once in his life, we can even fully consider it as one of the best games of the genre! In short, it is a must and you must try it if you have the opportunity!
Can I play Elden Ring with my friends?
Yes, you can play Elden Ring multiplayer (online) with your friends! So think about it the next time you have a party at home, it can be a great opportunity to have a great time with your friends and family, while determining who is the best at Elden Ring!
Is Elden Ring available on multiple platforms?
Yes, the game Elden Ring is developed to be compatible with PC (Microsoft Windows), PlayStation 4, Xbox One, PlayStation 5 and Xbox Series X|S. It's quite handy to be able to play it on several different consoles, thanks to the FromSoftware development studio!
Is Elden Ring a recent game?
Yes, Elden Ring is a recent game, it was launched in most regions on Feb 25th 2022, 1 year 7 months 6 days ago.
Elden Ring has been released on PC (Microsoft Windows), PlayStation 4, Xbox One, PlayStation 5 and Xbox Series X|S.
Is there an official website for Elden Ring?
Yes Elden Ring has its own official website! You can find it by clicking here.
Is there a forum on the internet to discuss the game Elden Ring?
Yes there is a website where Elden Ring fans can meet to discuss and exchange content, tips and advice on the game. It's on the Reddit website and you can find this Subreddit by clicking here.
Is Elden Ring compatible with VR?
No, Elden Ring is not currently compatible with virtual reality, but we hope that one day it will be possible to play it with this new technology!
Does the game Elden Ring have other names around the world?
Yes, the game is also known by these names around the world:
艾尔登法环 (Chinese title - simplified)
艾爾登法環 (Chinese title - traditional)
ELDEN RING デジタルデラックスエディション (Japanese title - original)
エルデンリング (Japanese title - translated)
엘든 링 (Korean title)
엘든 링 (Korean title - unofficial)
Great Rune (Other)
ELDEN RING (Stylized title)

What are similar games to Elden Ring?
Elden Ring is a game similar to Borderlands 3, Immortal: Unchained, Dragon: Marked for Death, The Elder Scrolls VI, Eternity: The Last Unicorn, Warhammer: Chaosbane, The Elder Scrolls: Blades, Torchlight III, Hytale and Pokémon Shield, if you liked Elden Ring, you will surely love this list of games we just mentioned! You can find our dedicated portals by clicking on the name of the games, and make your own opinion very quickly!
×