Things are moving for Fall Guys in the middle of the season with the addition of crossplay for all game modes. The Mediatonic studio has also reassured about the state of the Xbox and Nintendo Switch versions.
A mid-Season 6 update has arrived for Fall Guys: Ultimate Knockout. With it, crossplay is limitless between PlayStation consoles and PC. The teams took stock of the new features to come.
The festive brawl between PS5, PS4 and PC players
The Mediatonic title, whose season 6 is in full swing, has therefore been updated to break down the last barriers that preciously surrounded crossplay . As soon as the patch is installed, it will be possible to invite any PlayStation or PC player to all game modes . In other words, it's not just for custom games anymore.
But to get there, you will have to follow a simple procedure (don't panic) which requires having an Epic Games account and linking it to Fall Guys . This is how you find all your friends, regardless of their platform. The invitation process is the same.
A new mode, Fall Guys is approaching on Xbox and Switch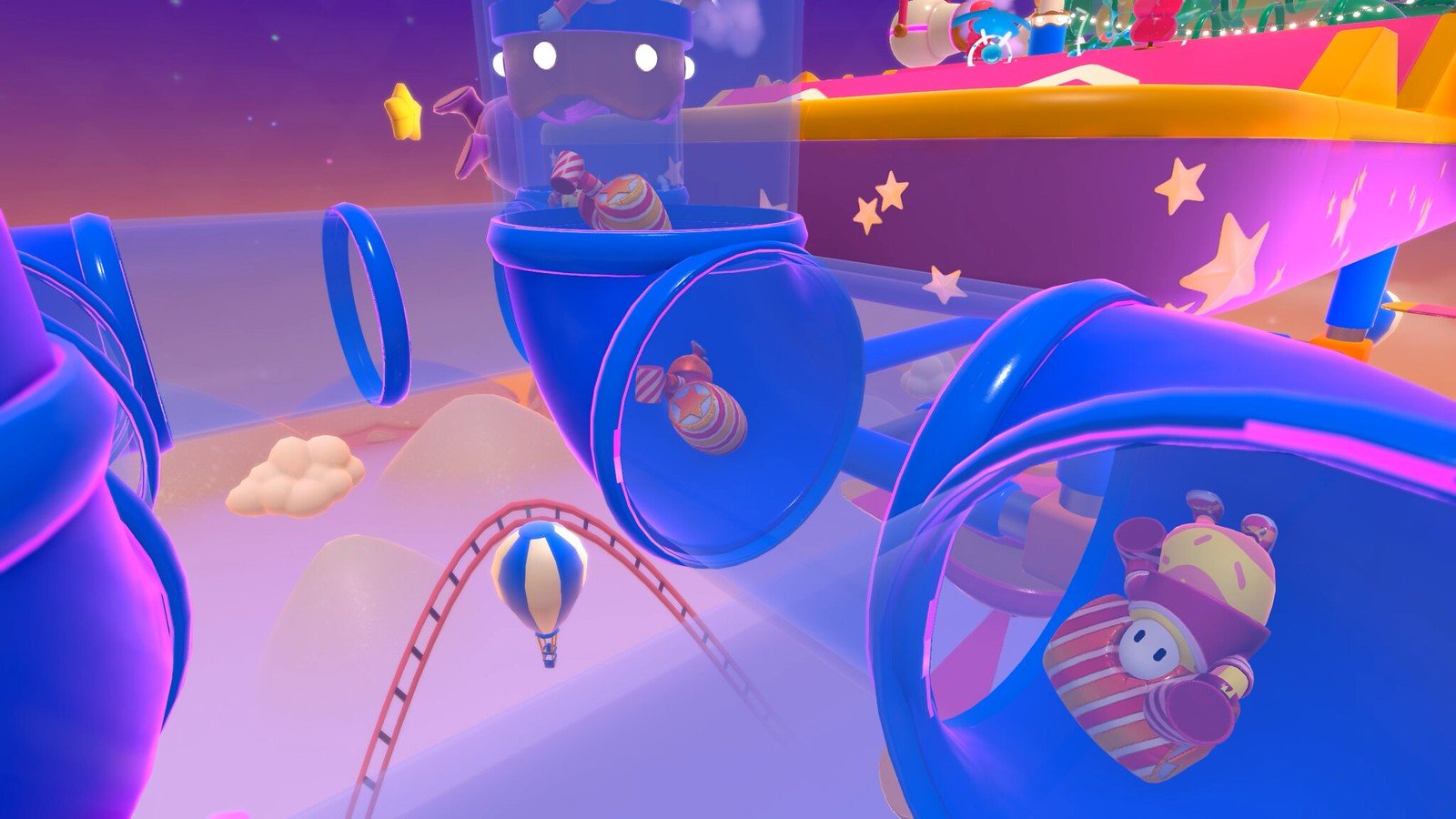 The colorful battle royale promises that players will be able to taste the "Sweet Thieves" mode "very soon" . A test that opposes two teams: the Thieves and the Guardians. The Thieves steal pieces of candy, while the Guardians must arrest them and put them in jail. If the prospect of jail isn't sexy, calling friends to get released will be an option. Provided you press a magic button.
In addition to improvements and fixes listed on the game's blog , the studio has reassured on the Xbox and Switch versions . They are " in the process of being finalized ".
We know that news about Fall Guys on Nintendo Switch and Xbox consoles is highly anticipated. We are currently finalizing the development of these versions and although it is not part of this update, it is happening ! Until then, we are very happy to be able to enable crossplay on existing platforms as a first step.
Is Fall Guys a good video game?
Yes Fall Guys is a great video game, we are proud to have given it a rating of 76%. Any good gamer must have played Fall Guys at least once in his life, we can even fully consider it as one of the best games of the genre! In short, it is a must and you must try it if you have the opportunity!
Can I play Fall Guys with my friends?
Yes, you can play Fall Guys multiplayer (online) with your friends! So think about it the next time you have a party at home, it can be a great opportunity to have a great time with your friends and family, while determining who is the best at Fall Guys!
Is Fall Guys available on multiple platforms?
Yes, the game Fall Guys is developed to be compatible with PC (Microsoft Windows), PlayStation 4, Xbox One, Nintendo Switch, PlayStation 5 and Xbox Series X|S. It's quite handy to be able to play it on several different consoles, thanks to the Mediatonic development studio!
Is Fall Guys a recent game?
Yes, Fall Guys is a recent game, it was launched in most regions on Aug 04th 2020, 2 years 7 months 19 days ago.
Fall Guys has been released on PC (Microsoft Windows), PlayStation 4, Xbox One, Nintendo Switch, PlayStation 5 and Xbox Series X|S.
Is there an official website for Fall Guys?
Yes Fall Guys has its own official website! You can find it by clicking here.
Is there a forum on the internet to discuss the game Fall Guys?
Yes there is a website where Fall Guys fans can meet to discuss and exchange content, tips and advice on the game. It's on the Reddit website and you can find this Subreddit by clicking here.
Is Fall Guys compatible with VR?
No, Fall Guys is not currently compatible with virtual reality, but we hope that one day it will be possible to play it with this new technology!
Does the game Fall Guys have other names around the world?
Yes, the game is also known by these names around the world:
Fall Guys (Alternative title)
Fall Guys: Season 1 (Alternative title)
Fall Guys: Season 2 (Alternative title)
Fall Guys: Ultimate Knockout (Alternative title)
フォールガイズ (Japanese title - original)
폴가이즈 (Korean title)

What are similar games to Fall Guys?
Fall Guys is a game similar to Figment, Toby: The Secret Mine, Planet Alpha, Semblance, Pikuniku, Nippon Marathon, Unbound: Worlds Apart, Eternity: The Last Unicorn, Radical Heights and Havocado, if you liked Fall Guys, you will surely love this list of games we just mentioned! You can find our dedicated portals by clicking on the name of the games, and make your own opinion very quickly!
×