Once again, EA has spoken out in favour of a name change for future FIFA games. Andrew Wilson, CEO of Electronic Arts, has made his case to his teams for dropping the brand and consequently ending the partnership with the Football Association. An internal conversation revealed by our colleagues from VGC and insider Tom Henderson.
A brand too heavy to carry
EA's CEO was reportedly blunt, indicating that it would be best to end the 30-year relationship with the Federation Internationale de Football Association, as the licence had been a "hindrance to the franchise's ambitions". A shocking but well-founded statement.
According to Little Birds, Andrew Wilson is quoted as saying that over the years, FIFA has forced EA into a whole host of restrictions, hindering any development. Adding brands like Nike at the request of the players? Impossible because of the relationship with Adidas. Other modes than the 11 vs 11 classico? No. Greater participation in "digital ecosystems"? No.
The FIFA licence has prevented us from doing a lot of that. Again, FIFA is just a name on the box, but it has prevented us from developing in areas that players want.
Wilson would have added:
Basically, the only benefit we get from FIFA when there's no World Cup is four letters on a box, at a time when most people don't even see the cover anymore because they buy the game in dematerialized form.
The abandonment of the FIFA brand is back on the agenda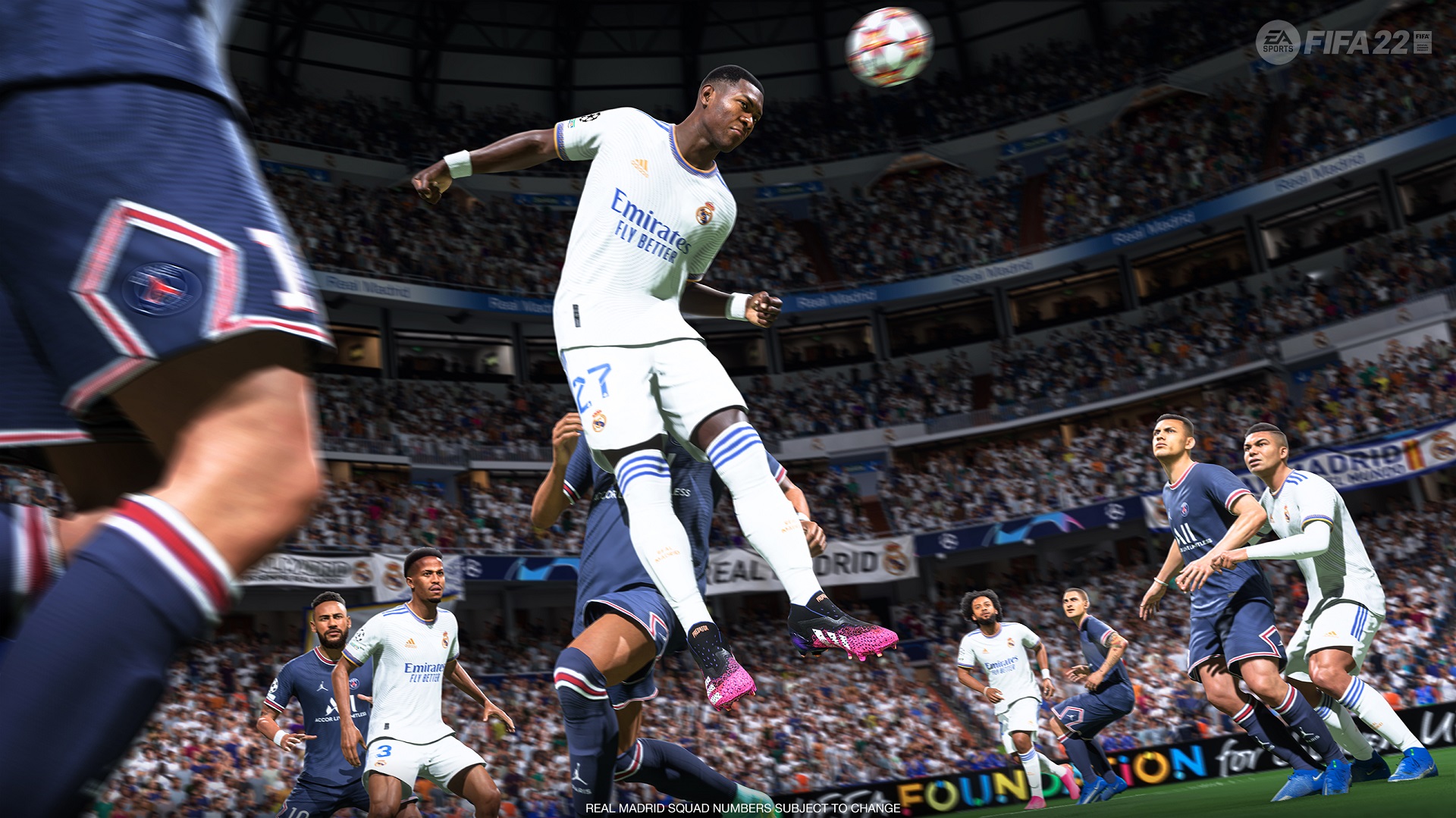 In October 2021, EA was already paving the way for a name change, like its competitor eFootball (PES). In fact, future games may end up being called EA Sports FC. But according to VGC, the brand will be retained for FIFA 23, an episode that will apparently incorporate a men's and a women's tournament.
After this vintage, which will be available before the World Cup in Qatar, things are getting worse. In an article in the NY Times, also published last October, the newspaper states that negotiations between the federation and Electronic Arts are at a standstill. The publisher is demanding more rights, FIFA more money, twice as much, which suddenly explains the push for a rebranding.
Is FIFA 22 a good video game?
Yes FIFA 22 is a great video game, we are proud to have given it a rating of 78%. Any good gamer must have played FIFA 22 at least once in his life, we can even fully consider it as one of the best games of the genre! In short, it is a must and you must try it if you have the opportunity!
Can I play FIFA 22 with my friends?
Yes, you can play FIFA 22 multiplayer with your friends! So think about it the next time you have a party at home, it can be a great opportunity to have a great time with your friends and family, while determining who is the best at FIFA 22!
Is FIFA 22 available on multiple platforms?
Yes, the game FIFA 22 is developed to be compatible with PC (Microsoft Windows), PlayStation 4, Xbox One, Nintendo Switch, PlayStation 5, Xbox Series X|S and Google Stadia. It's quite handy to be able to play it on several different consoles, thanks to EA Vancouver, EA Vancouver development studios!
Is FIFA 22 a recent game?
Yes, FIFA 22 is a recent game, it was launched in most regions on Sep 30th 2021, 2 years 2 months 10 days ago.
FIFA 22 has been released on PC (Microsoft Windows), PlayStation 4, Xbox One, Nintendo Switch, PlayStation 5, Xbox Series X|S and Google Stadia.
Is there an official website for FIFA 22?
Yes FIFA 22 has its own official website! You can find it by clicking here.
Is there a forum on the internet to discuss the game FIFA 22?
Yes there is a website where FIFA 22 fans can meet to discuss and exchange content, tips and advice on the game. It's on the Reddit website and you can find this Subreddit by clicking here.
Is FIFA 22 compatible with VR?
No, FIFA 22 is not currently compatible with virtual reality, but we hope that one day it will be possible to play it with this new technology!
Does the game FIFA 22 have other names around the world?
Yes, the game is also known by these names around the world:
EA SPORTS FIFA 22 (Alternative spelling)
EA SPORTS™ FIFA 22 (Alternative spelling)
FIFA 2022 (Alternative title)
피파 22 (Korean title - unofficial)

What are similar games to FIFA 22?
FIFA 22 is a game similar to FIFA Soccer 2002: Major League Soccer, Pro Evolution Soccer, Score! Hero, FIFA 19, Pro Evolution Soccer 2019, NBA 2K19, Club Soccer Director 2019, FIFA 20, Grid and eFootball PES 2020, if you liked FIFA 22, you will surely love this list of games we just mentioned! You can find our dedicated portals by clicking on the name of the games, and make your own opinion very quickly!
×