Since the formalization of the development of Grand Theft Auto VI , information about the latter is all too rare. However, despite the developers trying as best they can to keep every detail about Rockstar Games ' next opus secret , it was without counting on the many leaks and rumors that have emerged in recent weeks.
In addition to some details on the content of the game with in particular the supposed playable characters, here is new information that has been freshly discovered, and these come directly from the professional profiles of the developers.
GTA 6, important information is revealed on LinkedIn
Yes, it was without counting on the GTA community who wants at all costs the slightest information on the next title. And for that, what better than to search the various LinkedIn profiles of developers ? Most of the time, studio developers show the games they're working on fairly uninhibitedly, even if the game hasn't been announced or is still in development.
This is the case of two devs from the starred firm: Nathan Hunt and Ryan Schacter . If the latter claim to work on GTA 6, Nathan Hunt seems to take care of the in-game cutscenes (creation of transitions or interactive scenarios), while Ryan Schacter works on the gameplay animation .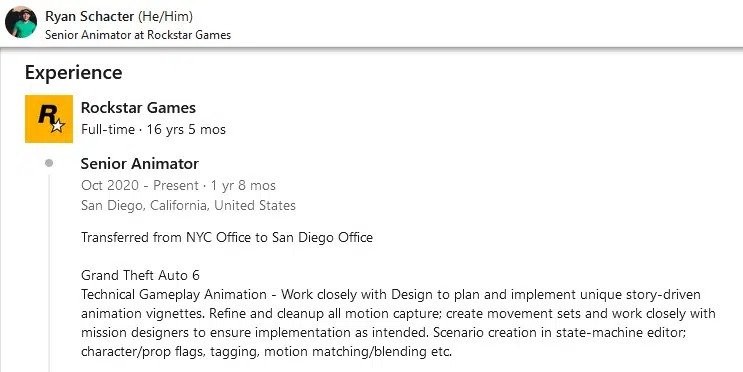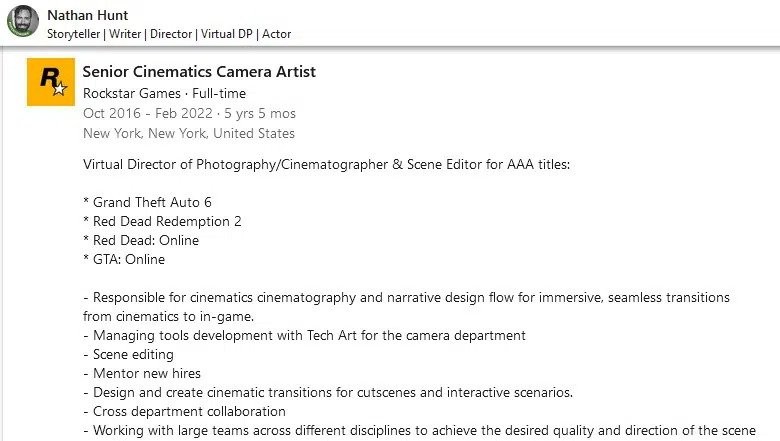 On Reddit , it didn't take more for fans to panic, and despite the little information these LinkedIn profiles leak, the mentions of " creating transitions " and " interactive scenarios " seem to confirm the fact that we will have the right to at least two main characters: a sister and her brother . These indeed suggest that we will be able to switch protagonists, as in GTA 5 with our three characters Franklin, Michael and Trevor.
Anyway, it's still far too early to know more, but according to Strauss Zelnick, CEO of Take-Two (parent company of Rockstar Games), players should " stay tuned " future announcements from the starred firm.
A much too late release?
But when will we be able to play GTA 6? If the players do not hesitate to joke on the social networks by saying that they will be able to play for the title with the future children, the concern still wins the community.
Despite the last words of the CEO of the parent company, the roadmap of the next releases of the publisher absolutely does not suggest the slightest little GTA 6 until the fiscal year 2025, that is to say 2026 for us as a player/consumer.
However, despite this absence, a mention still indicates that games may be added in the future. We just have to cross our fingers and hope to know more very soon.
Is Grand Theft Auto VI a good video game?
Grand Theft Auto VI is not a very well known video game at the moment, so we'd rather not get involved. There are hundreds of new games every day and our editors haven't heard enough about Grand Theft Auto VI to offer a full review yet. If the game continues to make itself known in the coming months, we will of course offer a detailed review and a note on whether or not you should play it. But for now, all we can say is that Grand Theft Auto VI is a niche game, try it for yourself and make your own opinion, we hope you will have fun with it!
Can I play Grand Theft Auto VI with my friends?
No, as far as we know, there is no multiplayer mode for Grand Theft Auto VI, you'll have to lend the controller to each other and take turns playing! We hope that a multiplayer mode will be available thanks to a next update, a remake or even a sequel, who knows!
Is Grand Theft Auto VI available on multiple platforms?
No, the game Grand Theft Auto VI is currently only available on . We hope that Rockstar Games development studio will release the game on other consoles soon, even if nothing is planned for the moment!
Is there an official website for Grand Theft Auto VI?
No Grand Theft Auto VI doesn't have an official website yet, but there are probably fan sites on Google, we invite you to search by yourself. Otherwise you can also find our dedicated portal by clicking here.
Is there a forum on the internet to discuss the game Grand Theft Auto VI?
No, according to our information, Grand Theft Auto VI does not yet have a forum or subreddit clearly identified to the community. However, it is possible that you can find one by searching on your favorite search engine, which we invite you to do! You can also look at social networks, indeed many groups exist for example on Facebook to allow communities to exchange between enthusiasts.
Is Grand Theft Auto VI compatible with VR?
No, Grand Theft Auto VI is not currently compatible with virtual reality, but we hope that one day it will be possible to play it with this new technology!
Does the game Grand Theft Auto VI have other names around the world?
Yes, the game is also known by these names around the world:
GTA 6 (Acronym)
GTA VI (Acronym)
Grand Theft Auto 6 (Numerical)

What are similar games to Grand Theft Auto VI?
Grand Theft Auto VI is a game similar to Immortal: Unchained, Blood & Truth, Russia.2028, Garena Free Fire, PUBG Mobile, Gears 5, Gene Rain, Call of Duty: Mobile, Rebel Galaxy Outlaw and Apsulov: End of Gods, if you liked Grand Theft Auto VI, you will surely love this list of games we just mentioned! You can find our dedicated portals by clicking on the name of the games, and make your own opinion very quickly!