The studio has indeed split a blog article focusing on the continuation of the adventures of , starting with an arrival on and another extension on fire.
Ten years and all his teeth!
After having restructured its studio and the way of apprehending the continuation of the development of , ArenaNet still intends to supply its beautiful baby of ten years with content for the times to come. This while setting a boundary between work and private life, so that employees enjoy developing the game. Guild Wars 2
Satisfied with the feedback on the expansion , ArenaNet intends to grow its community even more by deploying the game on . The studio intends to achieve the most successful integration possible, and therefore does not consider itself ready to reveal a precise launch date on the Valve platform yet. 
Another pressing ArenaNet priority is polishing the experience across many game modes like the iconic World vs. World, now that the expansion is out. The studio also shared the roadmap for this extension, which will welcome its share of new content throughout the next three months.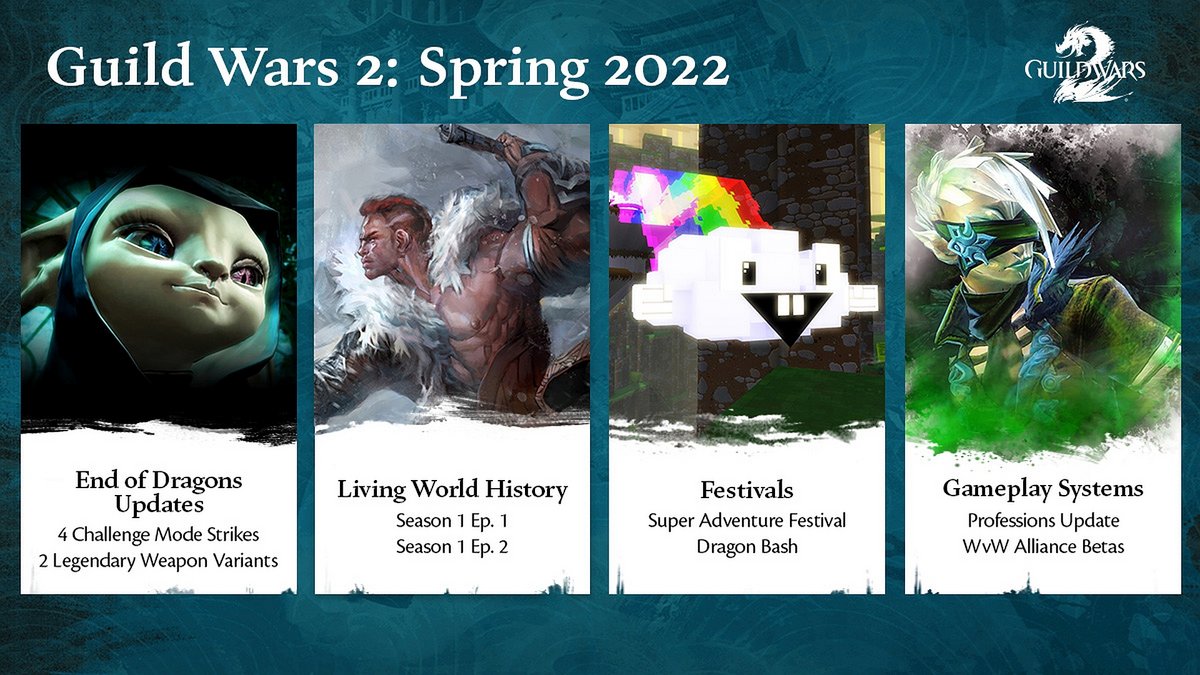 Finally, ArenaNet had " " to add before going on air: the announcement of a fourth extension currently in production! But the studio does not intend to say more for a while, concentrating its efforts on the short term for the moment. 
What in any case to rejoice for current and future fans: the adventure is far from over! 
Is Guild Wars 2 a good video game?
Yes Guild Wars 2 is a great video game, we are proud to have given it a rating of 85%. Any good gamer must have played Guild Wars 2 at least once in his life, we can even fully consider it as one of the best games of the genre! In short, it is a must and you must try it if you have the opportunity!
Can I play Guild Wars 2 with my friends?
Yes, you can play Guild Wars 2 multiplayer with your friends! So think about it the next time you have a party at home, it can be a great opportunity to have a great time with your friends and family, while determining who is the best at Guild Wars 2!
Is Guild Wars 2 available on multiple platforms?
Yes, the game Guild Wars 2 is developed to be compatible with PC (Microsoft Windows) and Mac. It's quite handy to be able to play it on several different consoles, thanks to the ArenaNet development studio!
Is Guild Wars 2 a recent game?
No, Guild Wars 2 is not a recent game, it was launched in most regions on Aug 18th 2012, 11 years 1 month 15 days ago.
Guild Wars 2 has been released on PC (Microsoft Windows) and Mac.
Is there an official website for Guild Wars 2?
Yes Guild Wars 2 has its own official website! You can find it by clicking here.
Is there a forum on the internet to discuss the game Guild Wars 2?
Yes there is a website where Guild Wars 2 fans can meet to discuss and exchange content, tips and advice on the game. It's on the Reddit website and you can find this Subreddit by clicking here.
Is Guild Wars 2 compatible with VR?
No, Guild Wars 2 is not currently compatible with virtual reality, but we hope that one day it will be possible to play it with this new technology!
Does the game Guild Wars 2 have other names around the world?
Yes, the game is also known by these names around the world:
GW 2 (Acronym)
GW2 (Acronym)
激战2 (Chinese title - simplified)
激戰2 (Chinese title - traditional)
Guild Wars 2: Heart of Thorns (Other Alias)
GW2 (Other Alias)

What are similar games to Guild Wars 2?
Guild Wars 2 is a game similar to GreedFall, Citadel: Forged With Fire, Immortal: Unchained, Dragon: Marked for Death, The Elder Scrolls VI, Eternity: The Last Unicorn, The Elder Scrolls: Blades, Remnant: From the Ashes, Torchlight III and Pokémon Shield, if you liked Guild Wars 2, you will surely love this list of games we just mentioned! You can find our dedicated portals by clicking on the name of the games, and make your own opinion very quickly!
×