This kind of small conference was broadcast on YouTube (see below) this Sunday, April 10. First, Square Enix unveiled a new mobile game titled Kingdom Hearts: Missing-Link . This title is intended for iOS and Android devices. A closed beta will be held in 2022. We do not yet know if France will be affected.
A truly unexpected surprise
But most of this event was mostly dedicated to Kingdom Hearts IV . Yes, the fourth opus was formalized this weekend through a long trailer. We can see Sora walking through a very realistic city located in a world called Quadratum.
Our hero will use this new environment to confront his enemies with the help of cars, for example. Of course, the Disney characters Donald and Goofy are also present.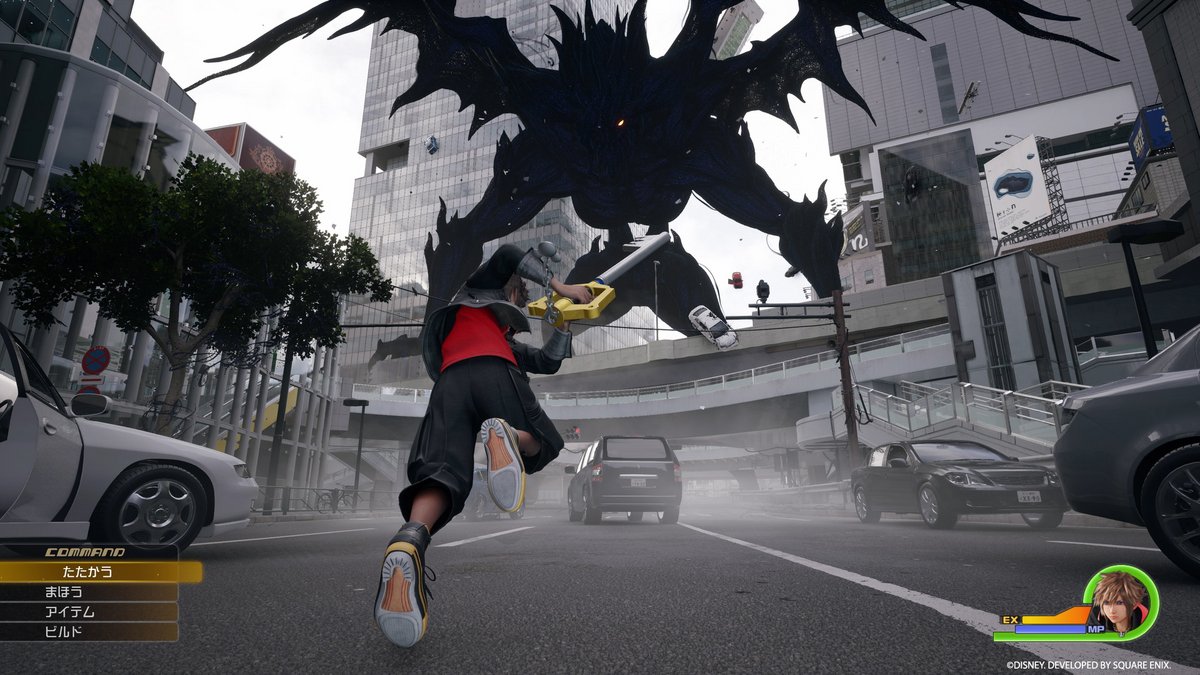 We don't know any more at this time. Square Enix has not given a release period and the list of media that will receive Kingdom Hearts IV is also not known. So you will have to be patient.
Is Kingdom Hearts a good video game?
Yes Kingdom Hearts is a great video game, we are proud to have given it a rating of 81%. Any good gamer must have played Kingdom Hearts at least once in his life, we can even fully consider it as one of the best games of the genre! In short, it is a must and you must try it if you have the opportunity!
Can I play Kingdom Hearts with my friends?
No, as far as we know, there is no multiplayer mode for Kingdom Hearts, you'll have to lend the controller to each other and take turns playing! We hope that a multiplayer mode will be available thanks to a next update, a remake or even a sequel, who knows!
Is Kingdom Hearts available on multiple platforms?
No, the game Kingdom Hearts is currently only available on PlayStation 2. We hope that Square and Square Enix development studios will release the game on other consoles soon, even if nothing is planned for the moment!
Is Kingdom Hearts a recent game?
No, Kingdom Hearts is not a recent game, it was launched in most regions on Mar 28th 2002, 21 years 6 months 5 days ago.
Kingdom Hearts has been released on PlayStation 2.
Is there an official website for Kingdom Hearts?
Yes Kingdom Hearts has its own official website! You can find it by clicking here.
Is there a forum on the internet to discuss the game Kingdom Hearts?
No, according to our information, Kingdom Hearts does not yet have a forum or subreddit clearly identified to the community. However, it is possible that you can find one by searching on your favorite search engine, which we invite you to do! You can also look at social networks, indeed many groups exist for example on Facebook to allow communities to exchange between enthusiasts.
Is Kingdom Hearts compatible with VR?
No, Kingdom Hearts is not currently compatible with virtual reality, but we hope that one day it will be possible to play it with this new technology!
Does the game Kingdom Hearts have other names around the world?
Yes, the game is also known by these names around the world:
KH (Acronym)
KH1 (Acronym)
KH1 (Alternative spelling)
Kingdom Hearts 1 (Alternative spelling)
Kingdom Hearts Final Mix (Alternative spelling)
キングダム ハーツ (Japanese title - original)

What are similar games to Kingdom Hearts?
Kingdom Hearts is a game similar to Final Fantasy XII, Final Fantasy IX, God of War, God of War II, Planescape: Torment, The Legend of Zelda: Ocarina of Time, Kingdom Hearts: Chain of Memories, Paper Mario: The Thousand-Year Door, Persona 5 and Rogue Galaxy, if you liked Kingdom Hearts, you will surely love this list of games we just mentioned! You can find our dedicated portals by clicking on the name of the games, and make your own opinion very quickly!
×