Even if exceptions exist ( Persona 5 Strikers , on Switch ;  Persona 4 Arena  on Xbox ), it is common knowledge that the  Persona license  is the preserve of Sony. Only, the video game industry today is much more polarized than in 2017. And going without a release on a console that has sold more than 110 million copies may not be the best business plans.
Every year, the Japanese publisher Atlus shares with its players a survey allowing it to take the temperature on a certain number of points on their expectations.
And what interests us, precisely, is question 38 of the form. In it, Atlus offers its fans to choose the platform on which they would like to be able to play "  the next entry (canon) of the series  [Persona]".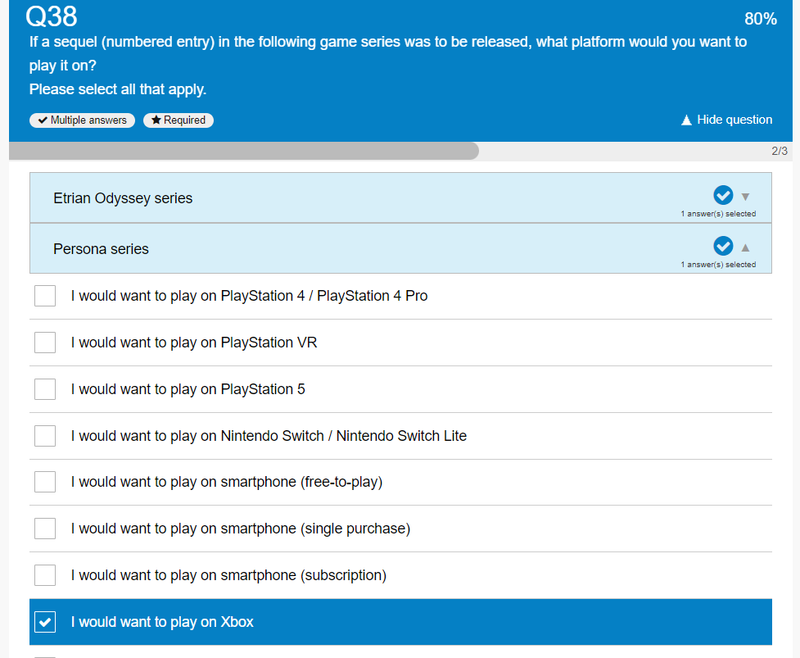 Among the list available to respondents, all platforms are offered (except PC , sorry), including Nintendo Switch, Xbox, and smartphones . On this last point, Altus also specifies several options:  free-to-play , single purchase, by subscription. Proof if needed that the publisher seems to remain very open about the future of its license.
Of course, this does not bode well for the future arrival of a  Persona 6  on Xbox, Switch or smartphones. But that Atlus takes care to ask players for their opinion remains notable. Whether he decides to shove all those answers under a rug or not.
Is Persona 5 a good video game?
Yes Persona 5 is a great video game, we are proud to have given it a rating of 93%. Any good gamer must have played Persona 5 at least once in his life, we can even fully consider it as one of the best games of the genre! In short, it is a must and you must try it if you have the opportunity!
Can I play Persona 5 with my friends?
No, as far as we know, there is no multiplayer mode for Persona 5, you'll have to lend the controller to each other and take turns playing! We hope that a multiplayer mode will be available thanks to a next update, a remake or even a sequel, who knows!
Is Persona 5 available on multiple platforms?
Yes, the game Persona 5 is developed to be compatible with PlayStation 4 and PlayStation 3. It's quite handy to be able to play it on several different consoles, thanks to Atlus and P Studio development studios!
Is Persona 5 a recent game?
No, Persona 5 is not a recent game, it was launched in most regions on Sep 15th 2016, 7 years 18 days ago.
Persona 5 has been released on PlayStation 4 and PlayStation 3.
Is there an official website for Persona 5?
Yes Persona 5 has its own official website! You can find it by clicking here.
Is there a forum on the internet to discuss the game Persona 5?
No, according to our information, Persona 5 does not yet have a forum or subreddit clearly identified to the community. However, it is possible that you can find one by searching on your favorite search engine, which we invite you to do! You can also look at social networks, indeed many groups exist for example on Facebook to allow communities to exchange between enthusiasts.
Is Persona 5 compatible with VR?
No, Persona 5 is not currently compatible with virtual reality, but we hope that one day it will be possible to play it with this new technology!
Does the game Persona 5 have other names around the world?
Yes, the game is also known by these names around the world:
P5 (Acronym)
ペルソナ5 (Japanese title)
페르소나 5 (Korean title)
Shin Megami Tensei: Persona 5 (Other Alias)

What are similar games to Persona 5?
Persona 5 is a game similar to Wolfenstein: The New Order, Paper Mario: The Thousand-Year Door, Tales of Zestiria, Steins;Gate, Atelier Totori: The Adventurer of Arland, The Legend of Zelda: Breath of the Wild, Persona 4, Horizon Zero Dawn, Rogue Galaxy and Fire Emblem: Three Houses, if you liked Persona 5, you will surely love this list of games we just mentioned! You can find our dedicated portals by clicking on the name of the games, and make your own opinion very quickly!
×