Almost a year ago, a new mount from the Nintendo Switch Online service introduced a new formula "Nintendo Switch Online + Additional Pack", more expensive, but enriched with additional content: an Animal Crossing: New Horizons DLC but above all Nintendo 64 and SEGA Mega Drive games.
The catalog of Nintendo 64 games has grown over the months and during the last Nintendo Direct, future games were announced until 2023, including Mario Party, Mario Party 2, Mario Party 3, Pokémon Stadium 1 & 2 and obviously GoldenEye 007!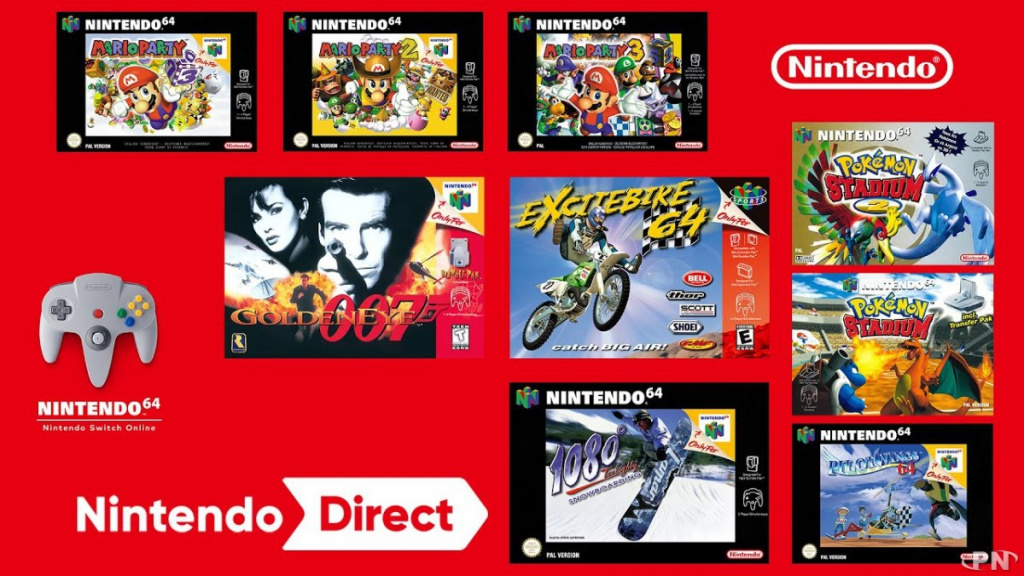 Among these were Pilotwings 64 which will arrive precisely next week on the Nintendo Switch Online service!
Pilotwings 64 - Nintendo 64 - Nintendo Switch 07/10/2022
The flight simulation game will land on October 13 on the service. Released in 1996 on Nintendo 64, Pilotwings 64 features six characters (three men and three women) who must travel through different levels using 3 types of aircraft: the hang glider, the jetpack and the gyroplane.
20 years after its release on Nintendo 64, the game had a sequel on Nintendo 3DS with Pilotwings Resort!
See you next Thursday to find Pilotwings 64 on the Nintendo Switch Online + Additional Pack service!
Is Pilotwings 64 a good video game?
Yes Pilotwings 64 is a good video game, we had a lot of fun playing it! That's why we decided to give it a 67% rating. If you want to try it, and if you have already enjoyed similar games, we are sure you will have a great time on this game! Of course, Pilotwings 64 has its flaws, and we even noticed some mini bugs while playing it for several hours, but all this is also part of the charm and it doesn't take anything away from the pleasure of playing.
Can I play Pilotwings 64 with my friends?
No, as far as we know, there is no multiplayer mode for Pilotwings 64, you'll have to lend the controller to each other and take turns playing! We hope that a multiplayer mode will be available thanks to a next update, a remake or even a sequel, who knows!
Is Pilotwings 64 available on multiple platforms?
No, the game Pilotwings 64 is currently only available on Nintendo 64. We hope that Paradigm Simulation and Nintendo R&D3 and Nintendo EAD development studios will release the game on other consoles soon, even if nothing is planned for the moment!
Is Pilotwings 64 a recent game?
No, Pilotwings 64 is not a recent game, it was launched in most regions on Jun 23rd 1996, 27 years 3 months 7 days ago.
Pilotwings 64 has been released on Nintendo 64.
Is there an official website for Pilotwings 64?
Yes Pilotwings 64 has its own official website! You can find it by clicking here.
Is there a forum on the internet to discuss the game Pilotwings 64?
No, according to our information, Pilotwings 64 does not yet have a forum or subreddit clearly identified to the community. However, it is possible that you can find one by searching on your favorite search engine, which we invite you to do! You can also look at social networks, indeed many groups exist for example on Facebook to allow communities to exchange between enthusiasts.
Is Pilotwings 64 compatible with VR?
No, Pilotwings 64 is not currently compatible with virtual reality, but we hope that one day it will be possible to play it with this new technology!
Does the game Pilotwings 64 have other names around the world?
Yes, the game is also known by these names around the world:
パイロットウイングス64 (Japanese title - original)
Pairottouingusu Rokujūyon (Japanese title - romanization)

What are similar games to Pilotwings 64?
Pilotwings 64 is a game similar to Wreckfest, Breach & Clear, Starmade, Drift 19, Forza Motorsport, NBA 2K19, Dude Simulator 2, NBA 2K20, Grid and eFootball PES 2020, if you liked Pilotwings 64, you will surely love this list of games we just mentioned! You can find our dedicated portals by clicking on the name of the games, and make your own opinion very quickly!
×