ON THE WAY TO THE NINTH GENERATION!
For many, it was a fantasy but, ultimately, all this is very real: the ninth generation of Pokémon will arrive at the end of 2022, and we have already seen the three starters that players will have to choose from at the the very beginning of their adventure in the Scarlet and Violet versions : Poussachat (plant), Chochodile (fire) and Coiffeton (water)! Long before this final reveal, The Pokémon Company offered us a first glimpse of the lands of this new region which will take advantage of previous Game Freak productions, namely Pokémon Sword and Shield as well as Pokémon Legends: Arceus , freshly released.
In the morning, you gave us the first information that we had been able to collect on this ninth generation. However, for many fans, the end of 2022 is still a long way off and many of them are eager to find out more. So much so that a handful went in search of clues present in the extract broadcast. As everyone knows, the Game Freak teams tend to draw inspiration from atmospheres and places around the world: for example, the architecture and atmosphere of Sword and Shield was influenced by British lands. This new opus would not escape the rule but, this time, it is a much more Mediterranean climate that has been chosen.
GAME FREAK CONTINUES TO EXPLORE EUROPE
Yesterday's presentation certainly distilled some small interesting elements, but not enough for the taste of some fans who peeled the trailer for Pokémon Scarlet / Violet in search of certainties. After watching the trailer from every angle, fans have compiled a slew of details that point to the Spanish influence in the yet-undiscovered region of Game Freak's next hit.
First, fans noted a topographic resemblance between the piece of map , spotted during the final seconds of the game's presentation, and the layout of Spain . Moreover, the room where we see the three starters within a painting contains, on the right, numerous documents pinned on the wall, including a map largely covered with other papers and whose shape recalls that glimpsed in the in-development game snippet .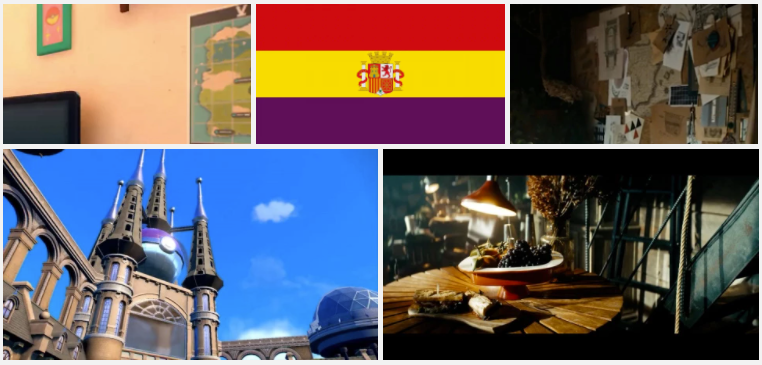 According to fans, the clues do not stop there: the two colors chosen by Game Freak would not be insignificant! The players notably drew a parallel between the two colors and old flags flown by Spain during its history, like that of the second republic of the country . On this one, we find the two colors of the next opuses, as well as yellow: a shade that we observe on the border of the different versions.
Other cultural elements would also have interfered in the trailer. According to the players, the mysterious and imposing building where a huge PokéBall shines could be a reference to the Sagrada Familia, one of the emblematic monuments of Barcelona . Beyond the basilica designed by Antoni Gaudi—a construction he was unable to complete during his lifetime— fans noted the spotted presence of red grapes, a fruit inseparable from Spain .
In short, while waiting to find out more, fans will rack their brains to get information about the game themselves. Perhaps the revelation of new Pokémon from the region will confirm their suppositions: generally, certain creatures are inspired by folklore, local legends or use particular consonances.
Is Pokémon Scarlet a good video game?
Yes Pokémon Scarlet is a good video game, we had a lot of fun playing it! That's why we decided to give it a 69% rating. If you want to try it, and if you have already enjoyed similar games, we are sure you will have a great time on this game! Of course, Pokémon Scarlet has its flaws, and we even noticed some mini bugs while playing it for several hours, but all this is also part of the charm and it doesn't take anything away from the pleasure of playing.
Can I play Pokémon Scarlet with my friends?
Yes, you can play Pokémon Scarlet multiplayer (lan/online) with your friends! So think about it the next time you have a party at home, it can be a great opportunity to have a great time with your friends and family, while determining who is the best at Pokémon Scarlet!
Is Pokémon Scarlet available on multiple platforms?
No, the game Pokémon Scarlet is currently only available on Nintendo Switch. We hope that Game Freak development studio will release the game on other consoles soon, even if nothing is planned for the moment!
Is Pokémon Scarlet a recent game?
Yes, Pokémon Scarlet is a recent game, it was launched in most regions on Nov 18th 2022, 10 months 15 days ago.
Pokémon Scarlet has been released on Nintendo Switch.
Is there an official website for Pokémon Scarlet?
No Pokémon Scarlet doesn't have an official website yet, but there are probably fan sites on Google, we invite you to search by yourself. Otherwise you can also find our dedicated portal by clicking here.
Is there a forum on the internet to discuss the game Pokémon Scarlet?
No, according to our information, Pokémon Scarlet does not yet have a forum or subreddit clearly identified to the community. However, it is possible that you can find one by searching on your favorite search engine, which we invite you to do! You can also look at social networks, indeed many groups exist for example on Facebook to allow communities to exchange between enthusiasts.
Is Pokémon Scarlet compatible with VR?
No, Pokémon Scarlet is not currently compatible with virtual reality, but we hope that one day it will be possible to play it with this new technology!
Does the game Pokémon Scarlet have other names around the world?
Yes, the game is also known by these names around the world:
Pokemon Scarlet (Alternative spelling)
Pokémon Écarlate (French title)
Pokémon Karmesin (German title)
ポケットモンスター スカーレット (Japanese title - original)
Pocket Monsters Scarlet (Japanese title - romanization)
포켓몬스터스칼렛 (Korean title)

What are similar games to Pokémon Scarlet?
Pokémon Scarlet is a game similar to GreedFall, Immortal: Unchained, Dragon: Marked for Death, The Elder Scrolls VI, Eternity: The Last Unicorn, Warhammer: Chaosbane, The Elder Scrolls: Blades, Torchlight III, Hytale and Pokémon Shield, if you liked Pokémon Scarlet, you will surely love this list of games we just mentioned! You can find our dedicated portals by clicking on the name of the games, and make your own opinion very quickly!
×