That Konami (or any other entitled party) reacted so quickly tends to lend credence to the leak shared by Dusk Golem on Twitter and ResetEra . Also, we will be careful not to publish the different shots ourselves. But we can describe them to you as best we can.
A game like Resident Evil 7  ?
Dusk Golem released four images this morning supposedly from a build of a new  Silent Hill.  Dated 2020, these images may no longer be representative of what the game is like today.
Nevertheless, we can appreciate a very attractive technique, and graphics that are even reminiscent of what the RE Engine is capable of. One of the shots shows us a dilapidated, dimly lit room that immediately brings to mind some rooms in the Bakers' house in  Resident Evil 7 .
On another image, we see a female face in close-up, of which certain parts of the skin hide enigmatic messages; others more dramatic like "  I hate myself  ".
The third image taken from the game places us in a very narrow corridor, bathed in red light and whose walls are completely covered with sheets of paper. At the end of the corridor, a creature whose head and hands resemble a cherry blossom tree stands in our way.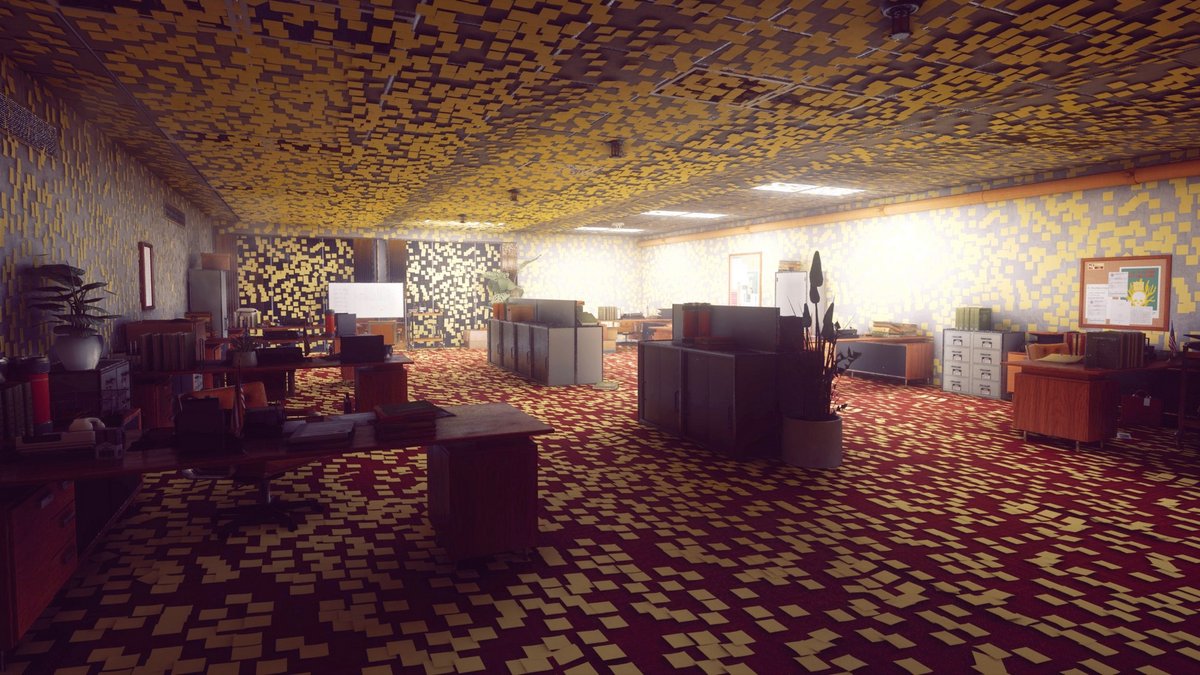 Finally, a last shot shows us the document inspection mechanism which, once again, is very reminiscent of Capcom's way of doing things on the latest  Resident Evil .
Innovative game mechanics
In addition to the images, Dusk Golem says he got first-hand information regarding the gameplay of this new  Silent Hill .
In particular, he reports the terms "SMS and messages", which directly echoes a rumor shared more than three years ago by journalist (now screenwriter at Sony Santa Monica) Alanah Pearce. At the time, she explained that the game  Silent Hills , then developed for Konami by Hideo Kojima, would require its players to register, and sign a contract, which would authorize the game to contact them by e- mail and SMS to bring an even more immersive dimension to the title.
I heard that Silent Hills would require you to sign a waiver before playing because it would somehow interact with your real-world self, like by sending you emails or text messages as characters from the game even when you weren't actively playing. https://t.co/aWezrmYA7v

— Alanah Pearce (@Charalanahzard) November 19, 2019
Finally, Dusk Golem claims that this game is not the only one currently in development in the  Silent Hill universe . In addition, it would be developed collectively by several studios.
Masahiro Iro, the historical creative director of the license, would also be involved in the project. Moreover, a last artwork shared by Dusk Golem is downright signed by the hand of the artist. It represents another view of the famous creature evoking a cherry blossom tree. A creature that Masahiro Ito was already teasing on his Twitter account in 2018.
Is Silent Hill a good video game?
Yes Silent Hill is a great video game, we are proud to have given it a rating of 83%. Any good gamer must have played Silent Hill at least once in his life, we can even fully consider it as one of the best games of the genre! In short, it is a must and you must try it if you have the opportunity!
Can I play Silent Hill with my friends?
No, as far as we know, there is no multiplayer mode for Silent Hill, you'll have to lend the controller to each other and take turns playing! We hope that a multiplayer mode will be available thanks to a next update, a remake or even a sequel, who knows!
Is Silent Hill available on multiple platforms?
Yes, the game Silent Hill is developed to be compatible with PlayStation 3, PlayStation, PlayStation Vita and PlayStation Portable. It's quite handy to be able to play it on several different consoles, thanks to the Team Silent development studio!
Is Silent Hill a recent game?
No, Silent Hill is not a recent game, it was launched in most regions on Feb 23rd 1999, 24 years 9 months 17 days ago.
Silent Hill has been released on PlayStation 3, PlayStation, PlayStation Vita and PlayStation Portable.
Is there an official website for Silent Hill?
No Silent Hill doesn't have an official website yet, but there are probably fan sites on Google, we invite you to search by yourself. Otherwise you can also find our dedicated portal by clicking here.
Is there a forum on the internet to discuss the game Silent Hill?
No, according to our information, Silent Hill does not yet have a forum or subreddit clearly identified to the community. However, it is possible that you can find one by searching on your favorite search engine, which we invite you to do! You can also look at social networks, indeed many groups exist for example on Facebook to allow communities to exchange between enthusiasts.
Is Silent Hill compatible with VR?
No, Silent Hill is not currently compatible with virtual reality, but we hope that one day it will be possible to play it with this new technology!
Does the game Silent Hill have other names around the world?
Yes, the game is also known by these names around the world:
SH (Acronym)
SH1 (Alternative spelling)
寂静岭 (Chinese title - simplified)
サイレントヒル (Japanese title - original)
Sairento Hiru (Japanese title - romanization)

What are similar games to Silent Hill?
Silent Hill is a game similar to Silent Hill 2, Silent Hill 3, Dishonored, The Last of Us, Alan Wake, Murdered: Soul Suspect, Steins;Gate, Soma, The Cat Lady and Prey, if you liked Silent Hill, you will surely love this list of games we just mentioned! You can find our dedicated portals by clicking on the name of the games, and make your own opinion very quickly!
×