Finally, Electronic Arts and Respawn will have waited until the last days of May to announce Fallen Order 2 . But forget this title already, the real name of the game is Star Wars Jedi Survivor.
Fallen Order sequel, Star Wars Jedi Survivor, made official
After months of rumors, EA and Respawn Entertainment have communicated on the sequel to Fallen Order and everything is confirmed. This second opus is indeed called Star Wars Jedi Survivor and it is indeed a PS5, Xbox Series and PC exclusive scheduled for 2023. Information revealed in advance by journalist Jeff Grubb.
The game takes place five years after the events of the previous episode , and we will find the main protagonist Cal Kestis and his faithful robot BD-1. A duo that will still be chased by the Empire. The title is still being developed by Respawn Entertainment ( Apex Legends ), with Electronic Arts as publisher, and Stig Asmussen ( God of War 3 ) is also returning as director.
We started working on it in earnest before we even wrapped up Jedi Fallen Order with ideas of what the second game could be. A lot of things from Jedi Fallen Order have been shelved. Elements that we wanted to implement in the sequel . Some of these items relate to additional battle stances, where we'll be heading with the story, how Cal and the team will evolve and grow, and how we'll approach the game's worlds and levels. Develop them and make them more alive than they were before.

Stig Asmussen, director of Fallen Order and Jedi Survivor.
Dropping the Fallen Order subtitle is not trivial.
The game is about survival . That's why it's called Jedi Survivor. Times are tough, Cal and his crew are doing whatever it takes to stay alive. This may mean that they will bond with people who in other times might have been considered shady.
A true next-gen game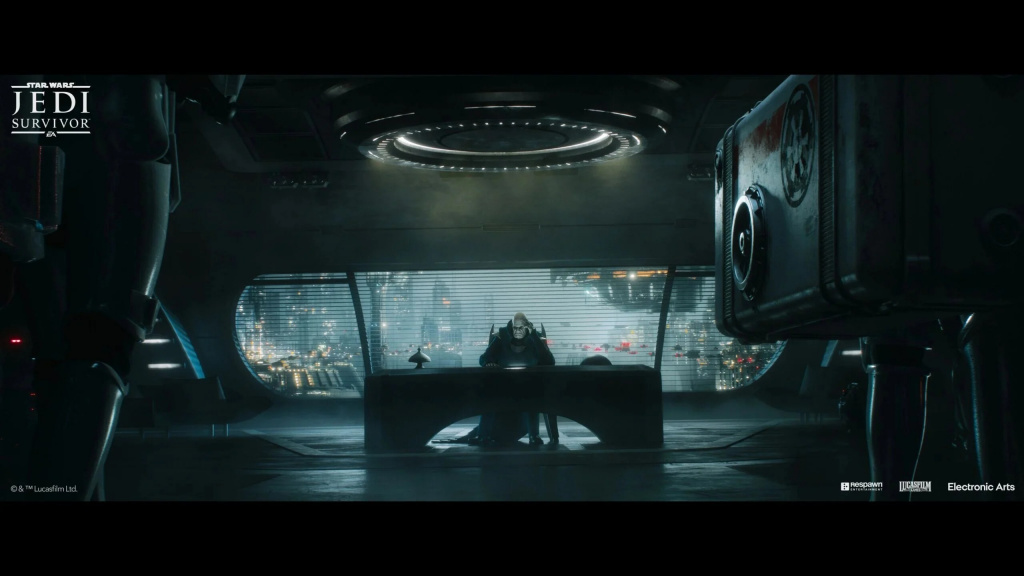 In an interview for starwars.com , Stig Asmussen explained the improvements brought by the new generation. Especially with the PS5 and its immersive DualSense controller .
I think the most important thing is ray tracing, or lighting . This allows us to consistently have real-time lighting with fidelity that surpasses anything we've produced before. Since it's in real time, we can immediately see the changes as we adjust the lights. This means we have more time to tweak, iterate, and can get better results for a more cinematic look.

Beyond that, the consoles are equipped with ultra-fast hard drives that allow us to load a ton of content very quickly . I've always worked on games that used streaming, games without a loading screen. The fact that these machines have such a fast storage system made things even easier. Those are probably the two biggest benefits. The PS5 has a very interesting haptic system on its controller that we are studying . And more generally, everything is easier with these machines.
Star Wars Jedi Survivor will be released in 2023 on PS5, Xbox Series and PC.
Is Star Wars a good video game?
Yes Star Wars is a great video game, we are proud to have given it a rating of 83%. Any good gamer must have played Star Wars at least once in his life, we can even fully consider it as one of the best games of the genre! In short, it is a must and you must try it if you have the opportunity!
Can I play Star Wars with my friends?
No, as far as we know, there is no multiplayer mode for Star Wars, you'll have to lend the controller to each other and take turns playing! We hope that a multiplayer mode will be available thanks to a next update, a remake or even a sequel, who knows!
Is Star Wars available on multiple platforms?
Yes, the game Star Wars is developed to be compatible with Mac, DOS, Amiga, Amstrad CPC, Atari ST/STE, Commodore C64/128/MAX, ZX Spectrum, Arcade, Atari 2600, Atari 8-bit, Atari 5200, ColecoVision, BBC Microcomputer System and Acorn Electron. It's quite handy to be able to play it on several different consoles, thanks to Atari Games Corporation, Atari development studios!
Is Star Wars a recent game?
No, Star Wars is not a recent game, it was launched in most regions on May 01st 1983, 40 years 5 months 4 days ago.
Star Wars has been released on Mac, DOS, Amiga, Amstrad CPC, Atari ST/STE, Commodore C64/128/MAX, ZX Spectrum, Arcade, Atari 2600, Atari 8-bit, Atari 5200, ColecoVision, BBC Microcomputer System and Acorn Electron.
Is there an official website for Star Wars?
No Star Wars doesn't have an official website yet, but there are probably fan sites on Google, we invite you to search by yourself. Otherwise you can also find our dedicated portal by clicking here.
Is there a forum on the internet to discuss the game Star Wars?
No, according to our information, Star Wars does not yet have a forum or subreddit clearly identified to the community. However, it is possible that you can find one by searching on your favorite search engine, which we invite you to do! You can also look at social networks, indeed many groups exist for example on Facebook to allow communities to exchange between enthusiasts.
Is Star Wars compatible with VR?
No, Star Wars is not currently compatible with virtual reality, but we hope that one day it will be possible to play it with this new technology!
Does the game Star Wars have other names around the world?
Yes, the game is also known by these names around the world:
Star Wars 1983
Star Wars: The Arcade Game (Other)
Star Wars Pinball (Other Alias)
Star Wars: The Arcade Game (Other Alias)
SW (Other Alias)

What are similar games to Star Wars?
Star Wars is a game similar to Star Wars: Battlefront II, Star Wars: X-Wing Alliance, Cyberpunk 2077, Star Wars Trilogy Arcade, Area 51, Immortal: Unchained, Dream Alone, Gene Rain, The Outer Worlds and LEGO Star Wars: The Skywalker Saga, if you liked Star Wars, you will surely love this list of games we just mentioned! You can find our dedicated portals by clicking on the name of the games, and make your own opinion very quickly!
×