We quickly take a look at the basic functioning of your castle's "lung" in V Rising , with the harvest of blood essence which will serve as fuel for all your automatic workshops . This is a very important element, which will determine how many hours your production stands will be able to run, so you will have to adapt quickly to the needs of an autonomous base, so that you can go out and about without yourself . worry about the manufacture of boards, bricks, or ingots.
Blood Essence: The fuel for the heart of your castle
The quest asking you to supply the heart of your castle with essence of blood should come fairly quickly as you progress. The principle is quite simple and governs the maximum time allocated to the production of your workbenches: if you have no more gasoline, your sawmill, your furnace, or your grinder will not work. As a result, it is an essential resource for the expansion of your territory and you will have to constantly produce it to power your generator. By slipping the essence into the heart, it will directly indicate how long your building will be protected.
How to harvest blood essence?
The simplest method is simply to kill enemies: the more powerful they are, the more you will pick up at once. So even during your intensive wood and copper farming sessions, take small detours to bust out some belligerents and earn red diesel for your vampire HQ. The amount of Blood Essence is represented by the red sphere in your inventory.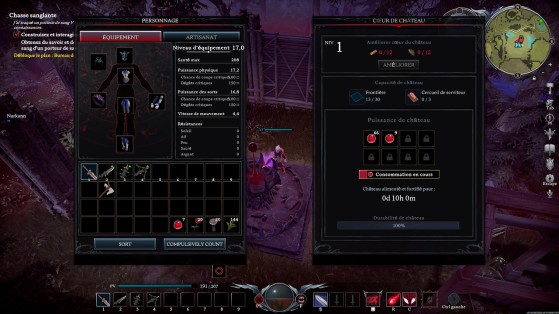 Blood press
This is an automatic production workshop capable of supplying you with essences thanks to basic materials, very practical for making an extra reserve for your castle heart. In addition, its recipe (available from the start in the construction menu), could not be easier to achieve, since it only requires basic materials and the sawmill.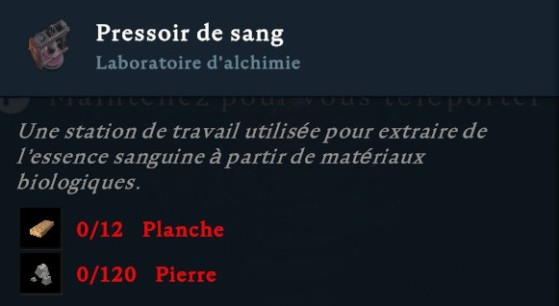 Is V Rising a good video game?
Yes V Rising is a great video game, we are proud to have given it a rating of 76%. Any good gamer must have played V Rising at least once in his life, we can even fully consider it as one of the best games of the genre! In short, it is a must and you must try it if you have the opportunity!
Can I play V Rising with my friends?
Yes, you can play V Rising multiplayer (online) with your friends! So think about it the next time you have a party at home, it can be a great opportunity to have a great time with your friends and family, while determining who is the best at V Rising!
Is V Rising available on multiple platforms?
No, the game V Rising is currently only available on PC (Microsoft Windows). We hope that Stunlock Studios development studio will release the game on other consoles soon, even if nothing is planned for the moment!
Is V Rising a recent game?
Yes, V Rising is a recent game, it was launched in most regions on May 17th 2022, 1 year 4 months 16 days ago.
V Rising has been released on PC (Microsoft Windows).
Is there an official website for V Rising?
Yes V Rising has its own official website! You can find it by clicking here.
Is there a forum on the internet to discuss the game V Rising?
No, according to our information, V Rising does not yet have a forum or subreddit clearly identified to the community. However, it is possible that you can find one by searching on your favorite search engine, which we invite you to do! You can also look at social networks, indeed many groups exist for example on Facebook to allow communities to exchange between enthusiasts.
Is V Rising compatible with VR?
No, V Rising is not currently compatible with virtual reality, but we hope that one day it will be possible to play it with this new technology!
Does the game V Rising have other names around the world?
No, according to our information, there is no other way to name V Rising, or it is very marginal.
What are similar games to V Rising?
V Rising is a game similar to Cyberpunk 2077, Life is Feudal: Your Own, Rising World, Miscreated, Savage Lands, Borderlands 3, Sky Break, Force of Nature, Dude Simulator and Dude Simulator 2, if you liked V Rising, you will surely love this list of games we just mentioned! You can find our dedicated portals by clicking on the name of the games, and make your own opinion very quickly!
×