The first big PVP hotspot containing the copper ores is in the center of Farlone Woods, and you're bound to have to wander around there if you want to quickly upgrade the castle core to level 2 in V Rising . This area to be emptied from top to bottom also houses chests that can contain other resources that will potentially save you a lot of time: we are thinking in particular of papers, necessary for research or Whetstones , another essential element for a progression, since they allow you to manufacture the crusher which will then produce the bricks of your castle. Last detail, which is important: you must have a weapon ilvl 6 minimum to harvest the ores, which corresponds to the tools of reinforced bone.
Where to find copper ore: best farming spot
Copper can be found all over the woods of Farlone, but the pace of farming may be too slow for your liking . By going to the spot indicated on the image below, you will find thousands of ores without the slightest effort. To consider an assault on the Bandits' Copper Mine, we recommend a minimum Gear Level of 17 , which is the Bone Plated Set, Reinforced Bone Weapons, and Enhanced Ring. Deep in the mine is also the boss Errol Rise-Rock : by putting him out of harm's way, you will unlock the large reserve, the upper level of the basic storage elements .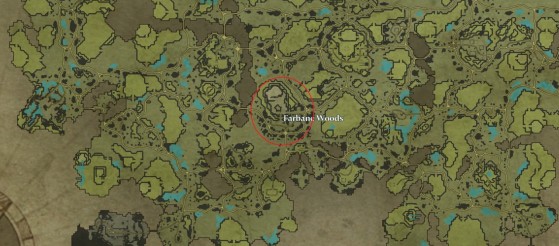 How to make ingots?
Once back at your base, simply put the ingots into the Furnace Refining Station for the processing to begin. You'll need 20 copper to craft a single ingot , but with the infamous copper mine spot, you should have everything you need to complete your copper goals very quickly. The main items requiring this ore are copper equipment and, therefore, the heart of the castle thanks to 12 ingots and 12 pieces of leather . (whose recipe can be found on Keely the Frost Archer )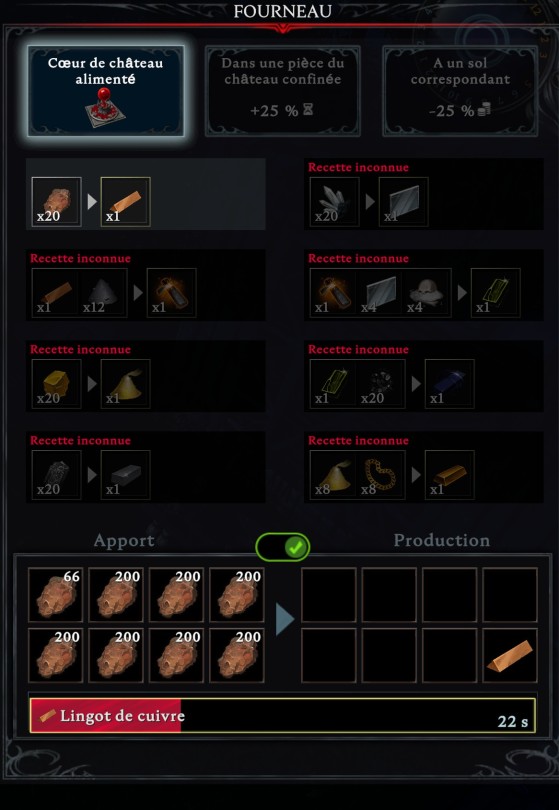 Is V Rising a good video game?
Yes V Rising is a great video game, we are proud to have given it a rating of 75%. Any good gamer must have played V Rising at least once in his life, we can even fully consider it as one of the best games of the genre! In short, it is a must and you must try it if you have the opportunity!
Can I play V Rising with my friends?
Yes, you can play V Rising multiplayer (online) with your friends! So think about it the next time you have a party at home, it can be a great opportunity to have a great time with your friends and family, while determining who is the best at V Rising!
Is V Rising available on multiple platforms?
No, the game V Rising is currently only available on PC (Microsoft Windows). We hope that Stunlock Studios development studio will release the game on other consoles soon, even if nothing is planned for the moment!
Is V Rising a recent game?
Yes, V Rising is a recent game, it was launched in most regions on May 17th 2022, 1 year 6 months 23 days ago.
V Rising has been released on PC (Microsoft Windows).
Is there an official website for V Rising?
Yes V Rising has its own official website! You can find it by clicking here.
Is there a forum on the internet to discuss the game V Rising?
No, according to our information, V Rising does not yet have a forum or subreddit clearly identified to the community. However, it is possible that you can find one by searching on your favorite search engine, which we invite you to do! You can also look at social networks, indeed many groups exist for example on Facebook to allow communities to exchange between enthusiasts.
Is V Rising compatible with VR?
No, V Rising is not currently compatible with virtual reality, but we hope that one day it will be possible to play it with this new technology!
Does the game V Rising have other names around the world?
No, according to our information, there is no other way to name V Rising, or it is very marginal.
What are similar games to V Rising?
V Rising is a game similar to Cyberpunk 2077, Life is Feudal: Your Own, Rising World, Miscreated, Savage Lands, Borderlands 3, Sky Break, Force of Nature, Dude Simulator and Dude Simulator 2, if you liked V Rising, you will surely love this list of games we just mentioned! You can find our dedicated portals by clicking on the name of the games, and make your own opinion very quickly!
×