It's time for the fight! In this PVP-related guide, we'll give you some tips on how to get started on the V Rising PvP servers , so that you know a little about what to expect when you feel like taking on a task of your caliber. One essential thing to remember: all shots are allowed!
Beginners or solo players, abstain
We will repeat it on all the guides to get your vampiric epic off to a good start : jumping in full spirit, but without knowledge of the game or without preparation, is a mistake that you should avoid making for your pleasure in the game. of a very different experience from the PVE / solo part and with 40 players per server, there is a way that you will spend bad quarters of an hour without having had time to start your hunt for the bosses of the game: the PVP potentially involves boss stealing, base raiding and that kind of whatnot. On official servers, clans that want to impose their supremacy will have to invest a lot of game time .
Types of PVP Servers
At the moment there are 3 types of PVP servers, all of which greatly limit the number of players available per clan . Here are the different types of games that you can join if you decide to fight with your fellow vampires.
PVP: Your clan is limited to 4 players.
PVP+: Your clan is limited to 4 players. PVP and base destruction are only open at set times.
Duo PVP: Your clan limited to 2 people only.
Note that private servers let you configure the maximum number of players in a clan at your convenience.
The race for explosives
This is the first really important objective to start raiding the bases, you will have to go get Clive the Incendiary thanks to the blood hunt with an object level of around 30 to hope to defeat it without too many worries. On an expanding server, clans in the first biome will pass through wooden palisades that will require 5 explosives to destroy. Then, you just have to go and help yourself from their coffers. Later, the explosives needed to destroy the stone ramparts will be much more complicated to set up, but this first objective is already an essential step to attack.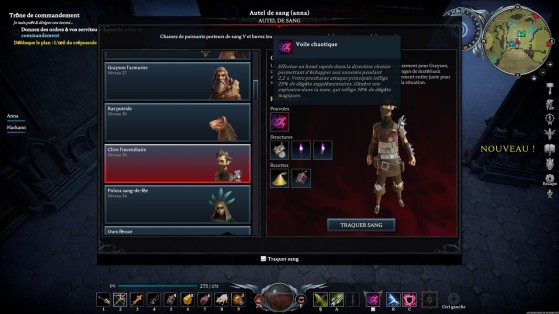 Rat shape: perfect for taking by surprise
The Putrid Rat is a boss that you can summon using the vermin nest that you can place in your castle. Be careful, summoning it may be more complicated than expected, since you will have to fish for a twilight snapper , a particularly rare fish to catch. On the other hand, once this vampiric power is deployed, you will make yourself very small and can blend into the decor very very simply. In addition, in this form, other players cannot see your life bar and your level at all, just to complete the illusion. Hide yourself in the bushes, wait for a few fellows to pass on the way and bim, let go of the mashed potatoes while taking advantage of the surprise effect.
Synergy of Skills and Weapons
The complementarity of a team with various builds is never clearly stated by the game, but it will clearly have to be taken into account if you plan to slay vampires by the dozen . By varying the weapon classes and powers you carry and by sharing your high potential blood types. It's something to organize beforehand: each member of a group of vampires often playing together must determine what role he wants to play and therefore go and find the bosses necessary to mount his build. On the other hand, we will have to wait a little bit to unlock a utli, since the first one arrives on a level 37 boss, Quincey the king of bandits.
Noobs farm
Life on a PVP server is unforgiving and it's a safe bet that you'll get robbed more than you deserve if you start building without an idea behind your head or a good speed of execution . From there, do not hesitate to return the blows and choose easy targets so that you too can make some ingredients necessary for the evolution of your castle. And be careful, it's not just for fun to break a base, since it will have the effect of slowing down the progress of an enemy clan in the game's crafting tiers.
Take advantage of the weaknesses of the game
It's sad, but right now PVP is marred by an exploit that reveals the contents of a castle's interior when you level its walls . In a mode in which you are going to want to trap your opponents and do everything to protect your resources, this is quite unwelcome. But hey, same price as for the use of explosives on starting bases: people won't hesitate to take advantage of it to make you miserable, so don't hesitate to do the same. The best way to overcome this at the moment is to quickly erect strong walls around your HQ.
Is V Rising a good video game?
Yes V Rising is a great video game, we are proud to have given it a rating of 75%. Any good gamer must have played V Rising at least once in his life, we can even fully consider it as one of the best games of the genre! In short, it is a must and you must try it if you have the opportunity!
Can I play V Rising with my friends?
Yes, you can play V Rising multiplayer (online) with your friends! So think about it the next time you have a party at home, it can be a great opportunity to have a great time with your friends and family, while determining who is the best at V Rising!
Is V Rising available on multiple platforms?
No, the game V Rising is currently only available on PC (Microsoft Windows). We hope that Stunlock Studios development studio will release the game on other consoles soon, even if nothing is planned for the moment!
Is V Rising a recent game?
Yes, V Rising is a recent game, it was launched in most regions on May 17th 2022, 1 year 6 months 23 days ago.
V Rising has been released on PC (Microsoft Windows).
Is there an official website for V Rising?
Yes V Rising has its own official website! You can find it by clicking here.
Is there a forum on the internet to discuss the game V Rising?
No, according to our information, V Rising does not yet have a forum or subreddit clearly identified to the community. However, it is possible that you can find one by searching on your favorite search engine, which we invite you to do! You can also look at social networks, indeed many groups exist for example on Facebook to allow communities to exchange between enthusiasts.
Is V Rising compatible with VR?
No, V Rising is not currently compatible with virtual reality, but we hope that one day it will be possible to play it with this new technology!
Does the game V Rising have other names around the world?
No, according to our information, there is no other way to name V Rising, or it is very marginal.
What are similar games to V Rising?
V Rising is a game similar to Cyberpunk 2077, Life is Feudal: Your Own, Rising World, Miscreated, Savage Lands, Borderlands 3, Sky Break, Force of Nature, Dude Simulator and Dude Simulator 2, if you liked V Rising, you will surely love this list of games we just mentioned! You can find our dedicated portals by clicking on the name of the games, and make your own opinion very quickly!
×