The Elden Ring game is an overwhelmingly challenging action RPG in the tradition of previous FromSoftware titles. There are many harrowing encounters with creatures large and small, but all equally decimating.
Dragons are one such creature that you will constantly stumble across as you explore the open world. As you might expect, they are extremely difficult to kill, but in return you get a Dragon Heart that you can exchange for powerful dragon abilities. After Flying Dragon Agheel, the Glintstein dragon Smarag is the first dragon you are likely to encounter in Elden Ring, and here is how you can easily defeat it. 
This is Glintstone Dragon Smarag in Elden Ring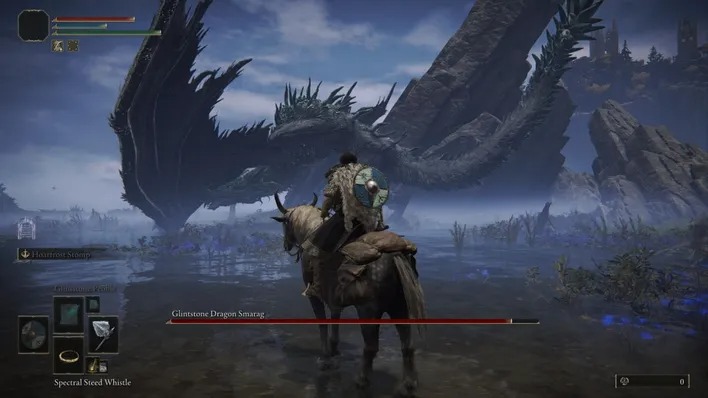 Beware, Smarag, the dragon of Glintstone, can kill you in one blow with his tail and beam attacks.
You will encounter the Glintstone Dragon Smarag next to the Crystalline Woods Grace Point as you explore the area around Academy of Raya Lucaria. Although defeating the Glintstone Dragon Smarag is optional, you must come face to face with it as it guards the Academy Glintstone Key which you need to enter the Academy.
As you would expect from a gigantic and menacing beast like the dragon, the Glintstone Dragon Smarag can and will kill you in one hit if you are caught in its tail attack or if you are under the radar of its breath attacks.
We recommend you bring a staff for this fight, as ranged attacks are not only safe but also crucial to stunning the dragon. We used the Rock Sling spell to take down the Smarag Glintstone Dragon, but almost any spell can work here. The key is to lock onto its head and continuously conjure up magical attacks until it is stunned. Remember that it is essential to lock on to his head and not other parts of the body.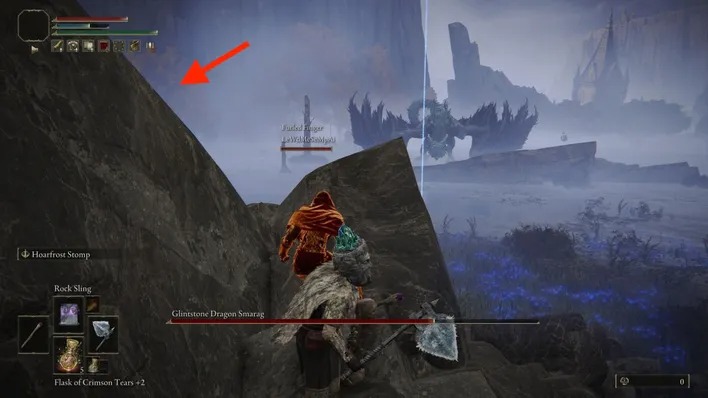 Pro tips : Climb to the top of this rock structure and position yourself to avoid all ray attacks. 
You'll see, with the Rock Sling spell, it takes 3-4 tries to stun him. Once it is stunned, you can either burst in to make a critical attack with your melee weapon, or continue shooting from a distance. We recommend the latter.
Glinstone's Smarag Dragon can still take you down with its devastating attacks and if you want to avoid them completely, we have a solution for you. 
Just where you first encounter the Glinstone Smarag Dragon, you will find a group of rock structures next to it. One of them is positioned so that you can climb up and crouch down to avoid any attacks. Also, if you are there, the Dragon will not fly anywhere and will continue to try to shoot at you from a distance, thus positioning itself.
Use this opportunity to conjure up magical attacks with your staff while crouching atop the rock so that its attack doesn't reach you. You can also summon a friend, and both of you can deal damage from a safe distance from this rock structure. Stunning him three times should be enough to take him down fairly quickly and end the fight. 
Still can't beat it? Follow our video guide:
Good luck to all!
Is Elden Ring a good video game?
Yes Elden Ring is a great video game, we are proud to have given it a rating of 96%. Any good gamer must have played Elden Ring at least once in his life, we can even fully consider it as one of the best games of the genre! In short, it is a must and you must try it if you have the opportunity!
Can I play Elden Ring with my friends?
Yes, you can play Elden Ring multiplayer (online) with your friends! So think about it the next time you have a party at home, it can be a great opportunity to have a great time with your friends and family, while determining who is the best at Elden Ring!
Is Elden Ring available on multiple platforms?
Yes, the game Elden Ring is developed to be compatible with PC (Microsoft Windows), PlayStation 4, Xbox One, PlayStation 5 and Xbox Series X|S. It's quite handy to be able to play it on several different consoles, thanks to the FromSoftware development studio!
Is Elden Ring a recent game?
Yes, Elden Ring is a recent game, it was launched in most regions on Feb 25th 2022, 1 year 7 months 8 days ago.
Elden Ring has been released on PC (Microsoft Windows), PlayStation 4, Xbox One, PlayStation 5 and Xbox Series X|S.
Is there an official website for Elden Ring?
Yes Elden Ring has its own official website! You can find it by clicking here.
Is there a forum on the internet to discuss the game Elden Ring?
Yes there is a website where Elden Ring fans can meet to discuss and exchange content, tips and advice on the game. It's on the Reddit website and you can find this Subreddit by clicking here.
Is Elden Ring compatible with VR?
No, Elden Ring is not currently compatible with virtual reality, but we hope that one day it will be possible to play it with this new technology!
Does the game Elden Ring have other names around the world?
Yes, the game is also known by these names around the world:
艾尔登法环 (Chinese title - simplified)
艾爾登法環 (Chinese title - traditional)
ELDEN RING デジタルデラックスエディション (Japanese title - original)
エルデンリング (Japanese title - translated)
엘든 링 (Korean title)
엘든 링 (Korean title - unofficial)
Great Rune (Other)
ELDEN RING (Stylized title)

What are similar games to Elden Ring?
Elden Ring is a game similar to Borderlands 3, Immortal: Unchained, Dragon: Marked for Death, The Elder Scrolls VI, Eternity: The Last Unicorn, Warhammer: Chaosbane, The Elder Scrolls: Blades, Torchlight III, Hytale and Pokémon Shield, if you liked Elden Ring, you will surely love this list of games we just mentioned! You can find our dedicated portals by clicking on the name of the games, and make your own opinion very quickly!
×