A good way to fill an open world and multiply interactions is to add a system for harvesting components, as well as crafting, even if this one is relatively simple. This is obviously a conclusion that the development team came to for Elden Ring , since this feature is now present from the start of the game. This opens up a lot of possibilities for players in terms of creativity, be it to do PvP or fight bosses, since crafting seems to be limited to consumables.
This is a feature completely independent of the system for upgrading weapons with stones, as well as the ability to change their affinity and secondary power with Ashes of War .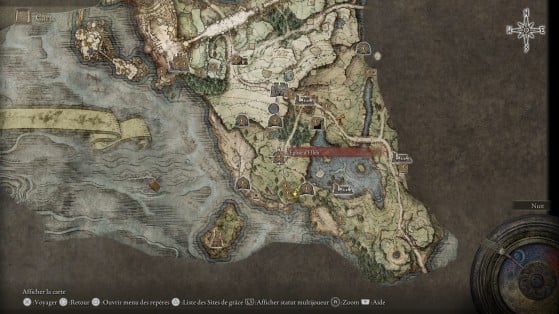 How to unlock crafting in Elden Ring?
It was very simple on the beta, and while there's a chance that different elements will change in the full version of the game for release on February 25, 2022, it's probably something that's going to stay as is. Leaving the starting tutorial area, pass the Sentinel of the Tree to reach the ruins of the Church of Elleh, which is also home to Kalé, a nomadic merchant . This good guy advises you to buy the Crafting Kit , which only costs 50 Runes, which is great advice.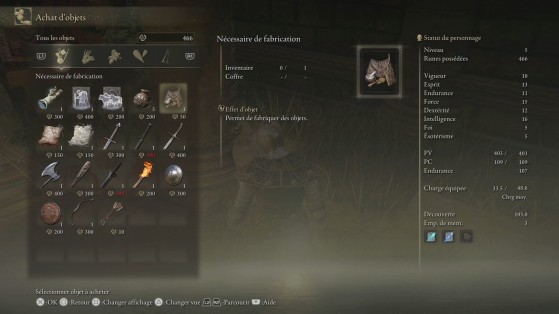 Now all you have to do is open the in-game menu and select Crafting from the list on the left to start creating items . There is no need for a workbench, just materials. However, you cannot create anything in combat, this is perhaps a good lesson learned from Monster Hunter, since it would allow you to restock powerful items, but which you can carry in limited quantities, for balancing reasons.
How to unlock new recipes
Things get complicated here, the basic recipes provided with the manufacturing kit are sketchy. You will have to buy or find recipe books all over the world in order to expand your repertoire. Experimentation is not an option.
The nomadic merchant also sells two more expensive manuals in his shop in addition to the manufacturing kit, this rotten discovered the principle of DLC!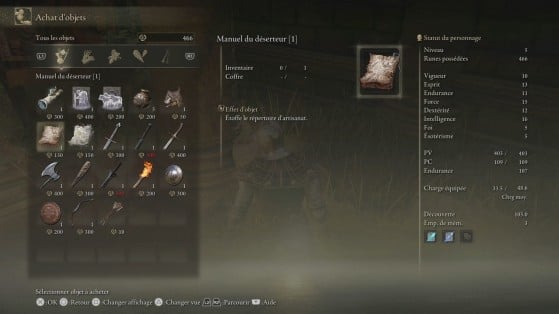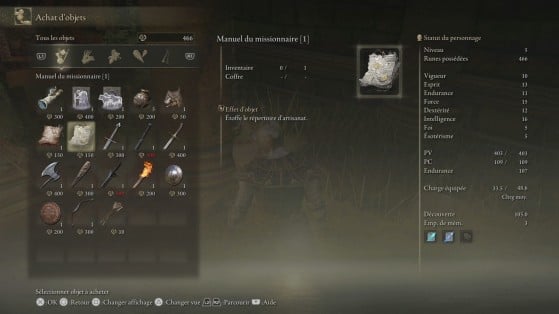 The other merchant present on the beach also sells it to you. The others are to be found on corpses, in chests, etc. We list them below.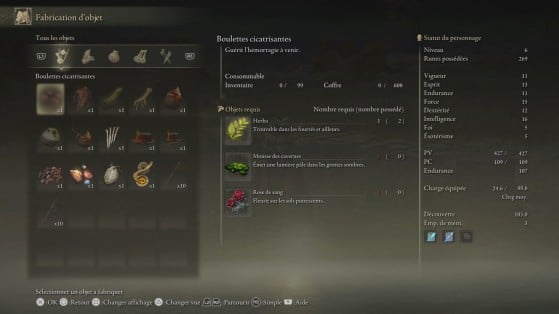 Crafting materials
One of the good things about crafting recipes is that they often include a hint about the position of the different materials required. The components can be roughly divided into 4 categories:
Those picked up from the world, they don't glow with the ghostly white glow of normal objects, but their luminescence makes them easy to spot. This includes berries, minerals, flowers, fungi, insects, and mosses, among others.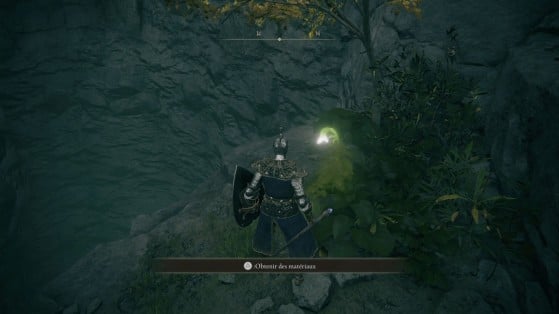 Other materials require hunting. You will come across a rich wildlife in Entre-terre, such as eagles, goats, wild boars, owls present only at night, etc. Kill them all ! You will be able to recover their organs, their flesh, their feathers and their bones, nothing is lost. The Occult stat (which replaces Luck in Elden Ring) and a hypothetical Talisman capable of improving the chances of seeing objects drop would be a great help in making your component hunting games profitable.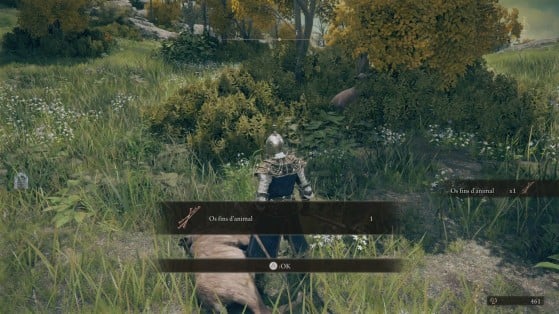 Finally, merchants also sell components directly, especially pots, which are used to create throwable items, such as firebombs. They are expensive and in limited supply, probably to prevent players from abusing them too much. There is also a recovery system for said pots, somewhat comparable to vials. If you have 3 empty jars in total, you can craft and store 3 items that use them, such as soporific jars or holy water jars, and no more . Once these projectiles are used, the empty pots return to your inventory, to be used again in crafting. This means that buying and finding as many pots in-game as possible will allow you to stock up on more bombs to throw.
Position of textbooks
This is only a small part of the manuals present in the full game, their position is also subject to change.

Missionary's Handbook [1]
Poultry leg in golden brine
pot of holy water
Tablet
Position : Sold by Kalé the Nomadic Trader to the Church of Elleh in Necrolimbo.

Deserter's Handbook [1]
Bone Arrow x10
Bone Arrow (feathered) x10
Healing dumplings
Meat of turtle in brine
Position : Sold by Kalé the Nomadic Trader to the Church of Elleh in Necrolimbo.

Deserter's Handbook [2]
Poison Bone Arrow x10
Poison Bone Arrow (feathered) x10
holy feast
Location : In the Dragonscorched Ruins, in the middle of Lake Agheel , in Necrolimbo.

Gunsmith's Manual [1]
Incendiary Grease
Flame retardant dried liver
Corded Incendiary Grease
Location : In a chest at the back of one of the two big black carts, present in the ruins near the Gate where you meet Melina for the first time.

Gunsmith's Manual [2]
Incendiary Bone Arrow x10
Incendiary Bone Arrow (feathered) x10
Immunizing Jerky
Neutralizing balls
Position : Sold by the nomadic merchant on the beach west of the starting tutorial area. It is installed under a rock arch, with a campfire.

Fevor's Manual
Position : On a corpse in the Storming Catacombs .
Is Elden Ring a good video game?
Yes Elden Ring is a great video game, we are proud to have given it a rating of 96%. Any good gamer must have played Elden Ring at least once in his life, we can even fully consider it as one of the best games of the genre! In short, it is a must and you must try it if you have the opportunity!
Can I play Elden Ring with my friends?
Yes, you can play Elden Ring multiplayer (online) with your friends! So think about it the next time you have a party at home, it can be a great opportunity to have a great time with your friends and family, while determining who is the best at Elden Ring!
Is Elden Ring available on multiple platforms?
Yes, the game Elden Ring is developed to be compatible with PC (Microsoft Windows), PlayStation 4, Xbox One, PlayStation 5 and Xbox Series X|S. It's quite handy to be able to play it on several different consoles, thanks to the FromSoftware development studio!
Is Elden Ring a recent game?
Yes, Elden Ring is a recent game, it was launched in most regions on Feb 25th 2022, 1 year 7 months 10 days ago.
Elden Ring has been released on PC (Microsoft Windows), PlayStation 4, Xbox One, PlayStation 5 and Xbox Series X|S.
Is there an official website for Elden Ring?
Yes Elden Ring has its own official website! You can find it by clicking here.
Is there a forum on the internet to discuss the game Elden Ring?
Yes there is a website where Elden Ring fans can meet to discuss and exchange content, tips and advice on the game. It's on the Reddit website and you can find this Subreddit by clicking here.
Is Elden Ring compatible with VR?
No, Elden Ring is not currently compatible with virtual reality, but we hope that one day it will be possible to play it with this new technology!
Does the game Elden Ring have other names around the world?
Yes, the game is also known by these names around the world:
艾尔登法环 (Chinese title - simplified)
艾爾登法環 (Chinese title - traditional)
ELDEN RING デジタルデラックスエディション (Japanese title - original)
エルデンリング (Japanese title - translated)
엘든 링 (Korean title)
엘든 링 (Korean title - unofficial)
Great Rune (Other)
ELDEN RING (Stylized title)

What are similar games to Elden Ring?
Elden Ring is a game similar to Borderlands 3, Immortal: Unchained, Dragon: Marked for Death, The Elder Scrolls VI, Eternity: The Last Unicorn, Warhammer: Chaosbane, The Elder Scrolls: Blades, Torchlight III, Hytale and Pokémon Shield, if you liked Elden Ring, you will surely love this list of games we just mentioned! You can find our dedicated portals by clicking on the name of the games, and make your own opinion very quickly!
×