Online multiplayer games, whether competitive or cooperative, are increasingly offering the holy feature of "Crossplay". It is therefore natural to see EA teams offer this famous function with the new FIFA 23. However, there are two or three things to know about how it works… Because yes, there are some technical limitations! If you're a little lost on this after starting to play FIFA 23, here's a refresher on how crossplay works on this new football game, and the latest to be called FIFA under the thumb of EA studios.
How FIFA 23 crossplay works, who can play with whom:
" Cross  -play" is functional for players who play on the same generation of platforms. For example, the PS5, Xbox Series, and PC versions of FIFA 23 communicate with each other, allowing players on those platforms to play together if they wish. While the PS4 and Xbox One versions of FIFA 23 are isolated from the rest, but players of these two platforms can still play together through crossplay. The feature is normally enabled by default on all game media. 
But you can check for yourself that it is active by pressing the "R2" key (PlayStation) , the "RT" key (Xbox) when you are at the game's home page to open the social tab. Then open social and crossplay settings by pressing the pause/start button on your controller.
You should know that crossplay is not yet active for all game modes and above all it is not possible to play FUT23 modes in cooperation with online players with crossplay activated. At the launch of FIFA 23, crossplay is functional for matchmaking in the modes "FUT Division Rivals" , "FUT Champions" , "Online Draft" , "FUT Ultimate" , "FUT Online Friendlies" , "FUT Compete Against One" . friend" and "Online friendlies" .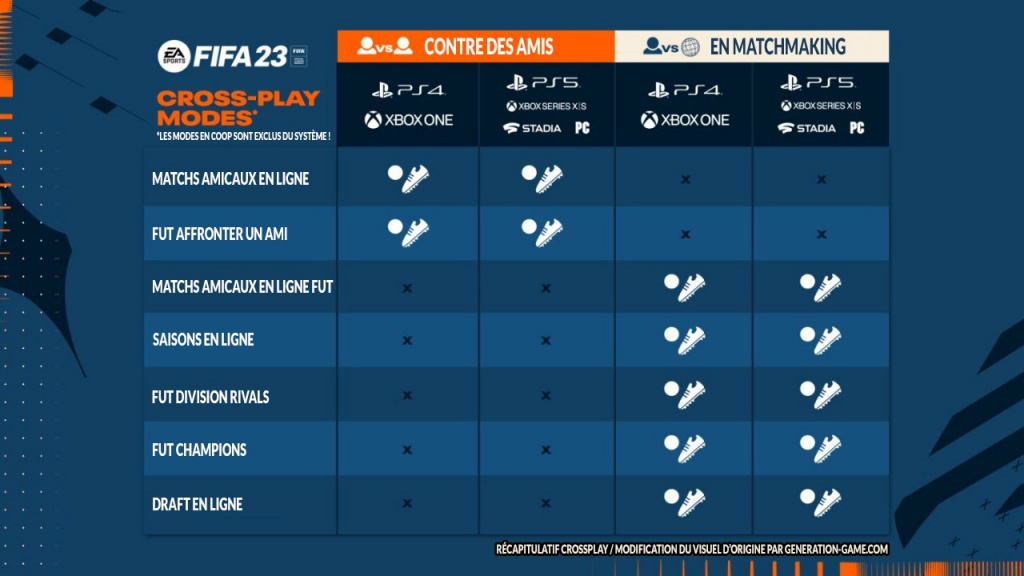 Be careful, don't forget that it doesn't work in co-op mode! Similarly, to play against a friend in crossplay, you must both have created your club and only the "Online Friendlies" and "FUT Face a Friend" modes are allowed.
EA teams ensure that players will see an evolution of crossplay on FIFA 23 throughout its existence. Additions and modifications are therefore to be expected over time! In the meantime, you know what to expect!
Is FIFA 23 a good video game?
Yes FIFA 23 is a great video game, we are proud to have given it a rating of 70%. Any good gamer must have played FIFA 23 at least once in his life, we can even fully consider it as one of the best games of the genre! In short, it is a must and you must try it if you have the opportunity!
Can I play FIFA 23 with my friends?
Yes, you can play FIFA 23 multiplayer with your friends! So think about it the next time you have a party at home, it can be a great opportunity to have a great time with your friends and family, while determining who is the best at FIFA 23!
Is FIFA 23 available on multiple platforms?
Yes, the game FIFA 23 is developed to be compatible with PC (Microsoft Windows), PlayStation 5, Xbox Series X|S and Google Stadia. It's quite handy to be able to play it on several different consoles, thanks to EA Sports, EA Vancouver development studios!
Is FIFA 23 a recent game?
Yes, FIFA 23 is a recent game, it was launched in most regions on Sep 29th 2022, 1 year 4 days ago.
FIFA 23 has been released on PC (Microsoft Windows), PlayStation 5, Xbox Series X|S and Google Stadia.
Is there an official website for FIFA 23?
Yes FIFA 23 has its own official website! You can find it by clicking here.
Is there a forum on the internet to discuss the game FIFA 23?
No, according to our information, FIFA 23 does not yet have a forum or subreddit clearly identified to the community. However, it is possible that you can find one by searching on your favorite search engine, which we invite you to do! You can also look at social networks, indeed many groups exist for example on Facebook to allow communities to exchange between enthusiasts.
Is FIFA 23 compatible with VR?
No, FIFA 23 is not currently compatible with virtual reality, but we hope that one day it will be possible to play it with this new technology!
Does the game FIFA 23 have other names around the world?
Yes, the game is also known by these names around the world:
EA SPORTS™ FIFA 23 (Alternative spelling)

What are similar games to FIFA 23?
FIFA 23 is a game similar to Pro Evolution Soccer, WWE 2K19, NBA 2K19, NBA 2K20, Madden NFL 20, FIFA 20, Cricket 19, Real Football 2019, Grid and MXGP 2019: The Official Motocross Videogame, if you liked FIFA 23, you will surely love this list of games we just mentioned! You can find our dedicated portals by clicking on the name of the games, and make your own opinion very quickly!
×