Those who follow Kazunori Yamauchi on Twitter already knew this, but one of the main, and usual, axes of the updates of Gran Turismo 7 concerns the addition of vehicles. Three cars arrived. If everyone expected to see the arrival of Toyota's new prototype, the GR010, the rest was more confusing. Alongside the hypercar which will be entered in the 24 Hours of Le Mans this year, we will therefore find two convertibles. The first is the Shop Rampage Camaro Roadster. This is a car that won the Garn Turismo award at the 2014 SEMA.
This car, which is based on a second-generation Chevrolet Camaro, features a 748hp LS7 V8. Thanks to a carbon chassis, the whole thing weighs just 1.4 tonnes, the weight of a compact 308 type sedan. Considering the power under the hood, the whole thing should be damn fast. Finally, the third car had largely lost fans who did not recognize any specific model in it. Of course, this is a new VGT vehicle, namely Vision Gran Turismo. In short, another fictitious car.
Gran Turismo: the monetary vision
This little Roadster from Suzuki takes up the front face of the current Swift, and offers a really wise design compared to other VGT vehicles. To turn this convertible into a bombshell, Suzuki dropped the Swift's 1-litre 3-cylinder engine and replaced it with one of its most legendary production engines. We are therefore entitled to the 1300cc 4-cylinder Suzuki GSXR 1300 Hayabusa. The latter is supported by a hybrid system which makes it possible to obtain a total of 426hp at the rear wheels, with a red zone which starts at 9900 rpm! Polyphony has already planned a Gr3 version for a next update, which will allow Suzuki to take part in the Gran Turismo constructors' cup.
These three cars are on sale with a price of 350,000Cr for the Camaro, one million for the Suzuki, and three million for the GR010.
The end of the glicth for farming
In addition to these cars, there are three new menus at the Gran Turismo Café. The first is dedicated to kei cars, the second will be for VGTs, while the last will be reserved for Gr.1 cars. Unlike the other menus, these three new features can be done in any order, but are only accessible under certain conditions. It is imperative to have finished the old menus, and have a collection level of 30 at least. These menus don't ask us to collect models (necessarily huh, we're not going to offer you 3 Gr1 cars to the eye given their price, the microtransactions are still there). You will simply have to participate in races, and finish on the podium at each event to walk away with the prize. The first two menus will allow you to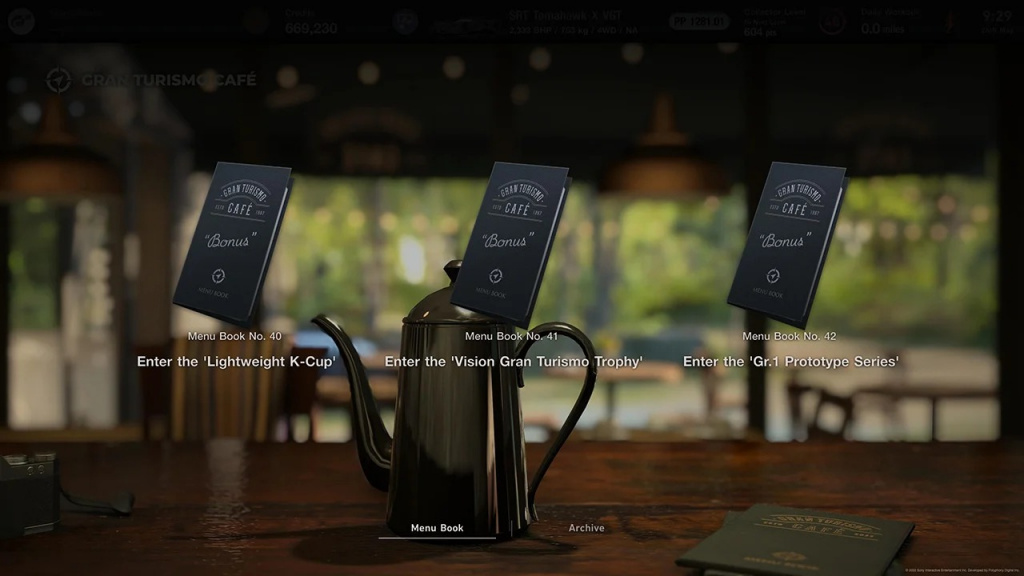 Bad news, Polyphony Digital seems to have closed the breach that allowed you to farm money with the SRT Tomahawk SRT. From now on, even by tweaking the settings it will be impossible to align with an overpowered car. Nevertheless, players are trusted to find another loophole. Scapes fans can practice their craft with 18 new locations around the city of New Orleans. Finally, know that it is still impossible to resell its cars, while the feature had been promised by the studio. We just have to wait for the next update of Gran Turismo 7.
Is Gran Turismo 7 a good video game?
Yes Gran Turismo 7 is a great video game, we are proud to have given it a rating of 83%. Any good gamer must have played Gran Turismo 7 at least once in his life, we can even fully consider it as one of the best games of the genre! In short, it is a must and you must try it if you have the opportunity!
Can I play Gran Turismo 7 with my friends?
Yes, you can play Gran Turismo 7 multiplayer (offline) with your friends! So think about it the next time you have a party at home, it can be a great opportunity to have a great time with your friends and family, while determining who is the best at Gran Turismo 7!
Is Gran Turismo 7 available on multiple platforms?
Yes, the game Gran Turismo 7 is developed to be compatible with PlayStation 4, PlayStation 5 and PlayStation VR2. It's quite handy to be able to play it on several different consoles, thanks to the Polyphony Digital development studio!
Is Gran Turismo 7 a recent game?
Yes, Gran Turismo 7 is a recent game, it was launched in most regions on Mar 04th 2022, 1 year 6 months 26 days ago.
Gran Turismo 7 has been released on PlayStation 4, PlayStation 5 and PlayStation VR2.
Is there an official website for Gran Turismo 7?
Yes Gran Turismo 7 has its own official website! You can find it by clicking here.
Is there a forum on the internet to discuss the game Gran Turismo 7?
Yes there is a website where Gran Turismo 7 fans can meet to discuss and exchange content, tips and advice on the game. It's on the Reddit website and you can find this Subreddit by clicking here.
Is Gran Turismo 7 compatible with VR?
Yes Gran Turismo 7 is compatible with virtual reality, if you have a suitable headset at home, we advise you to try it as soon as possible! You will be able to enjoy a complete immersion in your favourite game!
Does the game Gran Turismo 7 have other names around the world?
Yes, the game is also known by these names around the world:
GT7 (Acronym)
グランツーリスモ7 (Japanese title - original)
Guran Tsuurisumo Sebun (Japanese title - romanization)
그란 투리스모 7 (Korean title)

What are similar games to Gran Turismo 7?
Gran Turismo 7 is a game similar to Wreckfest, Forza Motorsport, NBA 2K19, Dirt Rally 2.0, Winning Post 9, Madden NFL 20, WRC 8, F1 2019, Grid and MXGP 2019: The Official Motocross Videogame, if you liked Gran Turismo 7, you will surely love this list of games we just mentioned! You can find our dedicated portals by clicking on the name of the games, and make your own opinion very quickly!
×