Mutual aid, dramas, position wars: we come back for you to the event that shook Reddit and Twitch during these four intense days.
In the beginning was emptiness
For April 1 , 2017, Reddit had organized a collaborative event on a show called r/place. The objective was simple: each person with a Reddit account could go to a blank canvas and place a "tile" of the color of their choice there every five minutes. More than a million people had participated in the construction of this great work, punctuated by battles to establish the dominance of a country or a space. In total, some 16 million pixels had been deposited.
This year, the largest forum in the world repeated the experience between April 1 and 4 with very similar terms. However, this time the event took on a whole new dimension. Already, the number of participants and artistic projects was so large that the moderators of the fair expanded the canvas three times in order to compensate for the lack of space for all the pixel art creations.
And there have been creations. Some remained throughout, and others disappeared, replaced by drawings from other communities. In any case, the final quantity is so huge that it is very difficult to count them. Tributes, advertisements (prohibited in the rules), classic paintings, manga, political or non-political messages, monuments and even a functional QR code... The themes that have filled the huge canvas are legion and full of pearls. But they did not create themselves.
Collaboration and organization
Throughout the event, many communities have formed or joined together to offer their creations for all to see. We were able to witness an enormous work of collaboration, solidarity and organization driven by the complexity of the system. On Discord , Twitch or subreddits, the participants had to work together in order to offer the most precise possible creations and integrate them as quickly as possible on a given space, before it was taken over by others.
Although this did not prevent the theft of places, some held on throughout, acclaimed by Internet users for their quality or what they represented for them (a particularly elaborate Turkish flag, a Star Wars poster , a fresco of friendship between Portugal and Argentina on a football background, etc.).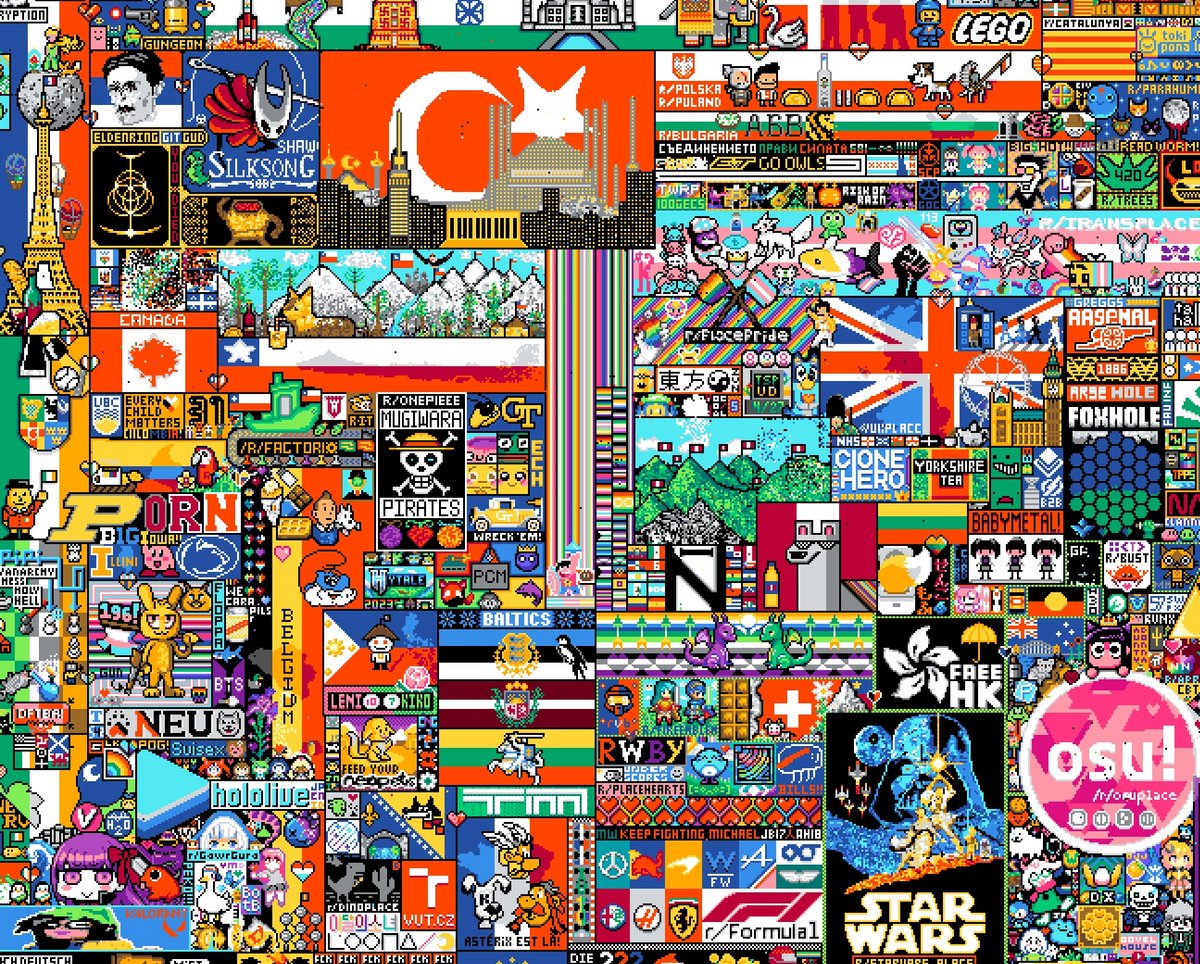 But powerful communities particularly stood out during the event, either by their proposal, or by their relentlessness and/or even by their toxicity. We note among others the AMOGUS community, which had fun placing 2,823 small characters from the successful Among Us video game everywhere; fans of the osu rhythm game! and their surviving logo; the 4Chan community (already present during the 2017 edition) which created The Void, an entity that destroys other works, made up of black pixels; Germany and its flag crossing the length and breadth of the canvas; and, finally, the French and the Spaniards.
If r/place is the official name of this collaborative lounge, it quickly became, unofficially, PixelWar. Indeed, many communities wanting to represent their country at all costs have clashed for the control of a space or to impose their work. For this, they fought with pixel shots posed en masse at regular intervals. The Canadian streamer xQc (10.4 million followers) was particularly criticized for having sent its viewers to destroy works and affix its logo in large. But the biggest battle saw France and Spain face off via streamers.
The French streamer Kameto (1.3 million followers on Twitch) has created, with his community, a huge flag of France in the left corner of the web. His act angered many people, including big Spanish streamers led by Ibai (9.8 million followers), who decided to reduce the space taken too arrogantly in their eyes. Kameto was quickly joined in his fight to keep his pixels by other French Twitch actors such as Etoiles, Baghera Jones, Antoine Daniel, Zerator, Amine or even Squeezie and Locklear. They christened themselves generals and led their armies of viewers.
Last night, during the last hours of life of r/place, nearly two million viewers on Twitch attended the defense of the French community, eager to keep its flag and the creations that filled it. She thus faced repeated pixel attacks from the Spanish Twitch community, later joined by the Americans. If the tone was able to rise several times between the biggest streamers (accusations of use of bots or scripts allowing to lay tiles automatically), everything finally ended as it was planned from the start: the only possibility offered it's up to everyone to put a white pixel to destroy the web, bringing no final victory to all sides.
We can't wait to see the final statistics of the event and the exciting sociological work that we hope will come out of it. Internet users are already asking for the event to be repeated next year.